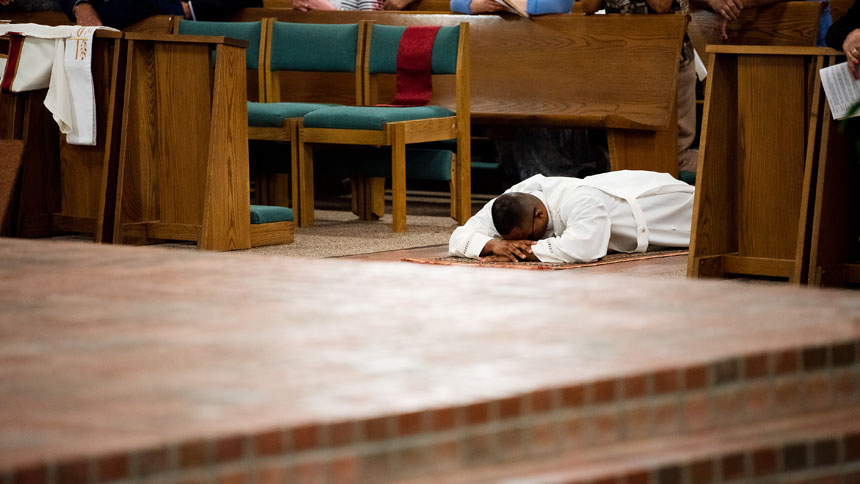 Photo courtesy September Photos Photography
---
With praise and thanksgiving to Almighty God the Roman Catholic Diocese of Raleigh joyfully announces the Ordination of Jairo Alberto Maldonado-Pacheco and Matthew Ikechukwu Nwafor to the Order of Priesthood through the imposition of hands and the invocation of the Holy Spirit as conferred by His Excellency the Most Reverend Luis Rafael Zarama, Bishop of Raleigh.
Mass is on Saturday, June 6, at 10:00 a.m. at Holy Name of Jesus Cathedral.
Because of restrictions imposed by the coronavirus pandemic, the Ordination to Transitional Diaconate Mass for Steven DiMassimo and Tyler Sparrow is rescheduled for May 23 at 10:00 a.m. at Holy Name of Cathedral.
Attendance for the Masses will be based on the crowd restrictions that are in place for that day, as decided by the Governor of North Carolina. If the crowd restrictions have been lifted, all will be welcome to attend. If the restrictions are still in place, the liturgy of Ordination will be celebrated privately, limited to essential personnel. Updates will be posted on the diocesan calendar. Both Masses will be live streamed on the Diocese of Raleigh YouTube channel.