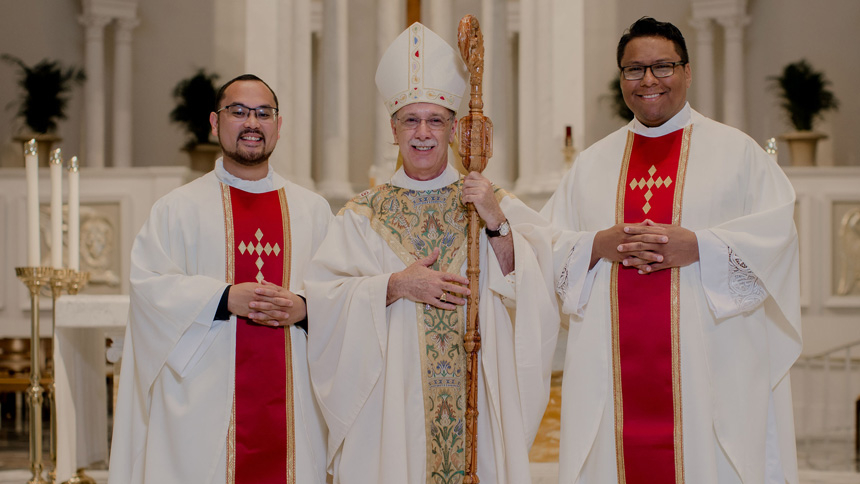 RALEIGH – John Michael Prudente De Guzmán, quien nació en Filipinas y se crió en Raleigh, Carolina del Norte, y Erik Reyes Reyes, quien nació en México y se crió en Whiteville, Carolina del Norte, recibieron el sacramento del Orden Sacerdotal el 4 de junio y se convirtieron en los sacerdotes más nuevos de la Diócesis de Raleigh.
El Rito de la Ordenación incluía las promesas de los elegidos, la letanía de súplicas, la imposición de manos, la oración de ordenación, la investidura y la unción de manos.
A la misa, que fue transmitida en vivo, asistieron muchos de los familiares y amigos de los nuevos sacerdotes, incluidos los padres Jane y Sonny De Guzmán y Bertha y Hugo Reyes.
La tía del padre Erik, Adriana Reyes, compartió la primera lectura en español.  El padre del padre John compartió la segunda lectura en tagalo, un idioma que se habla en Filipinas.
Antes de la ordenación, cada uno de los elegidos dijo que la imposición de manos, donde todos los sacerdotes presentes ponían sus manos sobre las cabezas de los que iban a ser ordenados, probablemente sería un momento especial para él durante la Misa. Esta tradición tiene sus raíces en un texto antiguo, de acuerdo con el programa de ordenación, y permite que el Espíritu Santo sea conferido a aquellos que serán ordenados.
"Es un momento poderoso ... algo así como una bienvenida a la hermandad del sacerdocio, pero al mismo tiempo recibir todas sus oraciones y bendiciones", dijo [entonces] el diácono Erik.
El simbolismo es significativo, dijo [entonces] el diácono John, quien agregó: "Muestra la unidad del orden del presbiterio, que muestra que el Espíritu Santo es el que hace todo esto y él es el que nos une a todos juntos".
A la misa asistieron sacerdotes de otras diócesis, así como de la Diócesis de Raleigh.
"Me trajo de vuelta mi propia ordenación", dijo monseñor John Williams, quien asistió a la misa para celebrar con los nuevos sacerdotes. "Creo que muchos de los sacerdotes que asisten son transportados de regreso y recuerdan su gran sentido del misterio de la gracia. Sentí la misma afirmación cuando recibí la imposición de manos... y fue muy renovador. Esa gracia todavía fluye".
Durante la parte de investidura de la misa, los sacerdotes recién ordenados, que entraron a la catedral con estolas de diácono atadas a un lado, ajustaron sus estolas para que se usaran en ambos lados.  También se pusieron la casulla (o habito) de un sacerdote.
A cada nuevo sacerdote se le pidió que seleccionara un sacerdote para lo ayudara a vestir su nuevo habito de sacerdote durane la ordenación. A el Padre John lo ayudó el padre Michael Schuetz, pastor de la Iglesia Mother of Mercy Church en Washington, Carolina del Norte.  Ambos asistieron a la Academia St. Thomas More para la escuela secundaria, y fueron compañeros de clase en el seminario en Theological College en Washington, D.C.
Al Padre Erik le asistió el padre Rafael León, pastor de St. Joseph the Worker en Warrenton, que fuera tabien su párroco y quien le ayudó a nutrir su llamado al sacerdocio hablando con él sobre la vida de un sacerdote.
Ahora que están ordenados, cada uno comenzará su vocación sacerdotal como vicario parroquial, que asiste al párroco, en una parroquia. El Padre Juan comenzará esa obra el 28 de junio en Michael the Archangel en Cary; El Padre Erik comienza el mismo día en la Catedral Holy Name of Jesus en Raleigh.
"Lo que puedo decir es que la ordenación es algo hermoso para nuestra diócesis y para todos los fieles cristianos", dijo el padre Erik. "También es el fruto de todo el arduo trabajo de los fieles en nuestra diócesis debido a sus donaciones a la BAA y las vocaciones y todas las oraciones que hacen por los seminaristas y las personas que están discerniendo para ser sacerdote. Este es un momento en el que todos pueden ver el fruto de su trabajo".
Video
Photos