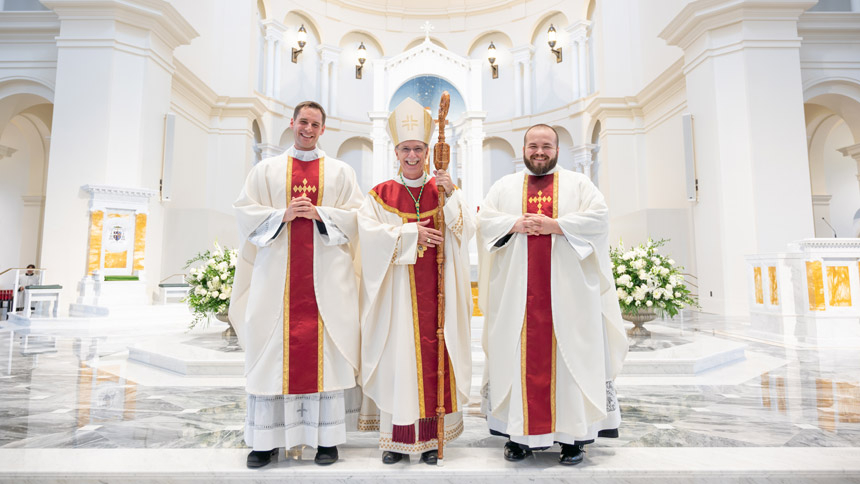 On the day before ordination, (then) Deacons Tyler Sparrow and Steven DiMassimo visited Bishop Luis Rafael Zarama's office in Raleigh to sign their Declarations of Freedom in front of the bishop, Father Jeffrey Bowker and Father James Magee.
With their signature, candidates for ordination promise that not only are they coming to the ordination of their own free will, but also that they understand the full solemnity of their commitment.
As the declarations were read aloud and the papers signed, great joy and anticipation filled the room.
After nearly a decade of study, prayer and discernment, the day had arrived. On the very next day, these two men would officially and publicly accept their vocation and commit their lives to God as priests for the Diocese of Raleigh.
Just prior to their June 5 ordination, NC Catholics took time to catch up with the men and learn more about their journeys.
A Confident Hope
Father Tyler Sparrow's story
If you ask Tyler Sparrow when he first had an inkling that he was called to the priesthood, he will laugh and tell you that, "It kind of happened twice, but the first time doesn't really count."
When he was 5 or 6 years old, he would "play Mass," he said.
Tyler would set his family's table with a cloth liner and two scented candles. He pulled out the biggest book he could find, which happened to be Charles Dickens' "A Christmas Carol."
He said it was the book of choice because "it was big and green, and it had a red ribbon."
With (likely) less than perfect wording on prayers, a young Sparrow would celebrate Mass for fun. 
"Obviously, I wasn't really thinking of, or understanding, the priesthood at such a young age, but oftentimes there are these little things that God puts in our lives … even a little kid's imagination … that can be an indicator of what's to come," he said.
He was born in Winston-Salem, moved to Clayton for a short time, and then settled in Angier by the time he was 7 years old.
As a young teen, he became interested in two things: ice hockey and altar serving.
What he loved about hockey was the fluidity of the sport, how it is always moving and  always engaging.
Perhaps it was for a similar reason that, while being trained to be an altar server by Father Paul Parkerson at Sacred Heart in Dunn, he started wondering about the priesthood.
"While [Father Parkerson] was training me, he would also talk to me about the priesthood … telling me about the work of the priest, about what he does … the ministry of it, like going to hospitals … The way that he spoke about it and the words he shared with me, showing me the theology and symbolism and the importance of the priesthood was so inspiring, I had to give it a shot," said Father Sparrow.
He was 15 years old when he realized he needed to give vocations, "a shot." Two years later, he attended a "come and see," event at St. Charles Borromeo Seminary, near Philadelphia.
The event answered a lot of his questions and piqued his interest further. He chose to attend college at St. Charles Borromeo, still not knowing for sure what the future held.
"The tipping point came later, rather than sooner," laughed Father Sparrow.
While attending college and later seminary at St. Charles Borromeo, he continued to pray, discern and look for a definite moment where he felt confident that this was the life to which God was calling him.
That moment came on the very last day of a seminarian retreat.
"There was just something in my own prayer and dialogue with God that day. Even though, because of the mysteriousness of vocation and God's will, I couldn't say, 'oh yeah, I know,' I was able to have a confident hope … I experienced that peace and had the confidence to say, 'OK, I'm not going to leave seminary, I'm going to see this through," he said.
Leading up to the ordination, joy punctuated everything he said.
He shared his excitement in having his family in the front row at the Mass, including his older brother and five nieces and nephews. He shared his anticipation for the moment during the ordination rite where he would be prostrate on the marble floor of the cathedral while the congregation sings the Litany of Saints. "I experienced that moment once before, at the diaconate ordination. I remember how special it is," he said.
He also shared his joy that Father Paul Parkerson, the priest who trained him to be an altar server, would be the one to vest him.
Most of all, he shared his joy that more than two decades after using the tales of Ebenezer Scrooge and scented candles, he would actually be able to celebrate the Mass "for real."
"Mass is the supreme gift from God for our own spiritual lives to lead us to salvation. [In this country,] we can take access to Mass for granted … We have the privilege of having Mass not only every Sunday, but every day. I want to be sure I never take that gift for granted," he said.
That excitement was evident as he celebrated his Mass of Thanksgiving, a priest's first Mass after ordination, just hours after ordination ended. At 5:30 p.m., Saturday June 5, Father Tyler Sparrow celebrated Mass at St. Ann Catholic Church in Clayton, the parish where he was baptized.
For his first priestly assignment, Father Sparrow was appointed parochial vicar at St. Patrick Parish in Fayetteville.
He said, "Going forward, I have absolute trust in God that he's going to somehow give me the grace I need to carry [the vocation] out faithfully, as long as I cooperate."
A Conviction Confirmed
Father Steven DiMassimo's Story
Prior to returning to Raleigh for his ordination to the priesthood, (then) Deacon Steven DiMassimo spent three days hiking through Acadia National Park in Maine.
He used the time to reflect on his life in seminary and to take a deep breath before the 'high-octane' busyness of ordination weekend.
"It's almost like my whole life has been leading up to this one day," he said. "And that's the beginning of a whole new chapter." 
With those words, he wasn't exaggerating.
His journey, though it includes pauses and switchbacks (hiking term), is punctuated by moments of calling and clarity that brought him, ultimately, to the vocation of priesthood.
Born in New York, he moved with his family to North Carolina when he was 4 years old. He is the middle child of three boys and while he sometimes played the role of the peacekeeper, he had "a little bit of an attitude," he said, when he was younger.
He joked that God had to do many things to prepare him to become a priest and one of those things was "changing my attitude."
That change coincided with one of the first significant moments in his discernment journey.
When he was in 8th grade, he went on a confirmation retreat. While his family is Catholic, and he grew up going to Mass at St. Luke the Evangelist in Raleigh, he said that it was on this retreat that he prayed from his heart for the first time and felt a personal encounter with God.
"It really impacted me deeply because I knew, even though I couldn't have said it when I was 14, I knew that something significant was missing from my life. Not in the sense that something was wrong with me, but in the sense that, 'there's got to be more,'" he said.
Inspired by that moment, he began reading his Bible more often and going to confession.
While he continued to play sports, including ice hockey, and lived everyday life as a teen at Wakefield High School, something had fundamentally shifted.
His father, Rich DiMassimo, said that when they traveled for sporting events, Steven's teammates would get together to play video games and hang out. Meanwhile, Steven would stay in his room and read Scripture.
Despite the clear conversion, he said he didn't really feel that direct tug toward vocation again until he was a sophomore at Franciscan University in Steubenville, Ohio.
While studying with his Bible, a question emerged: "God, what do you want me to do with my life?"
"It felt like it was [God's] initiative to prompt that question within me … and it was an invitation to the priesthood. I heard it strongly, not audibly, but with my heart. It was a conviction, something that kind of shook me. I tried to convince myself that I was making it up, but it kept coming up, every day. It threw me off because I had a grand plan for my life, and the priesthood was not part of it," he laughed.
He admitted that he wrestled with God "a lot" over the following years. He desired to live his faith and share his love of Jesus but that could have possibly been accomplished as a youth group director or teacher. He couldn't yet imagine letting go of the desire for marriage and a family.
"I wanted to trust his plan, but I also didn't want to let go of all my plans," he said.
Steven graduated college and began working with FOCUS. The organization encourages missionaries to take a step back from dating so that during their first year, their focus is on FOCUS, so to speak.
While he was still wrestling with vocation, he saw this as a great opportunity to test the waters and see what life could be like as a priest.
He said, "I wondered what it would be like to live without having a significant romantic interest in my life, could I still be happy? And I was. I was abundantly happy and joyful."
On the second day of a FOCUS silent retreat, he had the moment of clarity for which he had been searching. "Before that, I was in a restless tug-of-war, but that day it was a conviction, and that conviction has not left me since," he said.
Looking back, he is grateful for the moments of restlessness and wrestling. "I had to wrestle with God, but only to receive this great gift he has given me and to understand this desire he has placed within me," he said.
Father Steven celebrated his Mass of Thanksgiving at 11 a.m. Sunday June 6 at St. Luke Church. He was appointed parochial vicar at St. Thomas More Parish in Chapel Hill.