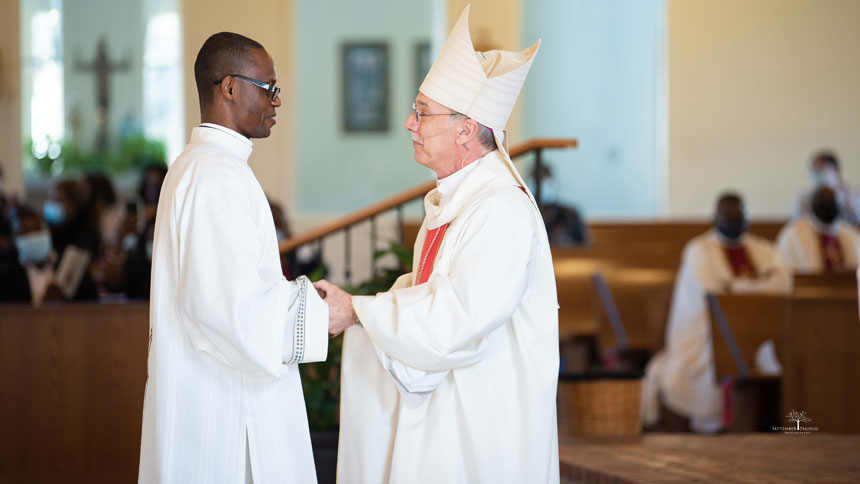 Bishop Luis Rafael Zarama ordained Brother Ange Mafuta Masuta, CICM, to the transitional diaconate at St. Eugene Church in Wendell on February 20.
Deacon Ange was born in Kinshasa, the capital city of the Democratic Republic of Congo (D.R.C).
At the age of 21, he entered the seminary of Canon Regular of the Order of the Holy Cross, a contemplative order.
Nine years later, he decided he wanted a more active ministry and joined the Missionhurst – CICM, Congregation of the Immaculate Heart of Mary.
After finishing his internship in San Antonio, TX, he came to St. Eugene parish for his pastoral experience.
Speaking directly to Deacon Ang, Bishop Luis said, "How you will learn to serve the people as a deacon is allowing Jesus to serve you first." He continued, "The only way we can fulfill our mission and our vocation is to let Jesus take care of us first…. Learn to be served so you can serve the people that the Lord entrusts to you."
Bishop Luis said, "I'm so happy to be here with you, my brother. It's an honor for me to ordain you a deacon as the Lord has spoken for you, I have hope for you. And my hope for you is that as a deacon you can be the most joyful person because you have a free heart to serve the people that the Lord entrusts to you."
Video
Photos
All photos by September Photos Photography