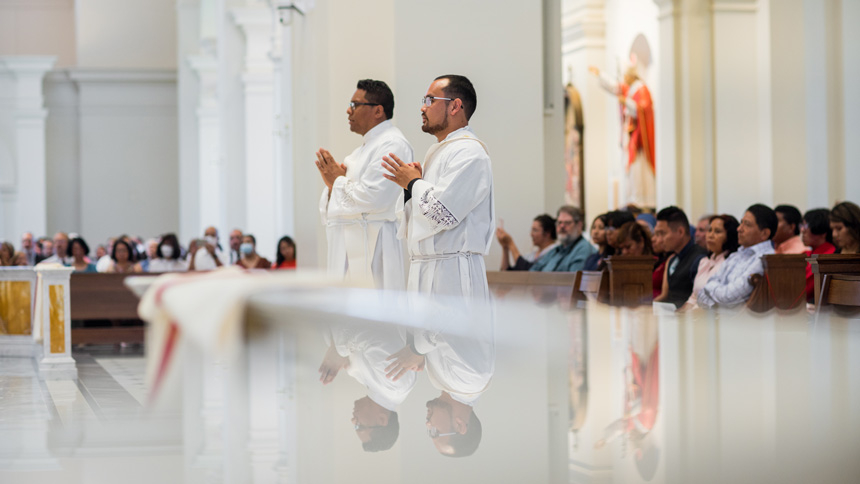 Above: The newest priests in the diocese, Father Erik Reyes and Father John De Guzman (foreground), began parochial vicar assignments recently.  Father Erik is at Holy Name of Jesus Cathedral in Raleigh and Father John is at St. Michael the Archangel in Cary.
---
'A great privilege'
Father Erik Reyes discusses his discernment
Father Erik Reyes was nervous before his first Mass as a newly ordained priest. He'd practiced the rite in seminary, of course, but what if he forgot part of the consecration prayer?
But as family, friends and supporters gathered at Sacred Heart of Jesus Church in Whiteville, Father Erik's first Mass was a truly awesome experience — particularly the act of consecration.
"For me it felt right. I felt at peace. I felt happy," he said. "I can't believe that God is really doing all of this through me now."
It has been a long road to the priesthood for Father Erik, one he started walking at age 3 or 4.
He was playing alongside other children outside the Catholic church in a small town near Veracruz, Mexico, as his parents attended Sunday Mass. He picked up a toy at the moment the priest raised the chalice and host inside the church.
"For some reason, I was so attracted to that," Father Erik recently told NC Catholics. "I felt like, 'Wow, that was amazing. I want to do that one day!'"
Growing up, he kept this vocational call secret, even from his parents. He attended church every Sunday but wasn't involved and didn't know much about the priesthood. When he learned that being a priest meant not getting married, not having a family, he decided, "No, that's not for me. This is too hard. I'm not doing it."
So, he fought the call. His family moved to the United States when he was 11. He enjoyed his school environment, and was close to his teachers, many of whom took a special interest in him and helped him learn English. He thought he would become a teacher.
But something was missing.
"The idea of studying for the priesthood was still there," Father Erik said. "I kept trying to ignore it, but it was still bothering me. It was really annoying at some points."
His family pestered him to attend a Cursillo retreat. Eventually he went. There, for the first time, he experienced a holy hour. He took his struggle to Christ.
"I sat in front of the Blessed Sacrament, and I made a deal with the Lord," he said. "I was like, 'OK, Lord. I have this idea of the priesthood that never leaves, and I feel afraid of doing it because I think it might be too much for me. But it's not going away. So, let's make a deal. I'll try it. I'll do everything I need to do, and then you take care of the rest.'"
He began to shadow his parish priest, Father Marcos Leon Angulo. As a high school senior, he visited St. Charles Borromeo Seminary for a week. There he met [then] Father Ned Shlesinger, who was a vocations director at the time. (He's now a bishop for the Archdiocese of Atlanta.)
As he began to talk with Father Ned, he learned of another roadblock on his path to the priesthood. It was his immigration status.
Most of his childhood, he lived in Mexico separated from one or both of his parents as they earned money in the United States to support the family. His mother finally decided that the whole family needed to be together in the U.S., which is how he came to Whiteville. But to become a priest, he had to begin seminary in Mexico, awaiting immigration approvals. Father Ned told him that there was no guarantee that he could attend seminary or be a priest in the U.S.
Moreover, once in Mexico, he might not be able to return to the U.S. or see his family again.
As he struggled with this decision, Father Leon counseled him, saying, "If this is your vocation, you are priest for the Church and you are priest for whatever God wants you to be. He is the one who is going to be leading the way."
He went to Mexico. There, he said, he struggled with depression and the loneliness of isolation from family and friends. But he received the help he needed, and his immigration issues were resolved. After six years, he transitioned once again, this time to St. Charles Borromeo seminary near Philadelphia. After four years of study there, he was ordained a priest on June 4, 2022.
Father Erik believes his challenging path to the priesthood has given him understanding and empathy for those undergoing similar struggles. As a seminarian and a deacon, he has been able to counsel others, and see God working in their lives, even when they can't see it because of the pain and suffering they are experiencing.
"Me being able to be there and witness how God is working in this person is just amazing," he said.
"I feel like I am a spoiled child of God," Father Erik said. "Through difficulties, and through the things that I do, and that I have gone through in my life, I feel like he was there, and I feel that he always provided everything that I needed."
Now Father Erik is transitioning again to serve at Holy Name of Jesus Cathedral in Raleigh.
"I told all the people in my community at my first Mass, 'Keep praying for me, because this is not the end. This is just the beginning of, hopefully, a long life where I can give myself to the Lord and keep being a witness of his love and His mercy. It is a great privilege for me.'"
'In awe'
Father John De Guzman reflects on his path
Father John De Guzman knows that "The Lord doesn't call the perfect ... it's an incredibly humbling journey." It's something he recently shared with NC Catholics while discussing his journey to the priesthood.
Born in the Philippines, he was raised in Raleigh from age 5, and considers Our Lady of Lourdes his home parish. That's where he attended elementary school, played Jesus in the school passion play, and, in 2022, celebrated his first Mass as a priest.
Growing up, his home was a place with a visible, Catholic identity. Even today, Father John said his parents' living room is covered in religious artifacts, with one corner always set aside for a shrine. His father encouraged the family to say a daily rosary together, and they always attended Sunday Mass. But living as a Catholic could sometimes be a struggle during childhood.
"From my family, I learned that I am a Catholic," Father John said, "But living it out and carrying it out was kind of, 'Well, I don't know what that would look like for me.'"
That changed after he went to St. Thomas More Academy for high school. His classmates spoke openly about their faith and prayer life with a level of maturity that surprised him. And it was there, for the first time, that he experienced adoration.
"I was super bored because it was just an hour of silence with the monstrance and the host up there. I didn't know what it was at the time," he said.
He tried talking with an upperclassman seated next to him. "I was nudging him like, 'Dude, dude, what is this? And he's like, 'John, our Lord Jesus Christ is literally in front of you. Shut up and just pray.'"
So, he did. And then he began to weep.
"I remember sitting there crying because I felt wanted. I felt like there was somebody in front of me who wanted to just look at me," Father John said. "It was the first time I'd ever thought about Catholicism as a relationship. For me for the longest time, it was just about rules."
He so liked the feeling of sitting in the presence of the Blessed Sacrament that he began to visit the adoration chapel every day, alongside many of his classmates. He paid attention at Mass and bought a Magnificat, a monthly spiritual guide publication, to help direct his prayer. He began talking to other students and learning more about the faith.
"Freshman year was the first time I made the connection to the priesthood — that it was a possibility," Father said. "It wasn't that serious, but I thought — that's kind of cool."
In his sophomore year, he spoke to Deacon Brad Watkins about possibly becoming a priest. It was an on-and-off conversation through junior year, and as a senior, he pursued his original career goal of becoming a pediatrician, like his grandmother. He loved children, problem solving, and had a desire heal people.
He had been accepted at all the colleges he applied to, some with substantial scholarships. Then the whole school watched the promotional video "Fishers of Men," a documentary about the priesthood. He'd seen it before, but this time was struck by a scene where a priest hears a last confession and anoints a young man dying at the side of the road. Immediately following that scene, a priest said: "The priest is the one who brings the soul back to God."
Once again, he was in tears.
"That was first time I ever connected with the idea of a priest being a spiritual doctor," Father John said. "In that moment, I thought, 'The Lord really wants me to try this seminary thing out.'"
He entered St. Charles Borromeo Seminary near Philadelphia in August 2014, right out of high school. It felt like he was home.
The biggest challenge he has faced on his journey is believing he has to be perfect to be a priest to avoid letting down people who have supported him along the way. He had to learn to surrender constantly to the Lord.
"The Lord loves me regardless of my imperfections," Father John said. "He wants me; he called me here. I only let people down if I refuse to run back to the Lord and let him direct the rest of the way."
To anyone who might be considering a call to the priesthood, Father John urges them to take the step.
"The whole point of a call is that you are called, but the second half of that is you have to respond," Father John said. "Oftentimes, we don't respond in either direction, whether it's to the priesthood, or to the religious life, or to married life."
How do we know if we are hearing what God wants for us? Father John knows from experience that if you pray to the Lord, and ask, you will receive in a completely unexpected way. Maybe someone says something, maybe you read something, maybe a random thought or memory comes to you.
"If you just present yourself — even just a small ounce of 'All right, tell me what you want!' — He is ready to pounce and give it to you, and you will know. But he doesn't force that on us," Father John said. "You don't have to try too hard to hear it because you're going to see it; it's going to happen."
To this day, just thinking about how the call came for him, Father John said, "Wow! I'm so in awe."