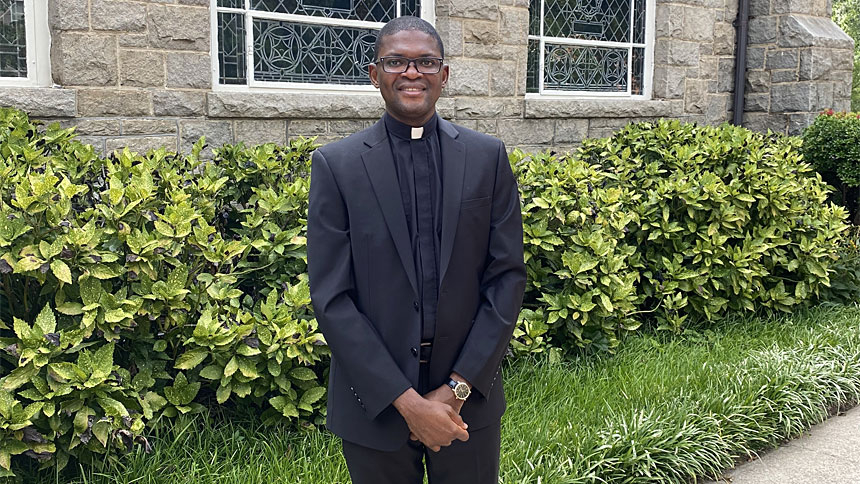 There was a time in his life when Matthew Nwafor felt misunderstood. It was the summer of 2015. He was a professor of philosophy at Godfrey Okoye University in Enugu, Nigeria. He and two other professors were teaching one course to 500 students. They divided up the work, and each student got to know each instructor.
Matthew was a lay professor; the other two were Catholic priests. It wasn't unusual for a student to forget, or maybe become confused, and call him "Father."
A religious sister, who was dean of faculty at the university, noticed. She'd often say to him in a friendly way that he should think about becoming a priest since everyone already thought he was one.
"Sometimes it was kind of funny," he said, adding that she was making a serious point.
It was an idea that hit home as he was experiencing what he called a "dilemma." He had been in seminary years before but discerned out of the program. He welcomes talk about it today. After all, it's all part of his story.
During that time as a professor he wondered if he should return to seminary, get married or pursue something else? Matthew took time to pray.
The years that followed would be interesting for Matthew, who became Father Matthew Nwafor in June in Raleigh. NC Catholics caught up with him to ask about his early life, discernment and new role.
NC Catholics: Describe your early life.
Father Matthew Nwafor: I was born in Nigeria; we spoke Igbo. I grew up in Enugu … a city, but not among the biggest. It's beautiful, quiet. There were seven siblings; I am the sixth. Three girls and four boys. My mom is Catherine and my dad is deceased, but his name is Emmanuel. My mom was a trader in a market and my father … a builder.
NCC: How did you spend your time as a child?
MN: My mom would always tell me that I was too book centered. I read a lot. I played outside. I enjoy being in company of people and chatting away, but not to the detriment of my goals.
NCC: What type of goals did you have as a young man?
MN: A medical doctor … that was my first dream. I was doing well in school, but God wanted to show me a sign … I wrote the exam to go to medical school, but I did not reach the cut off mark to be accepted. At the same time, I was also applying to the seminary. 
NCC: When did the idea of the priesthood come to you as a vocation?
MN: During my last days in high school. In the Nigerian public-school system, religion is part of academic studies. Teachers asked me to lead Catholic students in my school. I was a prefect. It exposed me to faith and meeting priests who came to school to celebrate Mass.
We didn't have an official chapel, but we had a school hall. When it was time for Mass, we would make a little altar …  we'd get a table, borrow a white cloth from a parish and get a crucifix. We'd make a vase of flowers. When it was the day for Mass, we would pick flowers on the way to school.  
I admired the priests. They sang Mass. It was rhythmic and sweet.
NCC: How did you end up discerning?
MN: A priest asked me to visit a Franciscan congregation. The chapel was beautiful. You just come into a place and feel like praying. I didn't apply [with the Franciscans, though.] He suggested to me to look at all the options. After high school I went to seminary in Nigeria.
NCC: You left seminary and later returned, right?
MN: I studied there, but then I began a new life. I wrote and began my master's. I finished my doctorate. It's part of my vocation history. I left because … you can look around and you don't think you are really comfortable. You just have to find your way.
NCC: Under what circumstances did you first come to the United States?
MN: The nun who was my dean … she got her doctorate from DePaul University in Chicago. She told me about a program there. I was excited. I knew English because in Nigeria that's what you use in school. Coming to the U.S. exposed me to the outside world … a sidewalk. (He laughs.)
There was some culture shock. In Nigeria there is closeness. People hug. They interrupt.  When I came to Chicago … people are on a train, quiet and avoiding. I would want to say "Good morning" to someone who wouldn't even look at me. I had to learn how to be by myself. It was a shock, but not a problem.
NCC: How did you end up in Raleigh?
MN: I have a sister here. When I came to visit, she took me to St. Catherine Church in Wake Forest. The longing to be a priest was growing. After Mass I approached Father [Phil] Tighe … who sent me to Father Bill John [Acosta-Escobar], who was then the vocation director. We started the process.
NCC: Now that you're a priest and parochial vicar at cathedral, what is life like?
MN: Parochial vicars do a lot of things. Mass. Confession. I love to share the faith. I think the work of a priest is like the work of a parent. You have so many things doing that go unnoticed. Somebody may think you're not doing anything, but you are overworking. And anytime you don't do those things the family shakes. There are a lot of little things you must take care of. Listening to people. You need to listen.
Photos
Click or tap each image in the gallery to view full size.