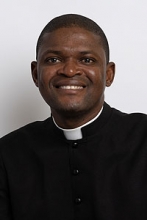 Pastoral Year
Pastoral Year Parish: Infant of Prague, Jacksonville, NC
Ordination Date: 2020
Birth Date: August 21
Home Parish: St Joseph Parish Raleigh
High School: Maryland Secondary School Enugu, Nigeria
College: St Joseph Seminary IkotEkpene & Nnamdi Azikiwe, University Awka, Nigeria
Hobbies: Reading, Writing, Volleyball
---
Who Influenced or Inspired you to the Priesthood: Fr. CharlesMary Eke, OFM, influenced me, and Fr. Philip Tighe consolidated it.
What would you say to a young man who thinks he may have a vocation: I would advise him to get a good spiritual director who will assist him in his discernment process while he prays for divine leadership into making a proper decision.
Favorite Scripture Passage:  Romans 8:28. God's word through St. Paul helps me to see God's hand in everything that happens in my life. It helps me to resign to God's will at all times in hope for a greater good.
Favorite Saint: St. Therese (The Little Flower of Jesus).