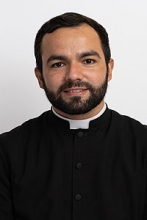 4th Theology
Seminary: Saint Charles Borromeo Seminary, Wynnewood, Pennsylvania
Ordination Date: 2020
Birth Date: April 14
Home Parish: Parroquia Divino Niño (Ábrego, Colombia)
High School: Carlos Julio Torrado Peñaranda (Ábrego, Colombia)
College: Fundación Universitaria Cervantina San Agustín, (Bogotá, Colombia)
Hobbies: Music, Drawing, Swimming.
---
Who Influenced/Inspired you to Priesthood: I think that during my life many people have inspired me to the priesthood. But if I have to mention someone's name, I would say: Fr Félix Ramón Collantes Maldonado, my cousin, who is a missionary, a good preacher of the Gospel; Fr. Fernando López; and Fr Gustavo Zamora Guzmán and also my parents.
What would you say to a young man who thinks he may have a vocation: I would tell him: If you think you have a vocation, pray and put everything in God's hands; let him work in you, and also talk with a priest about the gift of vocation. Also I would say: We are not worthy of this great gift, but God, our Father, chose us not because we are perfect, but because he wants us to be saints in his sight.
Favorite Scripture Passage: Daniel 12:3 "But those with insight shall shine brightly like the splendor of the firmament, and those who lead the many to justice shall be like the stars forever."
Favorite Saint: Saint Thérèse of the Child Jesus and the Holy Face, but I have great sympathy for Saint Augustine of Hippo and Blessed Maria Teresa Facce.