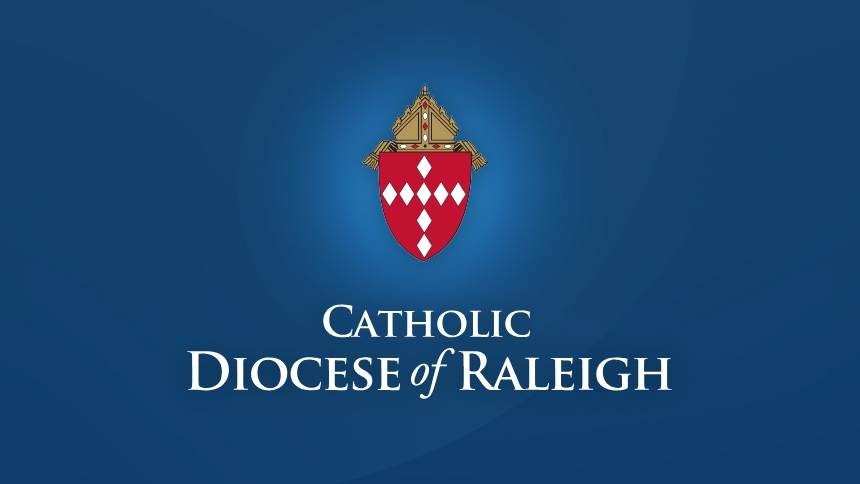 It's been 50 years since a three-year-old mission church in Garner officially became a parish.
St. Mary, Mother of the Church Parish celebrated its milestone anniversary Sunday, Sept. 17, with a special Mass. Bishop Luis Zarama presided; concelebrants were: Father David Chiantella, pastor; Father Amaro Vasquez, parochial vicar; Monsignor Gerald Lewis, who served as pastor from 1968-1970; Father Robert Schriber, parochial vicar at Our Lady of Lourdes Parish; and Father Joseph D'Silva, a retired priest.
In his homily, Bishop Zarama spoke about the 50th anniversary and asked the faithful to reflect on how things have changed over time. "But the most important thing in the life of a parish," he said, "is how the Lord challenges us—always—to experience his love. We come here looking and searching for Jesus … for the truth." 
Before the final blessing, Raleigh's new bishop asked those gathered to pray the Hail Mary with him. "May she help us and guide us to be close to her son," he said. 
After Mass, Father Chiantella, who came to the parish in 2012, spoke about the event, which was attended by both parishioners and former parishioners, many of whom traveled to Garner to participate.
"It was a blessing, indeed, because this parish … it's a small parish. It has a family atmosphere," he said. "Even for the people who moved away, their heart is still here at St. Mary, Mother of the Church, and it warmed my heart to see them all come and participate in this."
For longtime parishioner Norma Montgomery, 80, the anniversary event was an opportunity to visit with friends and priests she has known more than 50 years. She noted that the small-parish atmosphere helped her husband, who used to mow the grass on the parish grounds, to convert to Catholicism. "He turned Catholic, and I don't think he would have if this had been a large church. Since it was a small church to begin with … the smallness of it is what we liked," she said.
For Dana DeBuhr, who served on the anniversary committee, the milestone was a time to reflect on her community's rich history. The parish began its anniversary year almost 12 months ago with a fall festival, t-shirts and car magnets. The committee included stories of parish history in the bulletin each week, and the church received a papal blessing.  
"We are so fortunate that we still have some of our original parishioners who started this parish. When we started the process of planning for our 50th, they had so many fantastic stories," she said. "We really wanted to honor all those families."
Parish history
According to parish leaders, the community had a "humble beginning" that dates back to 1964, when the faithful gathered for Mass in a rented former beauty shop. That same year, the diocese purchased 12 acres in Garner for a new church, which was built and dedicated in 1965. The community became a parish in 1967, with Father Charles Mulholland as its first pastor.
In the 1970s, the parish was served by the Sisters of Notre Dame and, later, the Sisters of the Good Shepherd.
St. Joseph Hall was built and in 1990, and the chapel was added to the church wing in 1992. An outdoor Marian shrine was added in 1996, and by 1999, the parish added meeting and classroom space to St. Joseph Hall.
In 1994, the Knights of Columbus (the Father James Keenan Council 11266) was issued its charter by the Supreme Council. In 2014, a Circle of the Columbian Squires was chartered and, in 2015, a Columbiette Auxiliary was granted. 
Today, St. Mary, Mother of the Church has more than 1,200 families and continues to grow. The parish offered its first Mass in Spanish in 2013, and each weekend the faithful celebrate three Masses in English and two in Spanish.