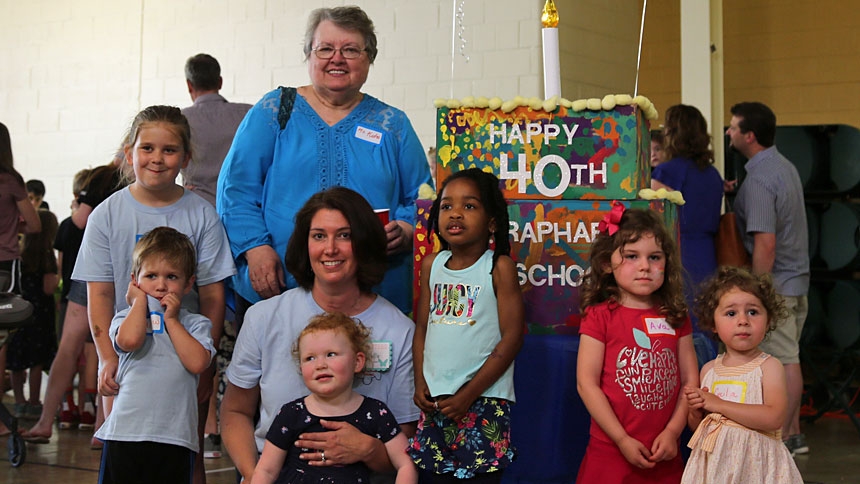 It's been 40 years since Sister Frances Claure Ugast, CSC, started an early childhood center at a Catholic parish on Falls of the Neuse Road in Raleigh. It was one of the firsts of its kind in the area.  
The sister was a person of faith, vision and determination, according to Monsignor Gerald Lewis, then Father Lewis, who was a parish priest at the time.
"She was the energy, relying solely on the Lord and his blessed mother, that produced a program of excellence, a model that is continued today," he said.
Like Monsignor Lewis, those who knew of the preschool during its early days remember rapid growth and high demand for early education. 
Teacher Kate Welte remembers long lines of parents, in the 1980s and 90s, who waited for hours hoping to get a spot for their child in the program.
"Now, there are lots of preschool options available [in Raleigh], but St. Raphael remains rock solid," Joey Hoying, a former student and current parent, said May 18 at a 40th anniversary celebration. "This community I have grown up in is near and dear to my heart. There is a strong history and bond. Even though the building has changed and the teachers have changed, it is still a very special place."
"ECC years were memorable and fun," said Rosalie Innacelli, former preschool director. "The ECC wasn't only a setting for the education of young children but also a vital ministry of the parish to engage families in the center and parish communities."
Since the inception of the school, each class has been identified by an animal or character name.
"I graduated in 1985 as a Smurf," said Muffy Grant-Linnane, a current preschool parent. "The love of learning started very early for me, and I always felt that school was a place of joy."
Photos