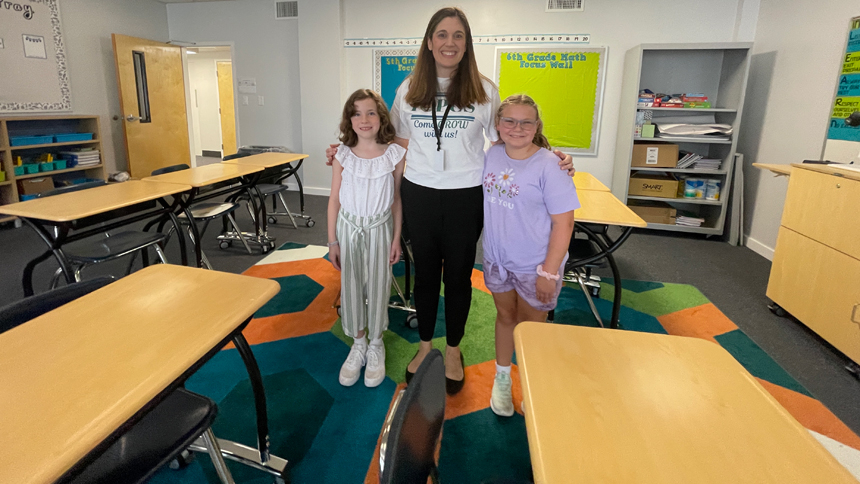 JACKSONVILLE – The principal at Infant of Prague School is happy. Some of the reasons why are seemingly small. There's the bright yellow 3D statue of the school's namesake that was created in math class. Then there's the new fountain designed for safer drinking water. And don't forget desks on wheels; they can make any part of the room the front of the class.
But it's where those things are and who is using them that's creating the biggest smiles.
In August the school opened its newly renovated building at 501 Anne St. and added high school grades.
"We have prayed for a Catholic high school option for our families for many years," said Jennifer Feldhaus Bryson, principal. "Watching the students come in … they are very excited. Everyone has had a part in making this dream a reality."
Before this school year, IOPCS served students in Pre-K through 8th grade and all classes were held in the school's building at 501 Bordeaux St., which is still operational but now houses only Pre-Kindergarten through 4th grade students.
The new building on Anne Street houses 5th through high school grades. It's a three-story, brick building that was purchased in 2022. Its renovation took a year to complete. The project included a fire suppression system and tripling of the electrical capacity, said Robert Rusch, project manager and member of the parish finance committee. 
"The bones are great. It's solid as a rock," he said, noting that staff members were consulted on the floorplan. The new building is more than 15,000 square feet and is connected to an 8,000-square foot chapel by a ground floor corridor.  
The changes have allowed the school to serve more students, said Bryson, especially in grades 3rd through 5th. She added that accessibility is key when parents select a school for their children.
"Over 54 percent of our students at IOP receive some form of tuition assistance. The main form of that assistance is the North Carolina Opportunity Scholarship," said Bryson.
Bryson and assistant principal Maria Johnson noted that, geographically, students come from all over Onslow County, where Jacksonville is located, and some as far as Morehead City, which is about 40 miles away.
"We have some that are in Sneads Ferry, 30 minutes away … Swansboro, Richlands and right here in Jacksonville," said Johnson.
Onslow County is home to Marine Corps Base Camp Lejeune; military air stations, such as Cherry Point, are nearby, too. The area, Johnson said, has a transient nature.
Military families are a defining part of IOPCS, and Bryson said at least half of the students are from military families. Moving is part of life for many of these families and a Catholic education, Bryson said, can be a mainstay for a student from a Catholic school in another state who is looking for continuity.
Johnson, who grew up in the area, enjoys looking at the IOP community in terms of history. Around 1920 there were about eight Catholics in Jacksonville, she said, and they traveled to Mass in Wilmington about once a month. With that in mind, witnessing the present-day growth gives her goosebumps. 
"We are a Catholic community. And, by the grace of God, having people from all over the world come here to create this Catholic family, it's such a blessing," she said.
Video
NC Catholics NOW visits two Catholic schools in the diocese experiencing growth this year! Blessed Sacrament School in Burlington moved its middle school students into a new building and Infant of Prague School in Jacksonville did something similar, while also adding high school grades.
Photo