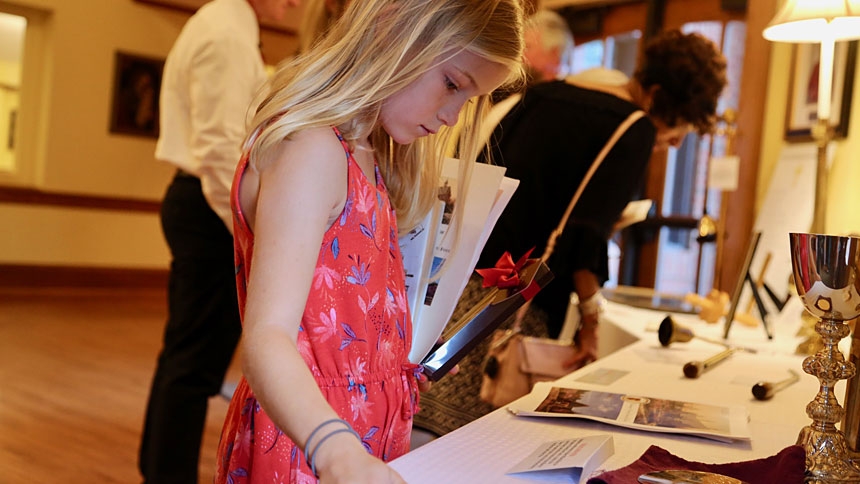 PINEHURST - Madison Davis wasn't around when her parish was founded in 1919. Neither were her parents or grandparents for that matter.
But that didn't stop her from examining the chalice that founding pastor Father William Dillon used a century ago or the vintage candle lighter that likely lit a thousand candles.
From her perspective, the items, which were displayed as Sacred Heart Church celebrated its 100th anniversary, were "pretty cool."
"It's cool to see something so old," she said in the church vestibule as her parents and brother stood nearby.
For Madison, 9, the coolest things, though, are her faith formation classes, fundraisers and vacation bible school program called Totus Tuus. Those are the things she smiles about most as she talks.
Madison was part of a group of about 250 people who gathered June 28 (the Solemnity of the Most Sacred Heart) for a Mass to celebrate the church's centennial and installation of its new pastor, Father John Forbes, who has been administrator of the parish for two years.
Mass began with a processional hymn titled The Shepherd's Flock, which was adapted from Ezekiel 34 by Matthew Lyon Hazard and Jonathan Talberg and commissioned especially for the occasion.
In his homily Bishop Luis Rafael Zarama, who held a pink rose as a symbol of love, talked about how people express love and how to be open to receive it.
"We come to celebrate the mystery of Christ's love," he said. "Each time we come to Mass and receive Jesus in the Eucharist, Jesus challenges us to see … to find something beautiful in others."  
After Mass the community gathered for dinner, which was organized by parishioners Edith Kaylor and Mary Beth Griswold.
"This is what being a parish family is all about," said Griswold, who moved to the Pinehurst area from Alabama in 2015 after retiring from the U.S. Navy. "This parish has a constantly changing dynamic."
Kaylor, who has also been a parishioner for four years, agrees.
"It's special to me because there are a lot of military families," Kaylor, whose husband is retired from the military, said.
Both women say that there are plenty of "adoptive grandparents" for the younger children and that many parishioners contribute to parish life.   
For Mary Round, who has been a parishioner since 1971, the community is special because when it moved from its former church building to its present-day church, which was dedicated in 1993, it paid special attention to the liturgical elements.
"We brought everything from the old church to the new church. We brought the stations of the cross and the windows. The old high altar candlesticks became the new brass lamps," she said. "We left nothing over there. And we liked it because it continued our history. That's my favorite part."
Photos