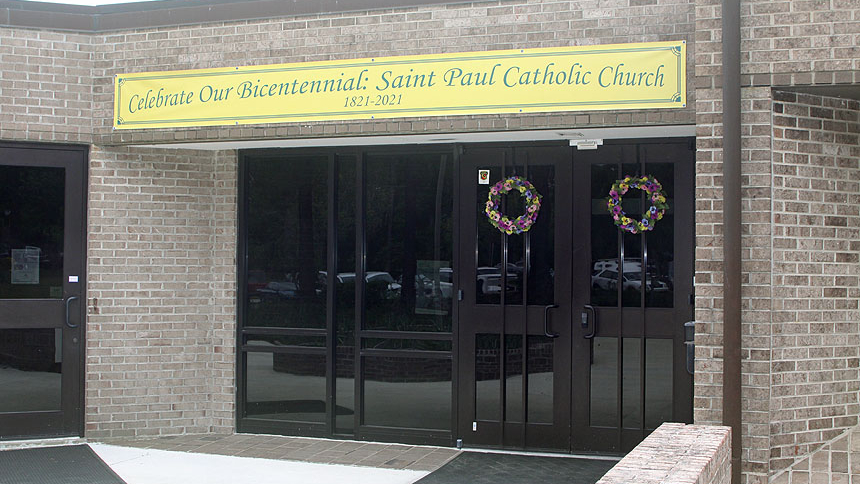 There's a term for birthdays that end in 5 or 0. You know: 30, 40 or 75. I often call those (and 16, 18 and 21, of course) milestones.
A friend of mine has a more fun term, though. She calls them "speed limit" birthdays. You know: 10, 25 or 60.
St. Paul Parish in New Bern is having a big birthday, a big anniversary, this year. The church community is 200 in May. It qualifies for milestone but is way past any posted speed limit.  
NC Catholics has had a few occasions to visit St. Paul. Once was in 2018 after Hurricane Florence. I remember the giant, two-sided white board with names and address of people who needed immediate help. I also recall the people in the lobby waiting to get their assignments and offer that help. The parish knew who needed what because they did a phone wellness check on each parishioner.
It didn't surprise me that the white board was back in 2021. This time, though, it was for something fun: celebrating the community's anniversary. The parish planned history-teaching events this year for each month leading up to the anniversary.
They made T-shirts, Christmas ornaments, costumes and cookies. They displayed history posters for people to read before or after Mass. They performed dramatic recreations of conversations that likely happened between church leaders 200 years ago. They made resources available online. They arranged choir songs for monthly vespers. They planned the May 22 Mass to celebrate the occasion.
The community's actual birthday is May 24. It's the anniversary of the day Bishop John England arrived in New Bern, which was part of the Diocese of Charleston at the time.
The 200-year-old story goes that the bishop landed in New Bern, which was a thriving port city of about 3,000 residents, and wowed people with his oratory skills. He met parishioners, who had attended Mass in private homes whenever a traveling priest was available. He encouraged them to build a church.
It took a couple decades, but it happened. And it still stands today in downtown New Bern on Middle Street. The parish has a newer church building on Country Club Road, too. There's a school now. There's a family center building. Aged willow trees covered in Spanish moss sit on the edge of a pond.
The markings of time are something parishioner Nada Behr has observed at St. Paul. She moved to the area 30 years ago from New Jersey. And she tries not to miss a birthday celebration if she can help it.  
Looking at a printed timeline, she said, "I wanted to know more history. It's very interesting. This is a beautiful celebration of the Catholic religion here."
Happy Birthday, St. Paul! NC Catholics just may send dry erase markers for the planning of the next milestone.