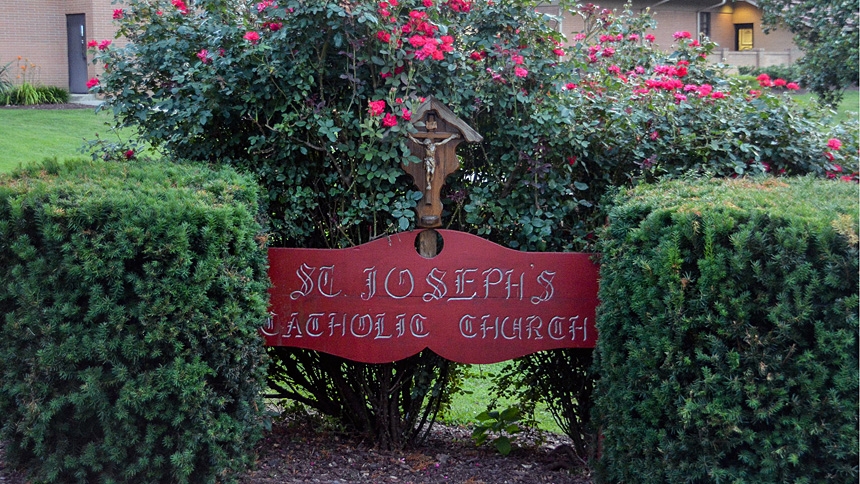 The community celebrated the 50th anniversary of Raleigh's St. Joseph Parish Oct. 10 with adoration of the Blessed Sacrament, an anniversary Mass and a reception. An anniversary picnic was held Oct. 14.
The church, dedicated Oct. 11, 1968 by Bishop Vincent Waters, is currently led by Monsignor Jeffrey Ingham. Monsignor John Williams, pastor of St. Joseph from 2002 – 2014, shared a homily at the anniversary Mass that focused on scripture, history and his joy to be reunited with friends.
He discussed 1968, a year, he said, that saw unrest, including the assassination of civil rights leader Dr. Martin Luther King, Jr. "Some of you remember," he said. "Institutions – social, educational, political, ecclesial … were shaken."
Many of the founding families at St. Joseph came from the, then, newly closed St. Monica Church, a parish that existed from 1930 until 1968 with strong ties to the Black community.
Throughout history, St. Joseph Church was known for its acres of green lawns, successful vacation bible school sessions, social gatherings and the music of organist Ruby Boyd and many choirs.
In 1993, on the occasion of the parish's 25th anniversary, Monsignor Thomas Hadden, St. Joseph pastor from 1971 – 1973, wrote a letter to parishioners. In the letter, he recalled work days when families would participate in the upkeep of the property.
"Not only was work done, but friendships strengthened and fellowship was shared," he wrote. "It was that spirit of involvement and commitment and love of the parish that has stayed with me over the years."