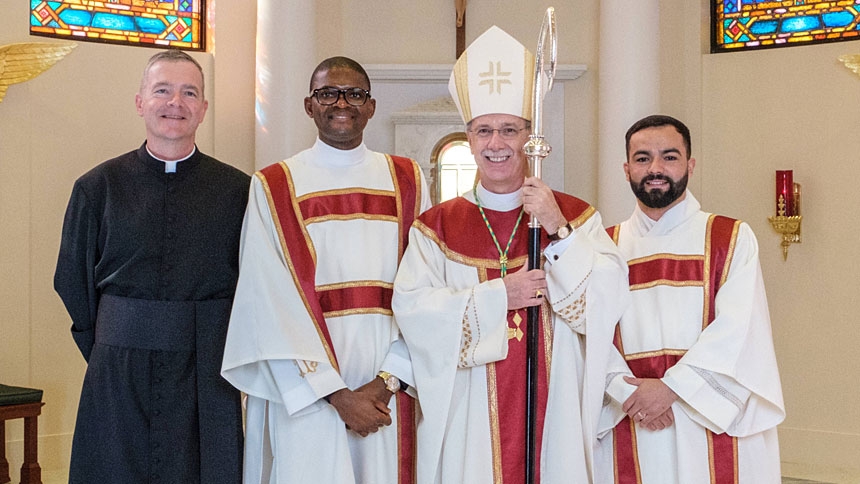 Seminarians Jairo Alberto Maldonado Pacheco and Matthew Ikechukwu Nwafor became transitional deacons April 27 at Holy Name of Jesus Cathedral in Raleigh. Unlike permanent deacons, transitional deacons are those in seminary studying to become priests. 
The rite of ordination to the diaconate included the presentation of the candidates by vocations director Father Philip Tighe, the election (or acceptance of request) by Bishop Luis Rafael Zarama and the six promises of the elect. 
The newly-ordained deacons were given a stole and dalmatic, clothing of a deacon that indicates their ministerial role in the celebration of the Eucharist.
In his homily, Bishop Luis Rafael noted that a deacon's role is to serve others.
"Let Jesus serve you first. Let him take care of you. Let him, allow him, to love you. Open yourself to the beautiful challenge that you have in front of you," the bishop said. "And you cannot be deacons and fulfill the mission that the Lord entrusted you without love. That would be impossible. The only thing that will give you the joy of being servants is let the love of Jesus serve you first. Make the time, not to impress him, but to let him love you … transform you. And be filled with his life and his love."
Watch Bishop Zarama's homily
Photos