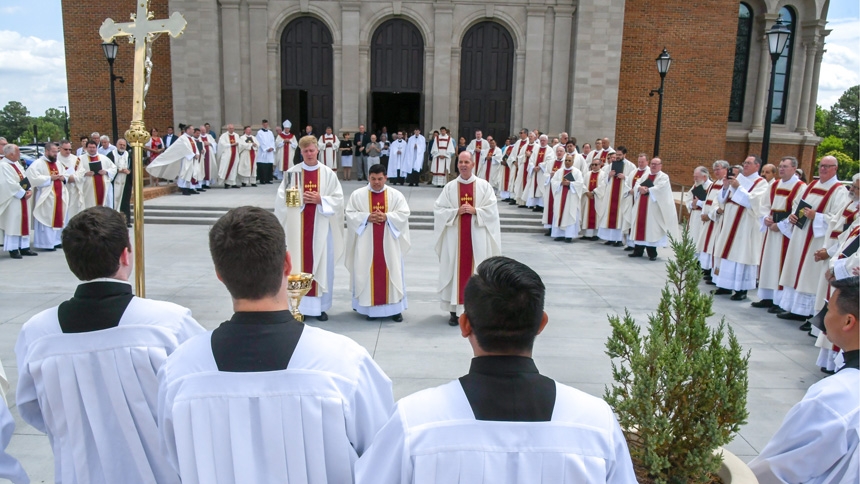 The diocese welcomed its three newest priests Saturday, June 23. Father Michel Coveyou, Father Christopher Koehn and Father Marlon Mendieta received the sacrament of holy orders during a morning Mass at Holy Name of Jesus Cathedral in Raleigh.
Friends, family and fellow priests gathered for the rite of ordination, which included the presentation of the candidates, election by the bishop and consent of the people.
Bishop Luis Rafael Zarama, who is approaching his one-year anniversary as bishop of Raleigh, delivered a heartfelt homily to the three men as they sat in the front pew of the cathedral. He asked them what they were thinking and how they felt.
"The richness of the priesthood is the freedom to know how do you feel as a human person that you can allow the love of Jesus and the companionship of Jesus to be part of your daily life," the bishop said. "The call to the priesthood is to have a relationship with the Lord, and it's the only way that you will be able to enjoy your priesthood."
Bishop Luis Rafael discussed the theme of the day's Gospel – "Love one another as I have loved you" – and asked those gathered to think about their freedom to receive the love of Jesus.
The Mass, which was bilingual, included the promises of the elect, which are five promises made by those to be ordained. All three men stood before the bishop, who sat in the cathedra, or bishop's chair, and read each promise aloud. Later, each of the three men also kneeled and made a promise of obedience to the bishop and his successors. 
As the congregants kneeled, the three to be ordained prostrated before the altar as the Litany of Saints was sung. 
Another important moment in the rite included the laying on of hands, whereby the Holy Spirit was conferred onto each candidate – first by the bishop and then by all priests in attendance. The prayer of ordination followed, and – at its conclusion – each of the elect was ordained a priest.
Each new priest was vested in a stole and chasuble, clothing to reflect his new role. And each chose a priest to assist him, an honor signifying friendship and assistance in formation. Father Coveyou chose Father Thomas Tully for assistance, while Father Koehn was assisted by Monsignor Jerry Sherba, and Father Mendieta was assisted by Father Scott McCue.
The bishop then anointed the palms of each priest, a sign of the sealing with the Holy Spirit.
During Mass, gifts were presented by Sylvan Koehn, father of Father Chris Koehn, Luisa Mendieta, aunt of Father Mendieta, and David Coveyou, brother of Father Coveyou.
After Mass, a reception was held in downtown Raleigh, where each new priest blessed those seeking a blessing.
When asked what he was most looking forward to about being a priest, Father Coveyou, who will serve at St. Bernadette Parish in Fuquay-Varina, talked about a journey. 
"Walking with people through their faith walk. I have always believed, just like when you raise children, you are not meant to solve all the challenges and problems that life brings," he said. "We are to encourage and help, and also inspire. My mom always told me, you have two ears and one mouth, use them in ratio."
For his part, Father Koehn, who will serve at St. Thomas More Parish in Chapel Hill, is ready to listen and model what mentor priests have taught him.
"Bishop Ned [Shlesinger] always said, 'People don't want busy priests. They want priests who are available.' Even though priests are busy, it's a catch," he laughed. "Ministering to people shouldn't have a rushed component … there's a real peacefulness that has to come from within."
He added that he hopes the faithful will know that a relationship with Jesus is available to everyone.
As Father Mendieta begins his priestly ministry, he does so with the connections he has made with others, as well as strong ties to Scripture.  
"The Acts of the Apostles [is my favorite book of the Bible.] It's all about the apostles going out and proclaiming the Gospel to the world," he said. "You get to see the struggles they went through in preaching … it's inspiring to see how they did their work and gave their lives."
- Kate Turgeon Watson, editor, NC Catholics 
Mandy Howard and Evan Fritsch contributed to this report
Please join us in welcoming our newest priests and look for more ordination news and photos on dioceseofraleigh.org and additional, expanded coverage in the July/Aug. issue of NC Catholics magazine.
Watch Bishop Zarama's homily
Watch the full ordination Mass