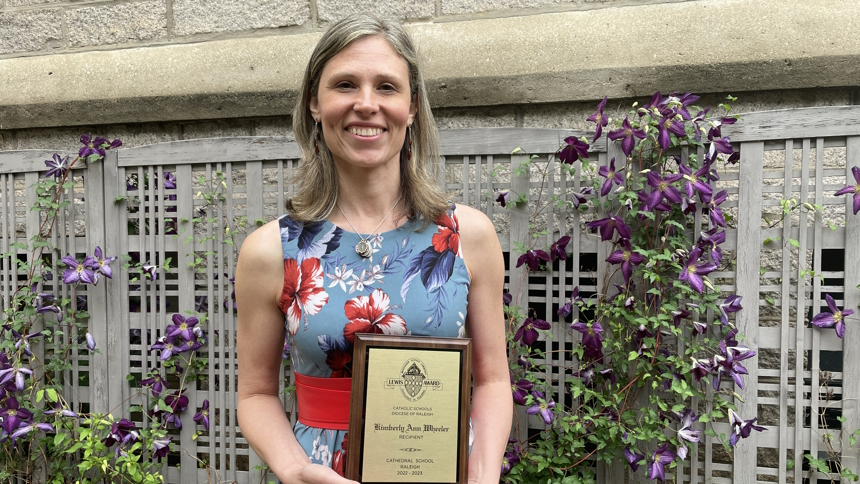 RALEIGH—Kimberly Wheeler, a 5th grade teacher at Cathedral School, received the 2022-2023 Monsignor Gerald Lawrence Lewis Award for Excellence in Teaching April 19. The award is the equivalent of a teacher of the year honor for the Diocese of Raleigh's Catholic schools.
She received the plaque and other gifts during a Mass held at Sacred Heart Church. Bishop Luis Rafael Zarama presided. Monsignor David Brockman, Father Joshua West, L.C. and Monsignor Lewis, who shared the homily, concelebrated. Wheeler's pastor, Father Chris Koehn, was present as well.
Wheeler smiled during Mass as the bishop praised her daughter Claire (who is also her student) for her articulate sharing of the scripture reading.
The mother-daughter pair spent many Sunday afternoons honing Claire's liturgical reading skills.
"I have to take a deep breath and calm down," Claire said of her practice regimen at home and school. "Then I come back, take another deep breath, and do it again."
Wheeler's ministry as a parent, or primary educator, and school educator partnering with other primary educators, embodies an interdependent relationship.
"Who she is, it is no different at home than it is in the classroom," Peggy Lane, Cathedral School principal, said of Wheeler, the school's third Lewis Award for Excellence in Teaching recipient. "She believes highly in the domestic Church, and really embraces what the role of the family is. She educates her school parents in the same way, much in the same way as her students."
Wheeler, in her 16th year at Cathedral School, has teaching and learning expectations rooted in Catholic identity.
Lane remembered how Wheeler once interwove a faith tenet into a mathematics lesson. A recent Wheeler-led social studies lesson challenged students to discern and align texts' main ideas and supporting details. As students shared their findings, Wheeler challenged them to incorporate new vocabulary words in their responses.
For 5th grader Joe Taylor, that small group project was a chance to meet expectations of time management and receive feedback. "Mrs. Wheeler gives feedback very well, and she also gives us learning opportunities and plans to follow," he said.
For her part, Wheeler said she knows students thrive on the "why" and she works to make connections to who they are.
"I try to get them to articulate the concepts of what we're doing in relation to that because it makes a deeper connection for them," she added.
Deeper teaching and learning connections, Wheeler said, have been among the greatest blessings of post-pandemic, in-person education. Wheeler's commitment to modeling includes a specific, impactful technique for which face-to-face interactions are imperative when cultivating language arts skills.
During the award Mass, Monsignor Lewis asked questions during the homily, and Wheeler's students answered.
Each time they did, Wheeler affirmed their contributions afterward.
"I want them to know they're of value, so I want to make sure they're heard," she said. "They want their dignity. Part of the dignity is noticing."
Students' articulations of the Church's prayers and traditions offer most compelling witnesses to Wheeler's blending of the domestic and schoolhouse Churches. This integration was apparent immediately to Lisa Carter, who joined Wheeler's classroom as a teaching assistant this school year.
"She takes the time to know each child which helps them become successful," Carter said.
Wheeler, who chose Mary as her confirmation name when she received the sacrament, has embraced a familial consecration, which includes daily rosaries, to the Blessed Mother for two years.
"I think she's been pulling me a little bit closer to her son with little things throughout the past couple of years," Wheeler said. "I wanted to share that with my students."
Wheeler told her husband Matt that she wanted a teaching rosary for catechizing her students.
Matt gave her a large wooden rosary, which is large enough to hang on the wall and originated in Portugal. The couple found the piece while on a Fatima pilgrimage. Wheeler and her students used that very rosary to offer one decade after the Lewis Award presentation.
"She's always intentionally in the moment," Lane said. "She's very astute at identifying what her children need all the time … you just look and you go, 'yep, there it is, again.'"
It's something student Mia Johnson sees.
"I feel more connected to my faith by being in her class," she said. "She inspires me to keep trying new things by challenging my brain and by praying a bit more. I want to be just like her when it comes to being open to things."
Wheeler, having received the Lewis Award plaque and honorarium, encouraged those in attendance to surrender to God's will and commit to self-care, integral to being the best person Jesus Christ wants each individual to be.
"She's teaching us all how to be really intentional in our processes," Lane said. "I continually learn from her and grow in my faith because of her. Across the board, all stakeholders, we're all learning from Kim."