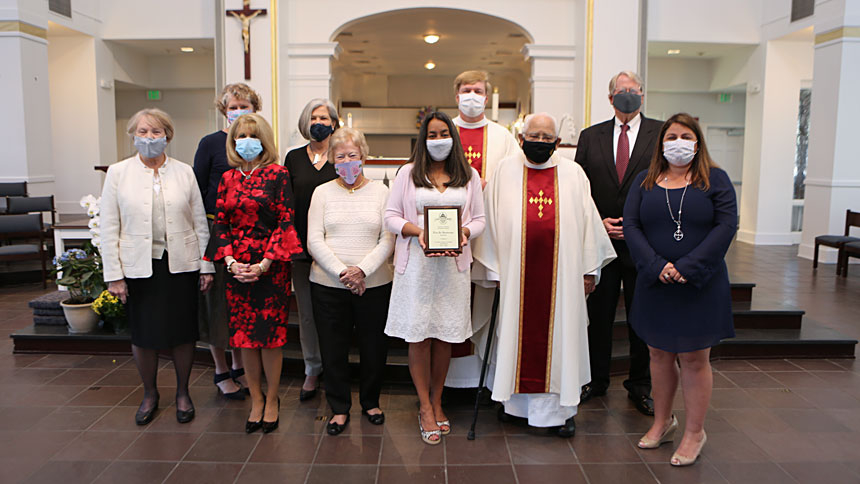 FAYETTEVILLE - On Wednesday, April 21, a Mass was celebrated at St. Ann Church in Fayetteville to honor Tina Isenbarger, the 2019-2020 recipient of the Monsignor Gerald Lawrence Lewis Award for Excellence in Teaching. 
Isenbarger learned about the honor over one year ago, on March 13, 2020. It was the same day that schools converted to distance learning due to the coronavirus pandemic. Isenbarger said that although it was a hectic and confusing day, the announcement was wonderful.
"My colleagues came over, students were screaming down the hallway and my parents were the first ones that I called," she said.
The Lewis Award Committee promised that though no immediate celebration could take place, however long it took, they would honor Isenbarger with a Mass and presentation.
That promise came true Wednesday.
Monsignor Lewis, namesake of the prestigious award, presided at the Mass, which welcomed Isenbarger's family, the St. Ann School community and Lewis Award committee members.
In his homily, Monsignor Lewis asked the children who was the best teacher. Many brave hands shot up and one proud 5th grade student answered, "Ms. Isenbarger!"
Monsignor responded, "Yes, that's true. She's a wonderful teacher and that is why we are celebrating her, but there is a teacher that is even greater."
He continued by describing Jesus as the greatest teacher we have ever known.
"His greatest lesson that he teaches us is love. He wants us to love and help one another," Monsignor said. Then, in what has become a favorite tradition for Monsignor Lewis, he ended the homily by asking the congregation stand and sing, "Jesus loves the little children."
After Mass, Lewis Committee Chair Keith Brown introduced Isenbarger. 
"She loves teaching, and she loves her students," Brown said. "One parent wrote, 'she knows and loves each of my children,'"
He also noted that Isenbarger expressed how she believed in each student's ability to learn. He shared that she said, "If [a student] can't learn the way I teach, then I'll teach the way [they] learn."
When Brown invited Isenbarger to the front, the congregation rose in a joyful standing ovation. Monsignor Lewis and Lewis Award founder Anne Stahel presented Isenbarger with a check, a plaque and a beautiful silver plate commemorating the achievement.
Isenbarger thanked her family, her colleagues and the committee for the honor. She said that she believes the Holy Spirit brought her to St. Ann at a difficult point in her life and that every day since has been a blessing. "I never thought of teaching as a job. I love to teach," she said.
Chioma Okoye is a parent at St. Ann and longtime friend of Isenbarger. She said, "She is always excited, she is always happy, and she knows all the kids and all the parents. She helps make St. Ann a family. She is the best."
Isenbarger taught three of Okoye's children including Chimdi, who was present for the Mass. Chimdi, now in 7th grade, agreed that Isenbarger deserved this recognition and added, "She makes learning really fun and every day is a good day with her."
Photos