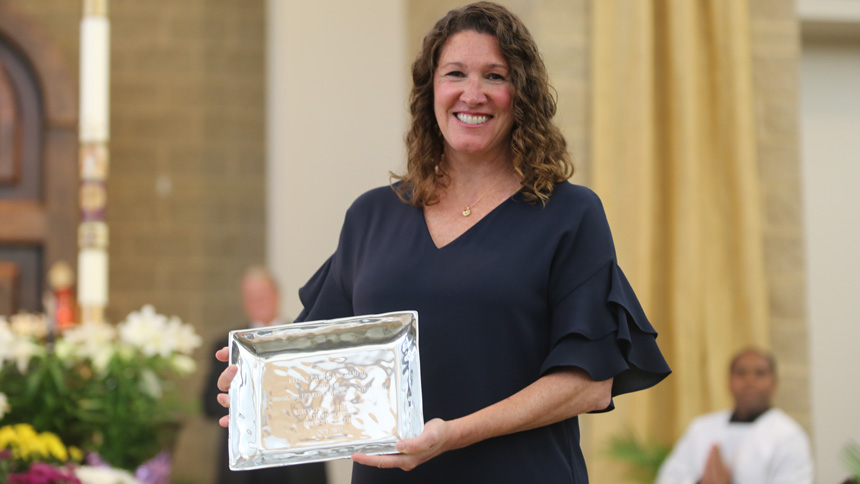 Above: Kelley Champion, of Blessed Sacrament School, receives the 2022 Lewis Award for Excellence in Teaching.
---
BURLINGTON - Kelley Champion proudly admits that she bleeds blue and gold, the colors of Blessed Sacrament School, where she is a middle school language arts teacher.
"She teaches us grammar, and it's, like, fun too!" says Valeria Alvarez Rojas, one of her students. 
Wait. What? Grammar? Fun?
Her mastery of the classroom is just one of the reasons Kelley Champion has been named this year's recipient of the Lewis Award for Excellence in Teaching.
The Lewis Award recognizes, promotes and encourages teaching excellence in Catholic schools.  Now in its 30th year, the award is given to those teachers who demonstrate outstanding and ongoing commitment to their students, colleagues, school, family, church and community.
For Champion, teaching is a family business. Her parents each taught middle school for 40 years. Her brother is a math teacher, and her son teaches social studies at Blessed Sacrament.  Throughout her 25 years at the school, she has served as a coach and taught physical education, Kindergarten, 4th grade and now language arts.
In accepting the award, Champion noted that teaching is not a job, but a profession and a calling.
"I have memories of my mom on the couch late in the day and my brother and I saying to her 'What are you so tired for? We were at school all day too!' … I have a very different perspective on that now!" she laughed.
Champion said one of the greatest gifts she has received at Blessed Sacrament is the ability to share her faith in all facets of teaching. In particular, she uses her faith to problem solve ways to help her students manage issues.
"I think that has always helped me in having a special relationship with all of my students, because I can share something with them that other people in my profession in public school settings just can't do," she says. "So that's definitely one of the biggest gifts, if not THE biggest gift."
Monsignor Gerald Lewis, for whom the Lewis Award is named, echoed this added dimension of a Catholic education during his homily at a Mass honoring the Lewis Award recipient April 27. He reminded the congregation that this award celebrates one person as well as all Catholic school teachers in the diocese and their students.
"We can teach reading, writing and arithmetic, but we can also teach Jesus," Monsignor Lewis said. "We teach how to be good to each other, how to honor each other, respect each other, and how to understand — every one of us — that God doesn't make junk. We are all good people, simply because God loves us."
That focus on the individual — the support and encouragement of each student — is another hallmark of Champion's impact in the classroom. 
Keith Brown, chair of the selection committee for the Lewis Award, noted that, when asked about any advice she would offer other teachers, Champion said: "Create an environment where every single student, regardless of intellect or ability, knows their importance and feels valued."
Mr. Brown noted that he saw that active in her classroom and that peers described Champion as "a loving, compassionate educator who focuses on teaching the whole child."
Avery LaPlante, another of Champion's students, agrees.
"She will focus on you, and she will make you feel that you are respected, and that you matter in what you are learning about," Avery said. "I will try to use that, and help other people feel like that if I become a teacher or am just helping other people learn." 
For her part, Champion said that one of the most rewarding aspects of receiving the Lewis Award was what she learned from the nomination process.  As part of that process, she had to ask her colleagues to write letters of recommendation.  Reading what they wrote "really blew me away," she said.
"All the extra work that you put in, the hours that you put in, the time that you could be spending with your family and not grading papers or going to those basketball games or any of those things — those usually go unnoticed," Champion said, speaking of life as a teacher.  "But seeing in writing the amount of respect, and gratitude and the appreciation that you have … that was just so meaningful. I can't really put it into words."
"That's something that's always going to resonate with me," she said. "When one of my colleagues does something that goes above and beyond, I need to make sure that I say it, and not just say 'Oh, that was nice' in my mind, but put words to it."
Photos