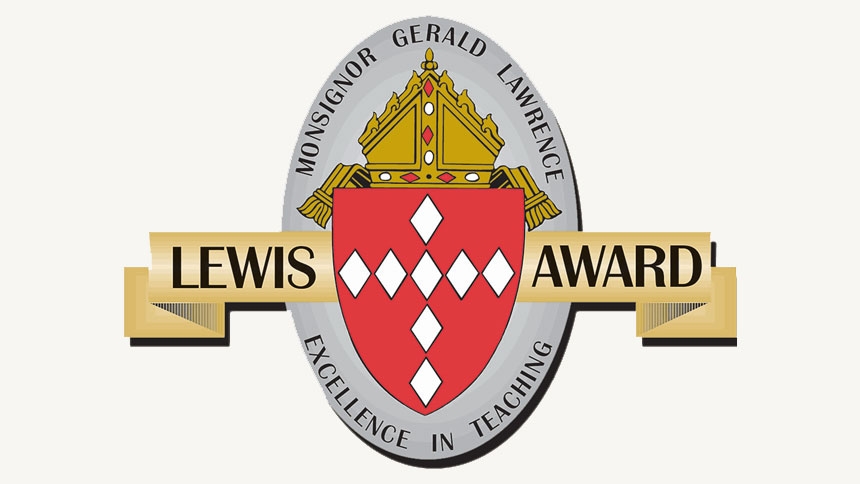 As part an ongoing effort to recognize the excellent work of teachers in the Diocese of Raleigh, nominations are now being accepted for the annual Monsignor Gerald Lawrence Lewis Award for Excellence in Teaching.
This school year, with students returning to class in person, the Lewis Award Committee is looking forward to opening the selection process and recognizing nominees again.
Keith Brown, who has been a member of the Lewis Award Committee since 2011 and became chair last year, said that last year was difficult for all of us.
"Last school year we started with a lot of unknowns, because the virus was fairly new, and we didn't know what impact it was going to have. But we knew it was going to create huge challenges to our teachers. Therefore, we suspended our normal nomination process, and instead we tried to find a way to recognize all our teachers," said Brown.
The committee expressed their gratitude to teachers with a special prayer, composed and blessed by Monsignor Lewis, and Catholic school principals in the diocese were presented with a plaque including the prayer and the logo of each elementary and high school as a reminder of the sacrifices teachers have made and continue to make each school year.
The Lewis Award Committee has nine members and is composed of parents and teachers from across the diocese. The Bishop of Raleigh appoints the members from nominations made to him by the Lewis Award Committee. Committee members serve a term of four years.
The Monsignor Gerald Lawrence Lewis Award was initiated in 1992 to honor outstanding educators in the Catholic schools of the Diocese of Raleigh and to recognize, promote and encourage teaching excellence.
"We are looking for teachers who have illustrated their commitment to Catholic education and have also illustrated a strong commitment to their students, colleagues and schools as well as to their family, church and civic communities. I encourage all of our schools to participate," concluded Brown.  
Please consider nominating a teacher who has made an impact on you or your child. The nomination period is open from September 1 through September 30. Access the Lewis Award nomination form.