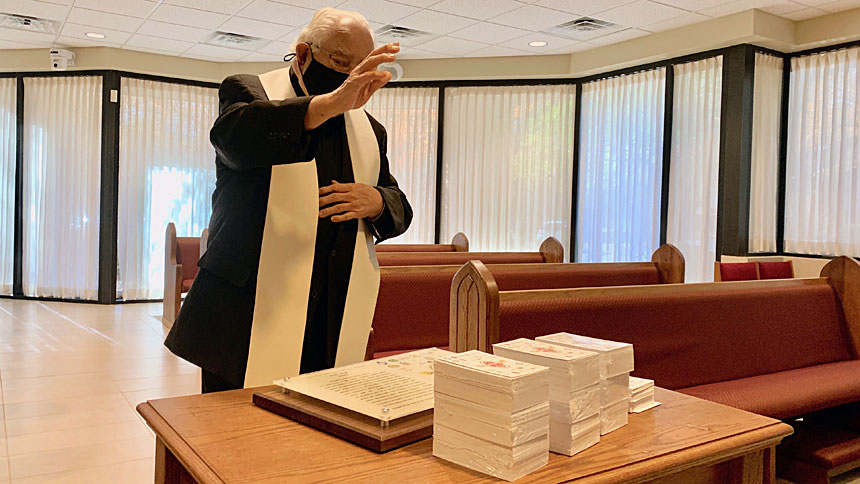 Since its inception 28 years ago, the Lewis Award has been about recognizing one teacher, annually, who sets the bar for all educators.
But, like many things the last 10 months, change came for the award, too.
Considering the uncertainties of the pandemic, the award process was paused for the 2020-2021 school year. The Lewis Award Committee took a new direction and decided to recognize the unprecedented challenges faced by the faculty in all schools. The members' main thought was that each teacher – all 659 of them – should be recognized for demonstrating selfless commitment, both professional and personal, to excellence in Catholic education.
Monsignor Gerald Lewis, for whom the award is named, blessed prayer cards Dec. 3 at the Catholic Center. The cards featured a prayer he wrote for educators during the pandemic, a time that has demanded much of those who teach.
In addition to a prayer card for each teacher in a diocesan Catholic school, each school will receive a plaque designed by Peter Ruocchio, who attended Catholic schools in the diocese. The plaque features all 24 school symbols.
"We hope this will be a lasting reminder of the sacrifices our teachers and their families made this year," former teacher and current Lewis Award committee member Susan Goethals said.
The plaques and prayer cards represent a change for the Lewis Award which, for more than 25 years, was celebrated with hugs, in-person Mass for hundreds and group dinners.
Last year's winner, Tina Isenbarger of St. Ann School in Fayetteville, learned she won the award on the last day of in-person education during the 2019-2020 school year. Due to COVID-19, the celebration for Isenbarger was put on hold.
Bless Our Catholic School Teachers
A prayer by Monsignor Lewis, 2020
Dear Lord, this has been a trying time for the dedicated teachers in our Catholic Schools caused by a virus that has infected our whole world. Loving Father, our teachers have continued to teach our children of your love and presence as well as the sciences of life amid great hardship. We beg your blessings on these dedicated teachers and upon those whom they teach. Let them know that your rainbow of love is over them and that their efforts will be rewarded by your protective love. We ask this through our Lord, Jesus Christ, the Great Teacher, in Union with the Holy Spirit. Amen.
Video
Related Content
NC Catholics NOW, April 2, 2020
Photo