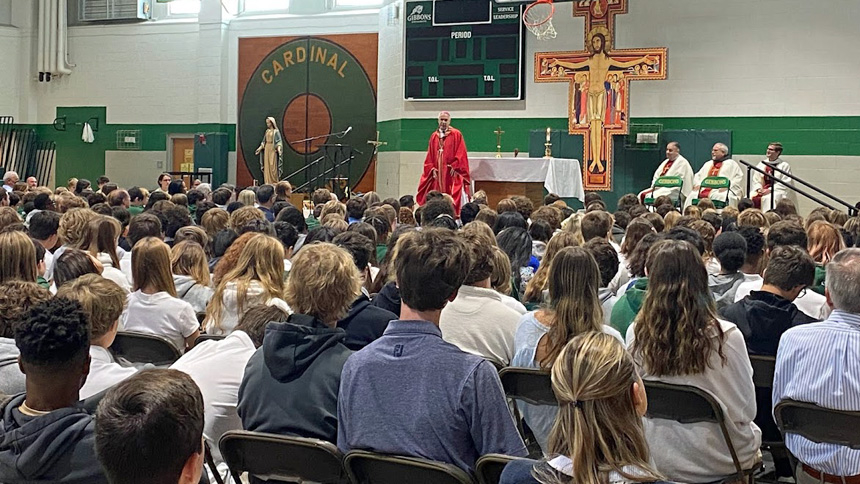 Photos courtesy of Cardinal Gibbons High School.
RALEIGH – For the first time in almost three years, Cardinal Gibbons High school held an in-person, all school Mass in its Father Price Gymnasium Sept. 1. The last time a Mass of its kind was held there was Jan. of 2020.
Students gathered and sat in the bleachers and on chairs to celebrate with Bishop Luis Rafael Zarama and Father Luke Rawicki, L.C., the school's chaplain.
Father Luke arranged to have some students and educators greet Bishop Luis upon his arrival. The community also gave the bishop a card during Mass to celebrate the 5th anniversary of his installation as the shepherd of the Diocese of Raleigh.
The school welcomed two guests, alumni from St. Monica, to observe the 68th anniversary of the day the first Black students started school at Cathedral Latin on Aug. 31, 1954. (Cathedral Latin later became Cardinal Gibbons High School. St. Monica was a Catholic school that opened in 1930 for Black students.)
Bishop Vincent Waters called for the integration of Catholic churches and schools in 1953.
Joyce Bass (St. Monica, Class of 1965) and Walter Solomon (St. Monica, Class of 1963 and Cardinal Gibbons Class of 1967) accompanied students in bringing up the gifts at Mass to "reaffirm our responsibility to foster diversity, equity and inclusion in Church and community."
Photos