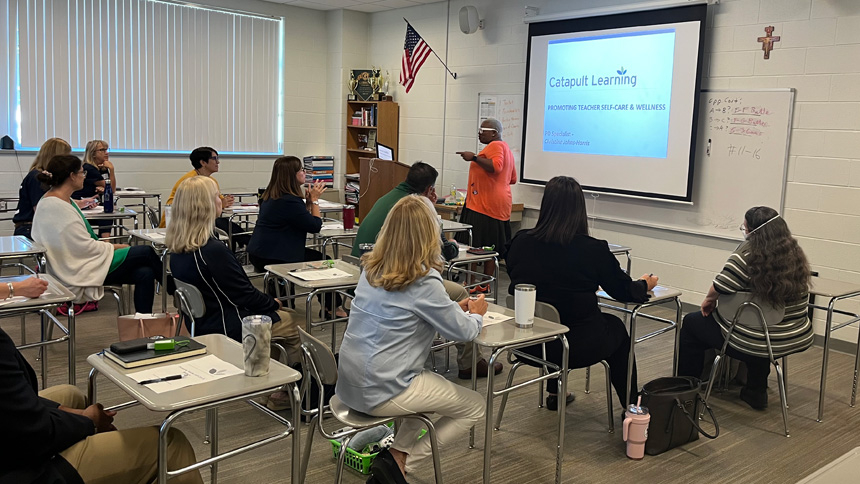 On Friday, September 23, 2022, principals, and teachers from Catholic elementary schools across the Diocese of Raleigh gathered at Cardinal Gibbons High School for a day of professional development, focusing on promoting teacher self-care and the growth of mindsets in their classrooms.
Teachers and staff members are on the frontlines of daily school life. From creating lesson plans, to grading papers, to attending to students' social-emotional needs, the caring adults in our classrooms are juggling immense workloads.
Lytia Reese, superintendent of Catholic schools, greeted the educators and welcomed them to their long day of learning, while Bishop Zarama greeted everyone with a video because, at the same time, he was attending his retreat with the priests of the diocese.
The teaching profession can be equal parts rewarding and stressful. Therefore, having one day to relax and become a student was overdue, as this was the first in-person gathering of principals and teachers since the pandemic started in 2020.
Michael Mastrocinque, director of instruction for Diocese of Raleigh Catholic schools and one of the event organizers, said that the Professional Development Day was an opportunity to bring all of the schools together to celebrate.
"I think it was important to have our educators together again, especially after a very difficult couple of years of being away from each other during the pandemic, and to really think about how we move forward together in our Catholic learning communities," he concluded.
The day of learning was divided into two sections. The teachers stopped being the ones who teach to become students and learn about topics such as breathing and managing stress, as well as strategies to encourage the academic enrichment of their students in their classrooms.
"I like being able to just show up and be told where to go and have something to learn in each session. My first breakout session this morning was very insightful. I liked being paired off with other assistant principals. I know some of them, so that was nice, good sharing," said Jacob Dapolito, assistant principal at St. Raphael Catholic School in Raleigh.
The teachers who had the opportunity to gather together enjoyed the long day of learning to return back to their classrooms refreshed and recharged to continue with their teaching journeys.
Photos