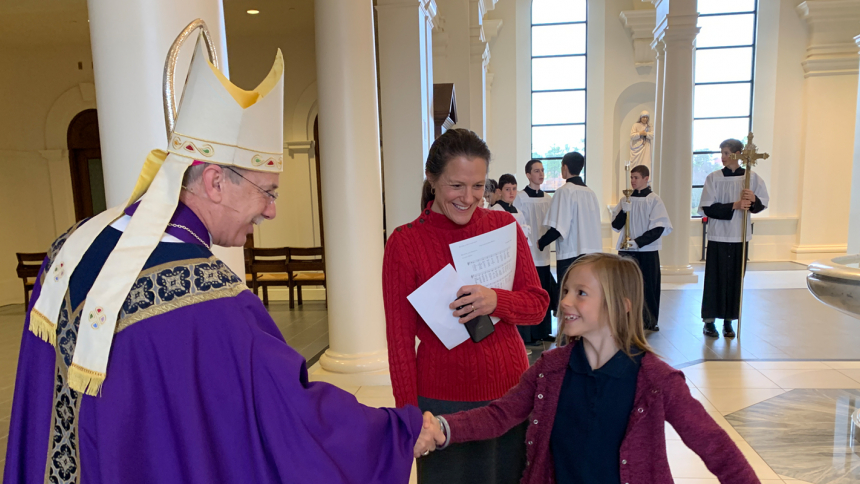 On December 6, Holy Name of Jesus Cathedral was filled with families from throughout the diocese for the annual Mass with Homeschool Families.
The Mass is coordinated as a joint effort of ARCH, the Association of Roman Catholic Homeschoolers, and the diocesan Office of Evangelization and Discipleship.
Monsignor Jeffrey Ingham and Father Phil Tighe concelebrated the Mass with Bishop Luis Rafael Zarama, who was principal celebrant and homilist.
In his homily, Bishop Luis Rafael referenced exactly what all kids love to hear about this time of year: house-cleaning.
Bishop related preparing your home for a special guest to preparing your heart for Christmas. He said that when a guest is coming for the holidays, all of a sudden, you see your house with new eyes, and see that it is not clean enough.
"You move the couch, you clean under the rug," he said.
He continued that in the same way, we should try to see our hearts with new eyes and make it a beautiful place to welcome Jesus.
"So that when the day comes, we are ready to welcome Jesus with smiles and joy," he said.
As the bishop met with families after Mass, one young student told the bishop that he was worried the homily might give his mom some new ideas for chores.
St. Joseph parishioner Sheryl Stickney (pictured above) attended Mass with her daughter Karolyne (also pictured above), who is named after Pope John Paul II, Karol Wojtyla.
"I think it's nice to have all the homeschoolers together. We come from all over the state, so we don't get to see each other much. And I think it's beautiful that they hold this Mass in Advent. It's the perfect time to come together and prepare our hearts for Christmas," Stickney said.
After Mass, families gathered outside for refreshments and cake. While parents caught up and sent good wishes, kids finished their treats quickly so they could run and play games on cathedral grounds.
Each family received a Christmas ornament to remember the joyful day.
Photos