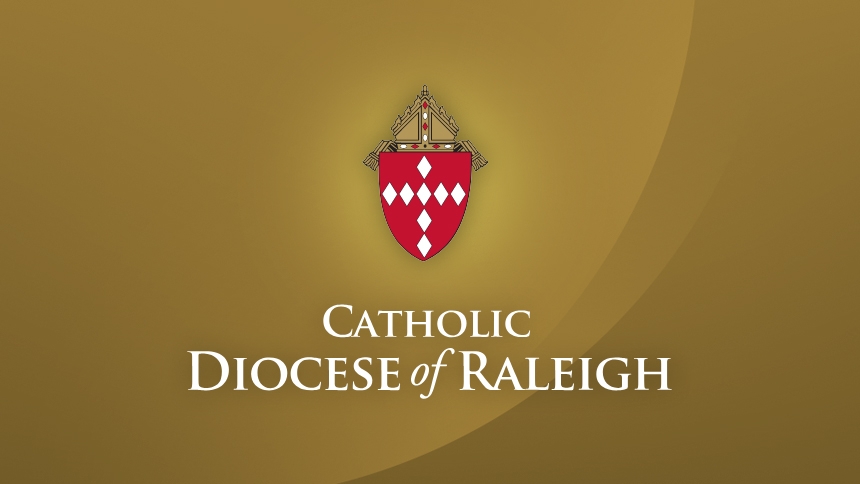 On March 27, Bishop Luis Rafael Zarama sent the following letter to his brother priests, providing directives for Masses and Sacraments in light of the coronavirus (COVID—19) pandemic and related public health guidance and restrictions.
Dear Brother Priests,

In many ways this is a painful time. We are trying to balance a great and increasing need for the Eucharist and our liturgical ministries which are so vital to the Church with the need to protect the public health. This is a time when your pastoral care must be a light to your people.

As a Church we have an obligation to protect the common good and, at this present time, reduce and slow down the spread of coronavirus. Every consideration must be taken in order to protect those most vulnerable and prevent our healthcare systems from being overwhelmed.

For the pastoral care of our people, I strongly recommend that the guidance provided be followed.

This is a time to call upon all of your parishioners, to reach out to them personally by telephone and let them know you are thinking about them and praying for them. Your parish family needs to hear your voice and know of your prayers and support during this time of great isolation. Now is the time to ask their prayers as well, for their pastor and their community.

Please take special effort to support your parish parents and families during this time. Please help parents, by their word and example, be the first preachers of the faith to their children. During this time of sacrifice, please encourage them to use this opportunity to renew and grow the domestic church.

Please look upon this time not just as a great sacrifice but as an unanticipated grace as we look to the resurrection during this time of Lent. In the exercise of these limitations, there is ample opportunity to reflect more deeply on the sufferings of our Lord on the Cross.

As people of faith, we all are called upon to make sacrifices that will benefit others. The exercise of these current limitations, as difficult and frustrating as they may be, should be viewed as charitable acts offered for others. I ask you to face this challenge with humility.

Please pray for each other, especially for those who are ill or afraid.

Please pray for healthcare professionals and for all those whose daily lives are impacted by this situation.

Please also pray that our actions reflect to others the goodness of God and that together we can give His strength to all those who are suffering and burdened by this situation.

In Christ,
† Luis Rafael Zarama, J.C.L.
---
Guidance on Masses, ministries and the sacraments
Based on updated guidance from public officials regarding the continued need to further limit the numbers of people gathered, and particularly as more local communities issue "stay at home" directives so as to prevent the spread of the Coronavirus (COVID-19), the suspension of all public daily and weekend Masses in the Diocese of Raleigh continues until further notice.
The following directives are also established until further notice in conjunction with the above:
All gatherings in parishes also are suspended effective immediately until further notice, including faith formation, CCD, RCIA, Stations of the Cross, Adoration, etc. Exceptions to "stay at home" orders have provided provisions allowing for the video streaming of religious services with appropriate health precautions and limitations of numbers of essential participants.
Ideally, any virtual Masses should be live when broadcast, not recorded. Please see here for additional USCCB guidance re: televising the liturgy. Celebrations of the Mass which are live-streamed may not include public distribution of Holy Communion before or after the broadcast. Masses in open areas around the property of our churches are also strongly discouraged.
All Penance Services, School Masses and Healing Masses are cancelled.
The Sacrament of Reconciliation is to be suspended except for those in danger of death. All other means of providing the Sacrament should cease. In particular the practice being observed of "stational penance" via automobile "drive throughs," etc., should be discontinued. In addition, it needs to be noted and communicated that an indulgence has been offered by the Holy See. Please educate your parishioners on this important measure provided to you and to them during this time.
In the current state of the pandemic, great care should be taken with the celebration of the Sacrament of Anointing of the Sick. While the full prescribed ritual for anointing may not always be possible given the status of an infected person, please follow the guidance outlined in Canon Law, which offers us:

Can. 1000 §1. The anointings with the words, order, and manner prescribed in the liturgical books are to be performed carefully. In a case of necessity, however, a single anointing on the forehead or even on some other part of the body is sufficient, while the entire formula is said.

§2. The minister is to perform the anointings with his own hand, unless a grave reason warrants the use of an instrument.

If an instrument such as a cotton ball or cotton swab or gauze is used, please only use such instrument once, collecting all used instruments to destroy as conveniently as possible.

In the event an anointing cannot take place, then prayer over the sick and with the family of the sick is most appropriate and will offer consolation and hope. In these instances, suggested prayers, that do not mention anointing with oil from the ritual, are selections B, E, and G under Prayer after Anointing, Anointing in a Hospital or an Institution in Pastoral Care of the Sick. In as far as it is possible, Viaticum should be administered to the dying and those in danger of death.
Confirmations have been suspended. Celebrations of the sacrament are being evaluated on a week by week basis. Provisions will be made for the eventual delegation of faculties for pastors to confirm candidates at the earliest convenience.
During the Season of Lent baptism should only be administered in danger of death. Celebrations of the Sacrament of Baptism should be suspended until after the lifting of restrictions on gatherings.
For the foreseeable future, funerals should be simple graveside services with a small gathering of immediate family. A memorial Mass may be celebrated at a later date.
Weddings should adhere to "stay at home" directives limiting gatherings. Broadly, across the Diocese of Raleigh, weddings should consist of gatherings of 10 or less and must use the Rite of Marriage Outside of Mass.
Additional directives on the celebration of the liturgies of Holy Week and the Paschal Triduum are forthcoming. These liturgies, however, are all to be live-streamed, with only essential ministers and ministries necessary to conduct the liturgies and rituals present.
---
Queridos hermanos sacerdotes:

En muchos sentidos, éste es un momento doloroso. Estamos tratando de equilibrar la creciente necesidad de la Eucaristía y de nuestros ministerios litúrgicos, que son fundamentales para la Iglesia, con la necesidad de proteger la salud pública. Este es el momento en que el cuidado pastoral debe ser una luz para sus fieles.

Actualmente como Iglesia, tenemos la obligación de proteger el bien común, así como reducir y frenar la propagación del coronavirus. Se deben tomar todas las precauciones necesarias para proteger a los más vulnerables y prevenir que nuestros sistemas de salud se sobrecarguen.

Para el cuidado pastoral de nuestros fieles, recomiendo encarecidamente que se siga la guía proporcionada.

Este es el momento para hacer un llamado a todos sus feligreses, comunicándose telefónicamente y dejándoles saber que los está pensando y orando por ellos. En este tiempo, de gran alistamiento, es cuando su familia parroquial necesita escuchar su voz, saber que usted está orando por ellos y que cuentan con todo su apoyo. De la misma manera, éste es el momento de pedirles sus oraciones tanto por su pastor como por su comunidad.

Por favor, durante este tiempo, hagan un gran esfuerzo para apoyar a los padres y familias de su parroquia. Ayuden a que los padres, a través de sus palabras y acciones, sean los primeros predicadores de la fe con sus hijos. Durante este tiempo de sacrificio, anímelos a que aprovechen esta oportunidad para renovar y hacer crecer la iglesia doméstica.

Consideren este tiempo, no solo como un gran sacrificio sino, como una gracia inesperada mientras esperamos la resurrección en este tiempo de Cuaresma. Durante este tiempo de limitaciones, existe una amplia oportunidad para reflexionar más profundamente acerca de los sufrimientos de nuestro Señor en la Cruz.

Como personas de fe, todos estamos llamados a hacer sacrificios que beneficiarán a otros. El ejercicio de estas limitaciones actuales, por difíciles y frustrantes que puedan ser, deben verse como actos de caridad ofrecidos a otros. Les pido que enfrenten este desafío con humildad.

Por favor oren el uno por el otro, especialmente por aquellos que están enfermos o que tienen miedo.

Oren por los profesionales de la salud y por todas aquellas personas cuya vida diaria se ve afectada por esta situación.

También oren para que nuestras acciones reflejen la bondad de Dios y para que juntos podamos transmitir su fortaleza a todos aquellos que sufren y que están agobiados por esta situación.


En Cristo,
† Luis Rafael Zarama, J.C.L.
Guías y recomendaciones revisadas acerca de las Misas, los Ministerios y los Sacramentos
Con base en la guía actualizada, ofrecida por los funcionarios públicos, con respecto a la necesidad de limitar el número de personas reunidas y particularmente la medida tomada por muchas comunidades locales acerca de "quedarse en casa" para evitar la propagación del Coronavirus (COVID-19), la suspensión de todas las Misas públicas diarias, al igual que la de los fines de semana en la Diócesis de Raleigh continuará hasta nueva orden.
De la misma manera, y hasta nueva orden, las siguientes directrices también deben ponerse en marcha.
Todas las reuniones en las parroquias, incluyendo formación en la fe, CCD, RCIA, Estaciones de la Cruz (Stations of the Cross), Adoración, etc., se suspenden con vigencia inmediata y hasta nueva orden. Algunas excepciones, a las órdenes de "quedarse en casa", han permitido la transmisión de video de los servicios religiosos, tomando las precauciones de salud apropiadas y, limitando el número de participantes requeridos.
Idealmente, cualquier misa virtual debe transmitirse en vivo y en directo, no debe ser grabada. Para guías adicionales, por parte de la USCCB, favor referirse a: televising the liturgy. La celebración de la Misa, transmitida en vivo, no debe incluir la distribución de la Sagrada Comunión al público presente, ni antes ni después de la transmisión. Igualmente, se recomienda encarecidamente que no se celebren misas en áreas abiertas, alrededor de la propiedad de nuestras iglesias.
Se cancelan todos los servicios de penitencia, misas escolares y misas de curación.
El Sacramento de la Reconciliación debe ser suspendido, excepto para aquellos que están en peligro de muerte. Se debe suspender cualquier otro método utilizado para ofrecer este Sacramento. En particular se debe suspender la práctica de la "penitencia estacional" a través de un servicio desde el automóvil. Adicionalmente, debemos saber y comunicar que la Santa Sede ha ofrecido una indulgencia: Cuidado de las almas y perdón de los pecados durante la pandemia. Informe y enseñe a sus feligreses acerca de esta importante medida, dirigida tanto para usted como para los fieles durante este periodo de crisis.
Dado el estado actual de la pandemia, se debe tener mucho cuidado con la celebración del Sacramento de la Unción de los Enfermos. Si bien el ritual completo prescrito para la unción puede no ser posible siempre, debido al estado de infección del paciente, por favor siga la guía descrita en la Ley Canónica, la cual nos ofrece:

Canon 1000 § 1. Las unciones han de hacerse cuidadosamente, con las palabras, orden y modo prescritos en los libros litúrgicos; sin embargo, en caso de necesidad, basta una sola unción en la frente, o también en otra parte del cuerpo, diciendo la fórmula completa.

§ 2. El ministro ha de hacer las unciones con la mano, a no ser que una razón grave aconseje el uso de un instrumento. En caso de que se utilice un instrumento como una bola o hisopo de algodón o una gaza, por favor solo utilícelo una vez, recogiendo al final todo lo utilizado para destruirlo lo más pronto posible. En caso de que no pueda llevarse a cabo el Sacramento de la Unción, una oración con el enfermo y la familia es lo más apropiado y ofrecerá consuelo y esperanza. En estos casos, las oraciones del ritual sugeridas, que no mencionan la unción con aceite del ritual, son las selecciones B, E y G bajo Oración después de la Unción, la Unción en un Hospital o una Institución en Cuidado Pastoral de los Enfermos. En la medida de lo posible, el Viatico (Viaticum) debe administrarse a los moribundos y a aquellos en peligro de muerte.
La celebración del Sacramento de la Confirmación ha asido suspendida. Las celebraciones del Sacramento serán evaluadas semanalmente. Se harán provisiones para la delegación eventual de facultades a los pastores, con el fin de que puedan confirmar a los candidatos lo antes posible.
Durante la temporada de Cuaresma, el bautismo solo debe administrarse en caso de que exista peligro de muerte. Las celebraciones del Sacramento del Bautismo deben suspenderse hasta después de que se levanten las restricciones acerca de la reunión de personas.
En el futuro inmediato, los funerales deben limitarse a una ceremonia sencilla, junto a la tumba, con un pequeño grupo de familiares inmediatos. Una misa conmemorativa puede ser celebrada en el futuro.
La celebración de matrimonios debe incluirse dentro de las ordenes de "quedarse en casa" donde se limitan las reuniones de personas. En términos generales, a través de toda la Diócesis de Raleigh, las bodas no deben reunir a más de 10 personas y deben usar el Rito de matrimonio fuera de la misa.
Directrices adicionales serán suministradas acerca de la celebración de las liturgias de la Semana Santa y el Triduo Pascual. Sin embargo, estas liturgias deben transmitirse en vivo, con la presencia exclusiva de los ministros y ministerios necesarios para llevarlas a cabo.