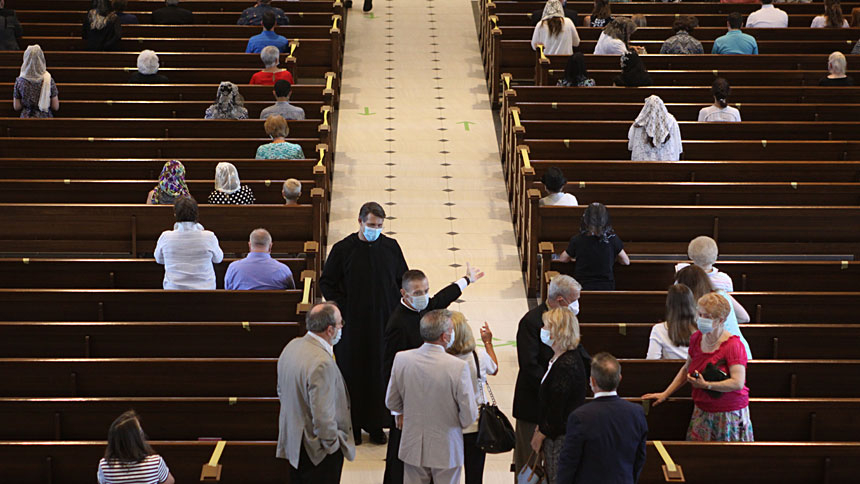 While the current guidance of public celebrations, which notes that the Sunday Mass obligation is waived by Bishop Luis Rafael Zarama and is still in effect, parishes are beginning to offer Mass inside church buildings.
"So far, the process has worked very well, said Father Robert Rutledge, Pastor of Holy Infant, Durham. "Everyone is very cooperative with following the guidelines."
To prepare parishioners to transition to indoor Mass, the staff created a video, Guidelines for returning to Mass at Holy Infant. "We can only accommodate 60 people in our church due to distancing requirements, but as few as that is, it still feels like hope blooming and God's promise that all will be well... eventually," reflected Father Rutledge.
In June, Holy Name of Jesus Cathedral, Raleigh began the process of returning to normal worship by allowing a limited number of faithful to enter the cathedral.
"Honestly, I was surprised at how well the transition went," said parishioner, Michelle Connors. "The mood in gratefulness. Grateful that we are open, grateful that we are taking precautions seriously and grateful for the options given the varying comfort levels."
Holy Name of Jesus Cathedral and Holy Infant continue to live stream Masses. Find online Masses.
"We just need patience, prudence, and wisdom -- good virtues for any time, but especially during the pandemic," expressed Father Rutledge.