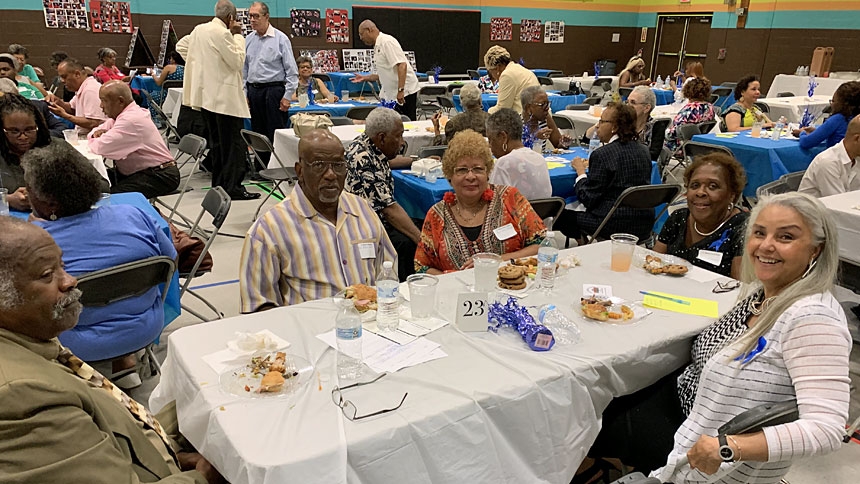 Each year, the alumni of St. Monica gather for a Homecoming Mass followed by a celebration at the historic school site, which is now the Tarboro Street Community and Teen Center in Raleigh, across the street from late Msgr. Thomas Hadden's family home. This year's homecoming was another amazing celebration of friends remembering their love for being Catholic and sharing stories of family, community — and some school mischief as well!
"There is so much Black Catholic history here. I could have stayed there for days listening to their stories and the amount of history made within this community," said Tristan Evans, African Ancestry and Evangelization Network (AAMEN) Coordinator for the Diocese of Raleigh. "I was able to speak with Taft and Betty Turner. Taft explained that he and Msgr. Hadden were the first two altar servers at St. Monica's." (See family photo in gallery below.) "I also met Mr. George Morgan, who is both an alumnus and the designated historian on all things 'St. Monica School and Parish.'"
In early 1930, the Catholic Diocese of Raleigh's first bishop, the Most Reverend William Joseph Hafey, purchased what was then known as the old Ferrall estate on New Bern Avenue for $100. Bishop Hafey's goal was to build a spiritual home on the plot of land to minister to Raleigh's African-American Catholic community and the greater Raleigh community, as well. That fall, the St. Monica parish was established, and the school was opened, staffed by the Immaculate Heart of Mary sisters.
In 1967, St. Monica school and parish were closed, following a decree in 1953 by then-Bishop Vincent Waters that racially separate churches and schools merge, ensuring that Catholic schools in North Carolina would be the first to racially integrate. In 1968, the parish was decommissioned; in 1972, the campus property was sold to the City of Raleigh. Students from St. Monica's were incorporated into the Cathedral School in downtown Raleigh. While many parishioners would go on to worship at then Sacred Heart Cathedral, many other St. Monica families would become founding families of St. Joseph Parish in east Raleigh and St. Mary parish in Garner.
Photos