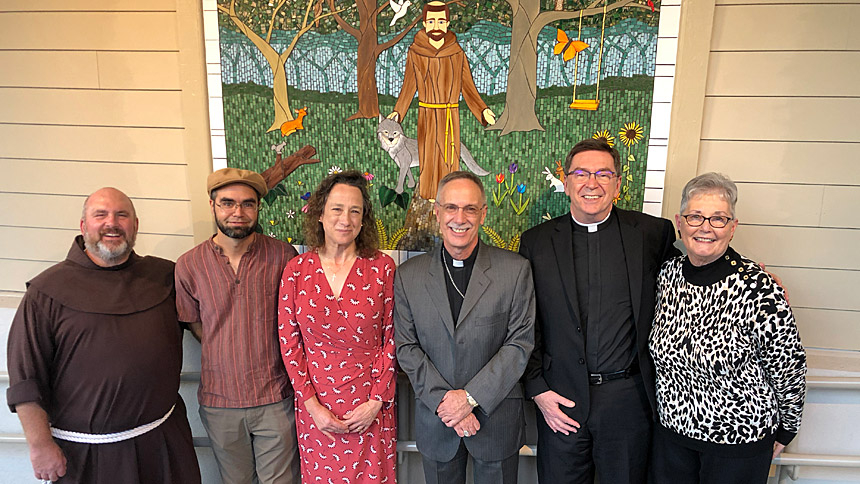 Above, left to right: Father Jim Sabak, O.F.M; Luke Vandergriff; Heidi Hobler, preschool director; Bishop Luis Rafael Zarama; Monsignor Michael Clay, pastor; Nancy Bourke, first preschool director.
---
Beauty is one of the hallmarks of the Franciscan charism. Beauty of creation, beauty of the human person, and beauty in what the human person can create through the wonder of creation. This understanding of beauty comes forth in St. Francis' Canticle of Creation and in the works of St. Clare where she encourages others to express the beauty of who they have been created by God to be in the world. Such beauty is believed in the Franciscan tradition to be at the core of God's revelation of love and mercy to us. Its centrality to the Franciscan Movement means that the pursuit and cultivation of beauty is integral to all we strive for and accomplish at the parish of Saint Francis of Assisi.
The integral nature of beauty is at the core of our Saint Francis Preschool, continuing to celebrate its 30 years of offering insight and wonder to the littlest members of our community. We see the beauty in each child, in their energy and dynamism for exploring and discovering the wonders of God's love for us all around us. We see beauty in the dedication and love of our teachers and aides as they so graciously take on the role of guides and nurturers for these young people. We see beauty in the hope and joy that our preschool students take with them after their years journeying with us into new and exciting learning experiences. We see beauty in the initial development of our children into persons who realize how important it is to care for one another.
This week such experiences of beauty were framed in the unveiling of a mosaic depicting Saint Francis, the wolf of Gubbio, and the peace and glory of creation. This wonderful depiction of the joy of beauty is the work of a local artist, Luke Vandergriff. In his explanation of mosaic to the assembled guests and past and present preschool students, he cited that as each piece of the mosaic must be shaped and molded to bring out the beauty of the entire piece. So, too, are we called to be shaped and molded to bring out the best of who we are so that creation may shine through our work.
His description is perhaps the best encapsulation of the work of our Saint Francis Preschool these past 30 years. For three decades Saint Francis Preschool has sought out the beauty within each child who walks through our halls. We have nurtured and cared for such beauty, molding and refining it so that it may contribute in remarkable and wonderful ways to the mosaic of creation, which itself finds its source in God.
Photo
Click or tap to view full image.