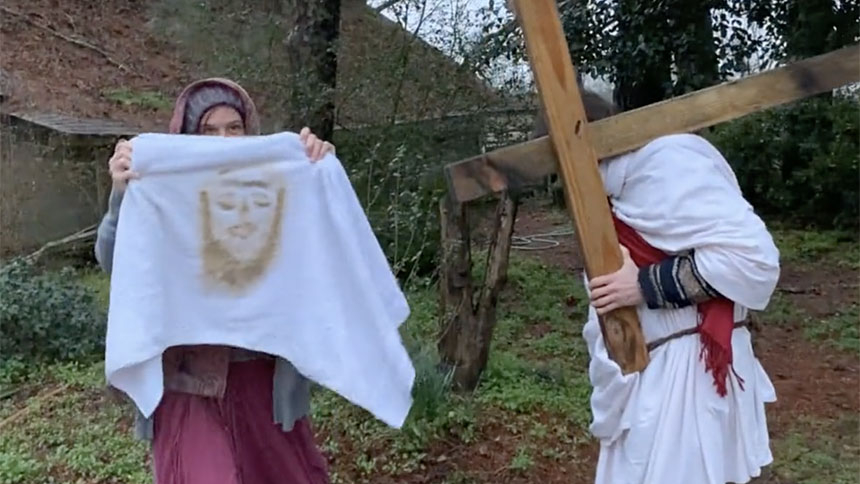 There is no question that the last two Lenten seasons have been unlike any other. But, as the Diocese of Raleigh has highlighted in the One Year Later series, we've come a long way from last Lent to this one.
With a firm understanding of safety guidelines and a strong desire to create paths to celebrate faith, many parish leaders found innovative and creative ways for parishioners to celebrate Lent at home.
Melissa Edwards, director of religious education at St. Francis de Sales in Lumberton, turned her sadness into action quickly last year.
"When COVID entered our lives … I was in denial that the Catholic Church could cancel weekend Masses," she said. "I had a strong desire to keep our faith formation students engaged and connected."
She immediately began exploring virtual possibilities. Over the next few months, the St. Francis de Sales faith formation program hosted communal novenas, chaplets and even created videos for Mother's Day. They became more adventurous as time went on, producing skits to illustrate Bible stories and doing "Meet the Saint" events where students would dress and answer questions as a favorite saint. Edwards said her goal was "to keep kids involved and connected."
As Ash Wednesday neared, Edwards realized that attending Stations of the Cross was going to be a struggle for many parishioners. She came up with a bold vision, inviting faith formation families to help her create a one-of-a-kind Stations video made by and for the families of St. Francis de Sales.
She put the call out for families to recreate stations at home. "We challenged the dads to play Jesus and be as creative as they felt compelled to be while remembering the reverence of the meditation," she said.
Originally, she had a goal of having 15 families participate. It was a bold goal, she admitted, considering that there were only 27 families enrolled total in faith formation. However, by the end, 31 families participated. She said she felt like it was proof that the Holy Spirit helped the project along.
Edwards said she was amazed at the result of teamwork and the response from their community. She said, "When we all work together, even when we remain physically apart, good things happen! I remain thankful to all the families and to God … the video came together and has helped bring the Stations of the Cross to life for so many in our small parish."
St. Andrew Parish 'reinvents Lent'
Deacon Rich Mickle of St. Andrew the Apostle in Apex had a challenge for his faith community. In a video he said, "We have to get creative to keep our faith from stagnating, maintain our hope and try to stay in touch as a parish community. So this Lent, let's challenge ourselves to be open to new ideas, let's 'reinvent Lent.'"
On their page dedicated to Lent, there are a number of ideas for families and events for parishioners including service projects, a Lent-O card (a bingo card of Lent activities) and an invitation to "Parables in the Parking Lot," an outdoor faith enrichment event for middle and high school students.
There is also a Lenten Escape Room activity that is free and accessible directly from the page.
My family, which is made up of puzzle lovers, decided to try out the escape room. (Read the reviews below.)
In addition to what's available locally, there are national resources, too. The USCCB has a variety of virtual faith enrichment opportunities including a calendar of daily meditations and audio retreat podcasts.
There is still time to make this Lent one that your family will remember as a time that you grew closer to your faith and closer to your family.
---
Escape Room Reviews from the Howard family
Maggie Howard (age 15): 
⭐⭐⭐⭐☆
I enjoyed the escape room. It was very user and family friendly, with simple clues about Lent answered in a Google form. It also had a lot of variety in the clues, which I was impressed about given that it was a Google form. With questions ranging from a question about the colors associated with Lent, to a picture puzzle about finding fish, to a game of Sudoku, there is something for everyone in the family. The escape room contained a ton of fun little Lent rhymes. However, it is missing a star because of one of these rhymes; "40 days may seem long, but it gives us time to think of all we've done wrong!" Ouch, didn't know if that was necessary, but my Mom said that's kind of the point of Lent. Overall, I would recommend trying it out. 
Ben Howard (age 13):
⭐⭐⭐⭐☆
I have to admit I was surprised. I thought it would be kind of cheesy, but some of the puzzles were pretty tough and I liked the fun messages at the top of each page.
James Howard (age 11):
⭐⭐⭐⭐☆
I liked it! I especially liked that I was able to use what I learned in piano lessons to solve one of the puzzles. It was pretty fun!
Mandy Howard (Mom, age not important):
⭐⭐⭐⭐⭐
It was fantastic! My two teenagers and my tweenager joyfully spent time together with pen and paper, working puzzles, using their minds, talking about faith and running to grab their Bibles. It's a five out of five for me and a huge dose of gratitude for the creators!
Photos