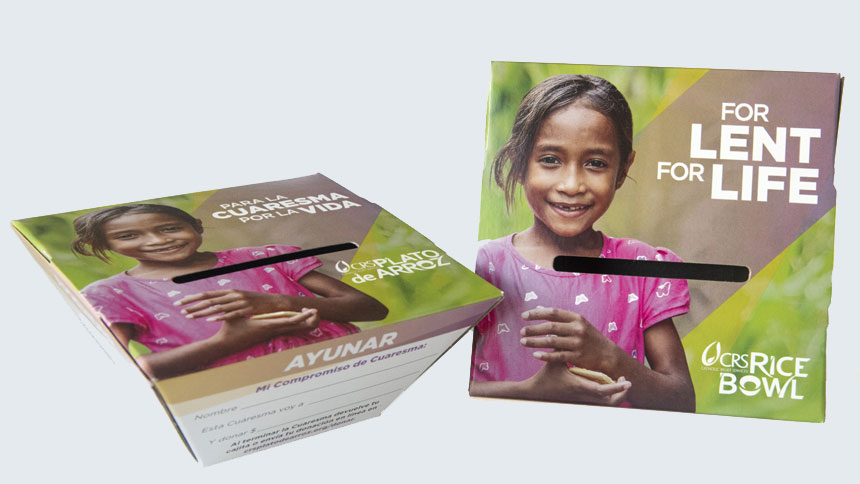 Bishop Luis Rafael is encouraging each family to join together to build a more just and fraternal world through Catholic Relief Services (CRS) Rice Bowl.
"Lent is a time of repentance and of uniting ourselves to Christ during his 40 days in the desert. In Lent we reflect on hope and consider how we can prepare ourselves to make more room in our own hearts for Christ and for others so that we can be transformed by Jesus, who heals us and gives us peace," said Bishop Luis in his letter. "During this sacred season, CRS Rice Bowl—Catholic Relief Services' Lenten faith-in-action program—invites us to reflect on how caring for our neighbor is caring for Christ. For I was hungry, and you gave me food; thirsty, and you gave me drink." (Matthew 25:35)
In his letter to the faithful (PDF), he asks families to order a free CRS Rice Bowl and Lenten calendar that are available in English and Spanish. Additional resources to enrich the Lenten journey can be found at crsricebowl.org or crsplatodearroz.org.
Bringing together our Lenten alms as a community this Lent can help end global hunger and malnutrition. Community giving helps support families in more than 100 countries get access to enough nutritious food not only to survive, but to thrive. Whether in-person, online, or in spirit—our community can come together to pray, fast, and give through CRS Rice Bowl. 
Together with Catholic Relief Services, The Office of Evangelization and Discipleship has set up a giving page for donations. Please keep in mind that 25% of the collection goes to Raleigh Catholic Charities to alleviate the effects of poverty and respond to disasters in North Carolina.