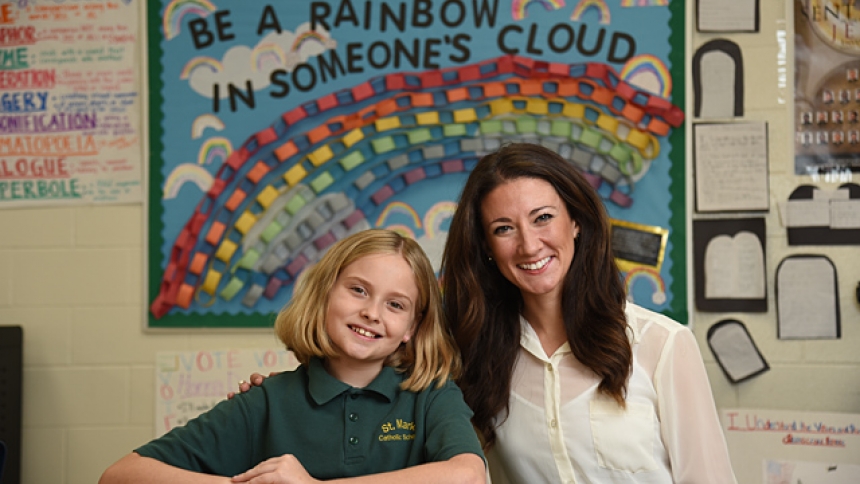 Above: Teacher Samantha Mifsud and her student Lexie Lee
True or false? In a classroom of, say, 25 students, there are 25 learners and one teacher, right? In theory, it's true. But in practice, it's false.
"Even teachers need to be taught," educator Samantha Mifsud said recently after sharing the story of how one special student, Lexie Lee, taught her a lesson about optimism and perseverance.
Mifsud is not alone. Teachers in all Catholic schools in the Diocese of Raleigh are constantly learning from their students. And when NC Catholics asked them to share some of their stories to help celebrate Catholic Schools Week (Jan. 28 – Feb. 3), they shared in abundance.
Samantha Ray Mifsud
5th Grade Teacher
St. Mark Catholic School, Wilmington
It was becoming difficult to look on the bright side. During the first half of this school year, stresses were taking their toll, and school was becoming more challenging. 
My student Lexie lost her grandfather to cancer. He had been a long-time substitute teacher at the school and a role model for our community. My faith was shaken. But my students' smiles, hugs and eagerness to learn established a sense of purpose and security within my life.
During our Prayer Circle one day, one of my other students commented on how it seemed like so many terrible things were happening lately.
Lexie promptly replied, "But, guys, it is times like these, when things are really, really bad, and bad, bad things just keep happening that it means that God has something REALLY, really good that is about to happen for you."
As teachers, we try to convey lessons of hope daily. Though sometimes, coming from the mouth of a child, the gravity of these lessons is much greater. 
Susan Kirkpatrick
1st Grade Teacher
Our Lady of Lourdes Catholic School, Raleigh
In 1st grade, students are very curious about First Holy Communion, which usually happens the next year in 2nd grade. My class was asking me questions about First Communion and one boy's hand went up. He had a scared face. He asked me, "What does it taste like?"
I paused and finally understood that this boy, who was known to give "homilies" from the top of the slide, was afraid because he believed so strongly that Communion was the flesh and blood of Jesus. 
I reassured him that it still tasted like a cracker and the wine in parents' glasses. I will always remember his serious face and the awe I felt.
The boy, who grew up and graduated from pharmacy school, reminded me that Holy Communion is never a symbol. It's always real.
James Ryan
English Educator, Head Varsity Men's Basketball Coach
Cardinal Gibbons High School, Raleigh
We were privileged to have eight seniors on last season's basketball team. I had grown close to them, both on and off the court. I was worried that there would be a void in our program once they left, but that was before they taught me about legacy.
During Thanksgiving break, we had our annual alumni game, where graduates return to school for a pick-up game. As I watched those former players interact with current players, I learned that even though our Crusaders leave us physically at graduation, the lessons learned remain and will be passed down each year when those alums return.
Mary-Haven von Lehmden
2nd Grade Teacher
St. Raphael Catholic School, Raleigh
Through their pure amazement at the world around us, students teach me to slow down and enjoy the little things. If one of their classmates shares a horseshoe crab shell that he found at the beach over the weekend, and it's pure amazement. There's so much excitement as I share a picture of a life-size N.C. State wolf made of legos or as they create a structure that will protect an egg. My students have taught me to slow down and enjoy the little things.
Stephen Ferguson
Social Studies Educator, Assistant Coach JV Men's Soccer
Cardinal Gibbons High School, Raleigh
"You're coming to the show, right?"
It's a question I get every year. Our school's dance program holds a spring and a fall performance, and my students—both past and present—are adamant that I attend.
"Of course, I'll be there!" I reply. "How are the preparations coming?"
The open-ended question does more than generate conversation. It's part of an investment in a relationship that, through small deposits, has yielded mutual benefits. If there's one thing my students have taught me, it's that I need to show them how much I care about them as people …
My approach as an educator has changed thanks to what I've learned from students. Now in my fourth year of teaching sophomores, I start the relationship-building process before they enter my classroom. In summer, students write a series of essays about major turning points in their lives, ways they have changed or stayed the same since high school began and comparisons between themselves and a friend or family member. While the primary purpose of the assignment is for students to begin building critical thinking and analytic writing skills, it also gives me some insight into their lives.
Gail Morales
Pre-K Teacher
Infant of Prague Catholic School, Jacksonville
I have learned to listen to my students … often a child will ask me, "Where is Jesus?" My response has always been that he is an unseen guest in our classroom. Consequently, I have created a special place on the carpet where only Jesus sits and the children respect his spot.
Nolan Tomboulian
Math and Technology Teacher
Annunciation Catholic School, Havelock
Recently, my students participated in a door decorating project. They had to develop an idea, share it and implement a solution. Since there was only one door to decorate, the students had to make concessions and compromises. Time was limited so they had to work quickly and efficiently sharing a small space. While some elements of the project might seem a little "rough," the result was entirely their creation and something they were proud of.
It is difficult sometimes to watch and avoid offering too much input, but as students learn through experiences, they communicate and express their desires to others rather than being told what might be a "better" way.
Laura Abboud
Principal
St. Patrick School, Fayetteville
About 20 years ago (at a different school), I taught an 8th grade girl who was bright. She arrived early to school and was the last to leave in the afternoon. She was always asking to help teachers, straighten up desks and assist in grading papers.
But, as a teacher, those quiet and peaceful moments before and after school were precious to me, and I secretly wished she would leave me alone.
She said I was her "best" teacher. She left our school after 8th grade and, in the first semester of high school, she died by suicide. All those times she had come so early and stayed so late hanging out in my class, wanting to help me… maybe wanting to talk to me? Why had I never asked myself why?
After her death, I stopped trying to be a popular teacher and instead became the teacher my students needed me to be. She will always be with me, pushing me to look deeper than the surface, to truly listen to my students, to question what every behavior might mean and what every remark might be trying to signal.
Steve Elliott
Literature Teacher
Saint John Paul II High School, Greenville
My course for the freshmen introduces them to intellectual life. We play around with such basic skills as writing, speaking, listening and reading. One particular day, a student said: " I think you are selling something none of us want to buy."
I asked him what he meant. I was convinced that if  he rethought his statement, he would see the error. But instead, he and his classmates began answering the question. That was when it struck me: Our modern world makes little of reading.
So, did this moment destroy my passion for  teaching? No. But it sure helped me see more clearly that such instruction is more and more a counter-cultural activity, not something to be assumed.
Barbara F. Lamblin
ELA/Religion/Resource Teacher
Saint John Paul II Catholic School, Southern Pines
Before he came to my school, Zeph was abandoned as a baby and admitted to a Chinese orphanage. He was diagnosed with hydrocephalus, cognitive delays and cerebral palsy. He waited seven years before he was adopted by a U.S. military family.
When he arrived at SJPII, he could not read and needed assistance with academic work. He began to grow as first grade teacher, Heather Girard, took him under her wing. His sense of humor snuck out and made everyone smile. He tried so hard to do his work, sometimes refusing help. 
Often after working with students in small group, I give out prize,s such as trinkets, candy or religious medals. Zeph never wanted anything but religious items, medals of a saint, a cross or a holy card. He was all for Jesus! He went onto 2nd grade, behind in academics but not in matters of the heart. 
On his First Communion day, he could hardly wait to get to church. For Christmas, he asked for priest vestments, and his brother made him an altar. Now in the fourth grade, he lives for Wednesdays when he can serve at Mass. His hand is still weak and his reading is still slow, but his heart and mind are full of love and Jesus. For me, this little guy is the teacher. I am the student.
Angie Melcher
Science Educator
Cardinal Gibbons High School, Raleigh
I share my passion of learning with "my kids," and they teach me so many lessons. I have learned that patience is a virtue, and first impressions are often wrong. I have learned about and received advice on music, social media and fashion. I learned to laugh at myself and at my students' daily exuberance. I learned that there are times to laugh and times to cry, and that there are always times to pray. At the end of the day, the most important lesson is that teaching is most impactful when you learn about the whole person. Relationships are everything. I have found answers to questions about certain students while on our Kairos retreats. I have learned to find God in all things when teaching my students.  
-Compiled by Kate Turgeon Watson, editor