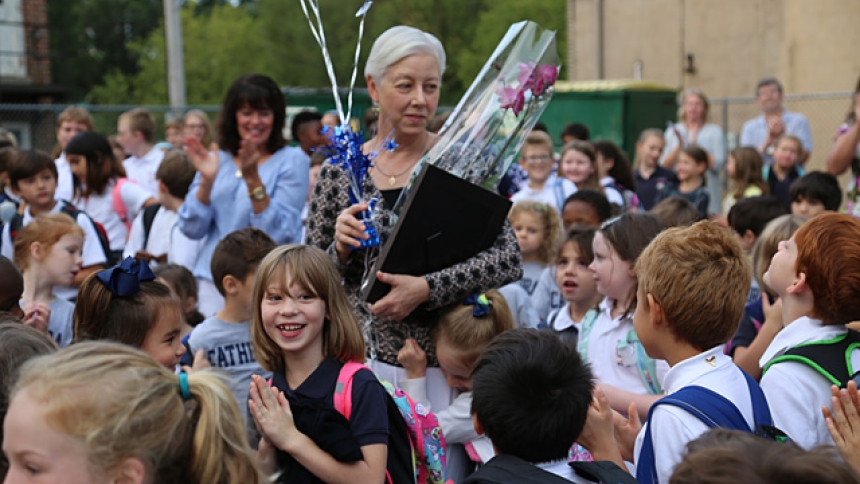 A teacher at Raleigh's Cathedral School received the N.C. Science Teachers Association's 2018 District 4 outstanding elementary level science teacher award.
Diane Buckley, who teaches first grade, learned of the honor Sept. 21 during her school's morning assembly. After prayer and announcements, Dr. Janice Jett, principal, introduced Dr. Mary Ellen Durham, current Nominations and Elections chair for NCSTA.
Durham explained to those gathered that NCSTA divides the state into eight districts, each comprising 10-12 counties, and awards one outstanding teacher from each district.
Likening it to the NCAA basketball tournament, Durham said of Buckley, "She's your elite eight of elementary science teachers in the state!"
Reading from the award committee's notes, Durham said, "She is getting this award for her outstanding scientific knowledge, collaborative spirit, effective instruction, willingness to help other teachers and that she has dedicated herself to continuing learning and sharing her excitement with all of her students."
Buckley will be formally recognized on a national level in Charlotte when the NCSTA and National Science Teachers Association have their annual conference in November.
A dedicated teacher for 27 years, Buckley had only one word when asked how she felt about the honor: "Shocked."
The annual award is sponsored by the North Carolina Science Teachers Association, which is the largest association of science teachers in North Carolina and is composed of teachers from kindergarten through the collegiate level.
Each year the association seeks nominations from students, teachers and principals to find and recognize the best science teachers in the state.
Buckley was nominated last year for her outstanding achievement as a 3rd grade science teacher while at St. John Paul II Catholic School in Southern Pines. Her work and contribution stood out from all elementary science teachers in public, private and catholic schools in the district.