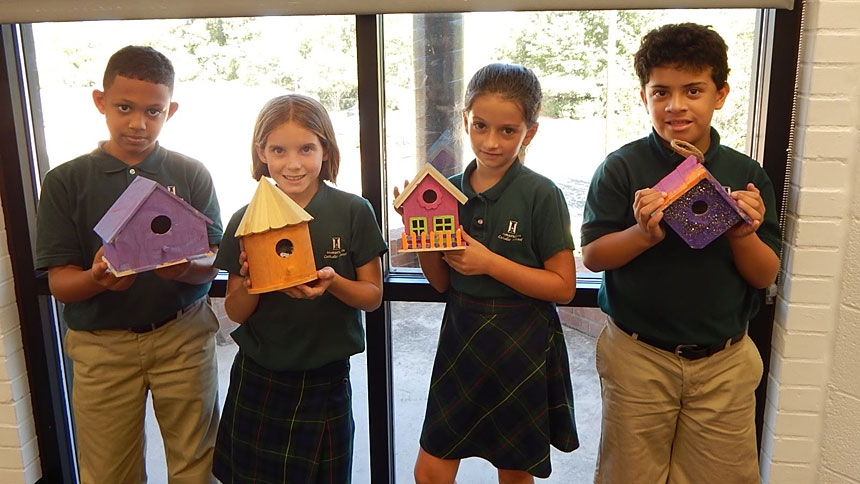 For principal Dana Corcoran, teaching students that they are stewards of God's creation is just as important as reading, writing and arithmetic. And the efforts of her school community were rewarded this week on a national level.  
Immaculata Catholic School is among the 2019 U.S. Department of Education Green Ribbon Schools award honorees.
Located in Durham, the school was nominated by the NC Department of Public Instruction for the school's innovative efforts to reduce environmental impact and utility costs, improve health and wellness, and ensure effective sustainability education.
Examples include:  
Increasing productivity in the school's courtyard garden to help provide food for those in need in the local community
Working to eliminate cafeteria waste by providing reusable lunch containers
Installing an energy-saving motion-sensor light system
Partnering with leading green companies, such as Burt's Bees, to learn about sustainability
Hosting a black-out Earth Hour & E-Cycling event
Analyzing classroom recycling needs
Inviting the school's recycling contractor to present to students on best practices
Introducing school-wide paperless solutions.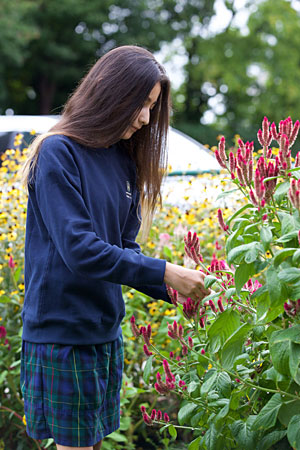 "Our school is a ministry of the Franciscan parish of Immaculate Conception Church, which earned Green Faith status several years ago and promotes Care for Creation and Catholic Social Teachings," Corcoran says.
Immaculata middle school science teacher Karen Clark understands that it's easy to become discouraged when looking at the world's problems and feel like there's nothing that can be done to make things better.
"But we can make a difference if everyone does something small," she says. "Those small things add up to big changes. When we teach our students the importance of caring for the earth, we have a bright future to look forward to."
Throughout the country, 35 schools, 14 districts, and four post-secondary institutions are being honored for their innovative efforts to reduce environmental impact and utility costs, improve health and wellness and ensure effective sustainability education.
The honorees were named from a pool of candidates nominated by 28 states. The selectees include 25 public schools, including three magnet schools and two charter schools, as well as 10 nonpublic schools. Thirty-six percent of the 2019 honorees serve a disadvantaged student body.
View a list of all selected schools, districts, colleges, and universities, as well as their nomination packages. Read a report with highlights on the 53 honorees. Get more information on the federal recognition award. Find resources for all schools to move toward the three Pillars.