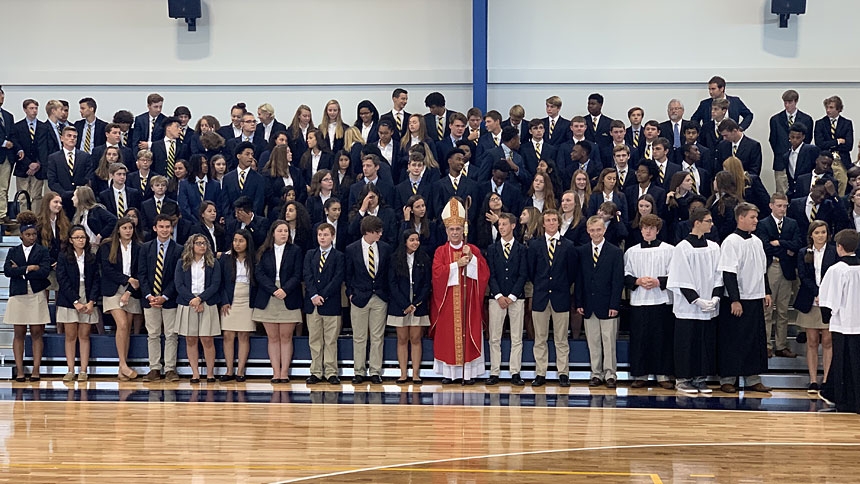 It's shaping up to be a banner week in Greenville at Pope John Paul II High School, where Bishop Luis Rafael Zarama celebrated a Mass of the Holy Spirit Aug. 28. The bishop also dedicated a new, 600-seat gymnasium at the school, which is experiencing record enrollment.
Today the school's varsity football team will play Community Christian at 7 p.m. It's the first-ever home football game for JPII and will be played in its new 900-seat stadium.
While athletic fields and classrooms are locations for learning, Bishop Zarama reminded students Wednesday that their chapel is a classroom, too. He encouraged them to visit every day and learn something new.
"It is the best classroom to learn something about who you are," the bishop said. "The grace you are looking for is becoming who you are and letting people see the beauty and joy of you; your journey is not only in the classroom."
After Mass, students, parents and faculty members walked a short distance to the new sports complex, which includes the gym and stadium, as well as fields for baseball, softball, lacrosse and soccer and a field house with indoor hitting and batting cages and outdoor volleyball courts.
"I not only bless the building, but also the people! I pray you have a blessed school year," Bishop Zarama said.
Pope John Paul II High School was founded in 2010 with 23 students. This year's enrollment of 130 students, which is an increase of more than 68% from 2018, is largely due to the Balot Family Scholarships, which provided $2 million in tuition assistance.
For more information about JPII: https://jp2highschool.com/
Photos