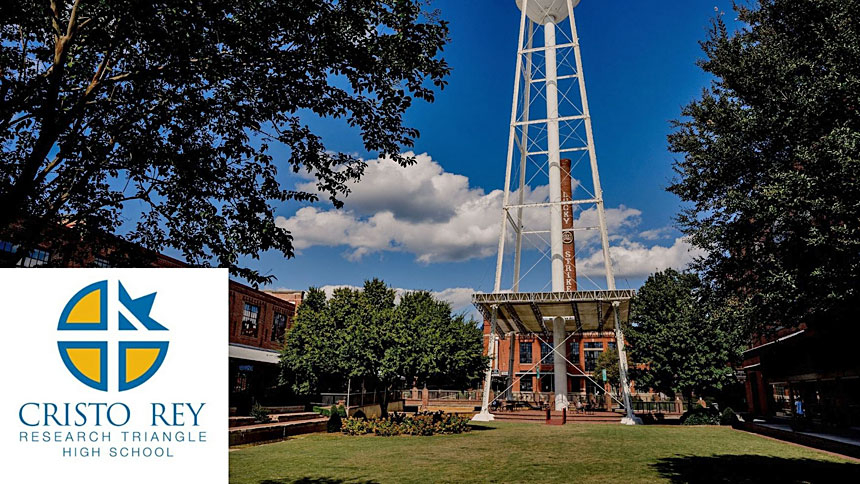 DURHAM, N.C. (Aug. 13, 2021) – Cristo Rey Research Triangle High School (CRRT), a college and career preparatory school exclusively for economically underserved boys and girls, will open its doors to its first class of 80 students on Aug. 16. With support from the Catholic Diocese of Raleigh, CRRT is part of the largest network of high schools in the U.S. – the Cristo Rey Network – that supports students with limited economic resources.
The Cristo Rey program combines a rigorous academic curriculum with four years of professional work experience and mentorship provided by local corporations and professional services firms through its distinctive Corporate Work Study Program. Cristo Rey Network schools equip students with the academic training, character development and real-world career skills to help transform their lives.
At the Research Triangle location, the academic year kicked off with a two-week orientation period, "The Bull City Business Institute." During this time, 72 incoming CRRT students were provided instruction on soft skills necessary in the workforce, along with other team building activities, academic assessment, refresher exercises and general orientation to the Cristo Rey experience.
Students will arrive to campus for their first day of the regular school calendar on Aug. 16 at the renovated facility within the American Tobacco Campus, formerly home to the American Underground, a vibrant community of startups and entrepreneurs. The CRRT campus joins the local community adjacent to the Durham Bulls Athletic Park and Durham Performing Arts Center, poising students for rich cultural exposure. This prime location provides students access to a diverse range of employment opportunities in Durham, the Research Triangle Park, Raleigh, Cary and Chapel Hill.
"We are thrilled to welcome our inaugural class to campus this fall," said Dr. Mike Fedewa, school president. "We believe education is key to transforming lives and ending the cycle of poverty. Our team is excited to begin working with our first class of students to create life-changing opportunities and ultimately prepare them to not only be accepted into the college of their choice, but to succeed in their college careers and beyond."
Students will be notified of their respective job assignments for the Corporate Work Study program at the first corporate "Draft Day," which will be held on Aug. 24 at the Durham Bulls Athletic Park. Corporate partners currently providing jobs include the Atticus, Bridge II Sports, Cisco, Cree, the Diaper Bank of NC, Diocese of Raleigh, EY, the Durham Children's Initiative, ISLA, Jacobs, Law Offices of James Scott Farrin, Lenova, Microsoft, NC Subway Group, NC State College of Engineering, The Franciscan School, YMCA and ZenBio. In addition to providing transportation for students to their assignments with corporate partners, Cristo Rey is also providing transportation to and from school.
Phil Ford, legendary University of North Carolina-Chapel Hill basketball player, NBA player and Olympic gold medalist, as well as Erroll Reese, Sports Shop Radio broadcaster, have recently joined the CRRT Board of Directors. The board also includes influential community and business leaders Mark Baric (chair), Shelayne Sutton, Ed Fritsch, Carman Liuzzo, Michael Goodmon, Frank Pirozzi, Chuck Swoboda, Bob Murphy, Conor Heaton, John Ratliff, Greg Bohlen and Robert DiDomenico. Cristo Rey Research Triangle High School is also a part of Jesuit Network of high schools.  Father Phil Hurley, S.J., and Father Steve Planning, S.J., serve on the board as representatives of the USA East Province of the Society of Jesus.
"No one should be denied admission to higher education because of their economic position," said Baric. "That is why our mission is to deliver a powerful and innovative approach to education that provides students from families of limited economic means with the knowledge, character and skills to transform their lives."
There are currently 37 Cristo Rey schools operating nationwide, including high schools in New York City, Miami, Chicago, Atlanta and San Diego. Cristo Rey students are twice as likely to complete a bachelor's degree by age 24, compared to the total U.S. low-income population. In addition, 98% of students at existing Cristo Rey schools are minority students of color.
Philanthropic support plays a critical role in the lives of Cristo Rey students. While students earn most of their cost of attendance through the unique Corporate Work Study Program and families contribute what they are able, the remaining balances come from the generosity of donors. Donations from individuals, corporations, foundations and others ensure tuition is accessible to students who may not have the opportunity to benefit from a school like Cristo Rey otherwise.
Corporations, foundations and individuals interested in getting involved with CRRT High School can contact Dr. Fedewa at Mike.Fedewa@cristoreyrt.org or (919) 604-7828. For additional information, including student admissions, visit CristoReyRT.org.
About The Cristo Rey Network® 
The Cristo Rey Network® is the only network of high schools in the country that integrate four years of rigorous college preparatory academics with four years of professional work experience through the Corporate Work Study Program. Ninety-five percent of Cristo Rey high school graduates go on to attend a four-year college or university. Composed of 37 Catholic, college-and career-preparatory schools that today serve 12,200 students in 24 states with 18,000 graduates, the Cristo Rey Network delivers a powerful and innovative approach to inner-city education that equips students from families of limited economic means with the knowledge, character, and skills to transform their lives. While Cristo Rey® schools are locally owned and operated, the Cristo Rey Network national office protects the integrity of the movement and advances school excellence and innovation. For more information about Cristo Rey Research Triangle High School, please visit https://www.cristoreyrt.org/home.