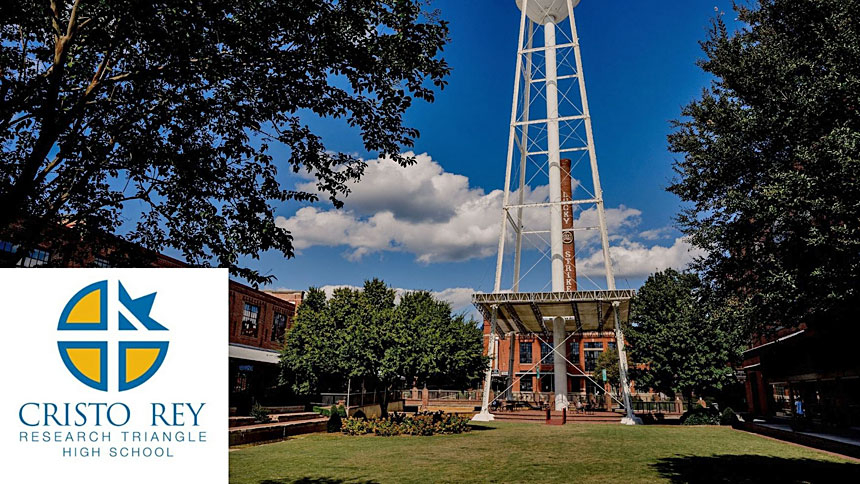 DURHAM, N.C. – Cristo Rey Research Triangle High School, a college and career preparatory school exclusively for economically underserved boys and girls, announced today it plans to welcome its inaugural freshman class of students next fall to the American Tobacco Campus in Durham. The campus will initially admit a freshman class of approximately 100 students, adding classes of 100 new students in succeeding years.
The Cristo Rey program combines a rigorous academic curriculum with four years of professional work experience and mentorship provided by local corporations and professional services firms. The program equips students with the academic training, character development and real-world career skills to transform their lives. Cristo Rey students are twice as likely to complete a bachelor's degree by age 24, compared to the total U.S. low-income population.
With support from the Catholic Diocese of Raleigh, Cristo Rey Research Triangle is part of the largest network of high schools in the U.S. that exclusively supports economically underserved youth. Ninety-eight percent of students at existing Cristo Rey schools are minority students of color. There are currently 37 Cristo Rey schools operating nationwide including high schools in New York City, Miami, Chicago, Atlanta and San Diego.
Over the past year, the local Board of Directors for Cristo Rey Research Triangle, composed of influential community and business leaders and led by Cary executive and Board Chair Mark Baric, successfully secured the school's site at American Tobacco Campus and recruited school President Dr. Mike Fedewa, Principal Neil Cronin and Admissions Director Martha Zaldivar. Cristo Rey Research Triangle also successfully recruited Roger Reed in the critical role of Corporate Work Study Director to interface with local companies and arrange for student placements.
"We have an exceptional team in place that is prepared and excited to create life-changing opportunities for economically marginalized minority students here in the Triangle area," said Baric. "We have also partnered with an amazing group of vibrant, growing companies that see this as a win-win by helping to educate and develop young people who would otherwise never have this college preparatory opportunity. Our goal is for 100% of our graduates to be accepted to college as we firmly believe education is the key to transforming lives and permanently lifting these students and their families out of poverty."

Capitol Broadcasting Company, owner of the American Tobacco Campus, partnered with Cristo Rey Research Triangle in its vision of bringing the school to downtown Durham. As part of the city's growing renaissance, the campus will be adjacent to the Durham Bulls Athletic Park and Durham Performing Arts Center, providing students with a rich cultural environment, as well as access to a diverse range of employment opportunities in Durham, the Research Triangle Park, Raleigh, Cary and Chapel Hill.
George Talbot, senior IT manager – People Services IT for Cisco, will lead the student work program for the Research Triangle Park-based technology company.
"Cisco's work study partnership with Cristo Rey Research Triangle will help our organization fulfill critical needs while contributing to the college preparatory education for these students," Talbot said. "It is our hope that our involvement will help these students be as prepared for the future as they can possibly be and ultimately be accepted into the college of their choosing."
Numerous Triangle-area companies have generously pledged their support and enthusiasm for the new school, including BB&T, Cisco, Code the Dream, Cree, Diocese of Raleigh, Duke University School of Nursing, Isla, Jacobs, James Scott Farrin Law Firm, Lenovo, Little Architects, North Carolina Subway Group, Precision Walls, Sipcam Agro, The Franciscan School, UNC School of Medicine and ZenBio. As part of its ongoing community relations efforts, Raleigh-based PR and integrated marketing agency French/West/Vaughan is providing pro bono public relations and consulting services to Cristo Rey Research Triangle.
Corporations, foundations and individuals interested in getting involved with Cristo Rey Research Triangle High School can contact Dr. Mike Fedewa at Mike.Fedewa@cristoreyrt.org or (919) 604-7828. For additional information, including student admissions, visit CristoReyRT.org.
About The Cristo Rey Network® 
The Cristo Rey Network® is the only network of high schools in the country that integrate four years of rigorous college preparatory academics with four years of professional work experience through the Corporate Work Study Program. Ninety-five percent of Cristo Rey high school graduates go on to attend a four-year college or university. Composed of 37 Catholic, college-and career-preparatory schools that today serve 12,200 students in 24 states with 18,000 graduates, the Cristo Rey Network delivers a powerful and innovative approach to inner-city education that equips students from families of limited economic means with the knowledge, character, and skills to transform their lives. While Cristo Rey® schools are locally owned and operated, the Cristo Rey Network national office protects the integrity of the movement and advances school excellence and innovation. For more information about Cristo Rey Research Triangle High School, please visit https://www.cristoreyrt.org/home.