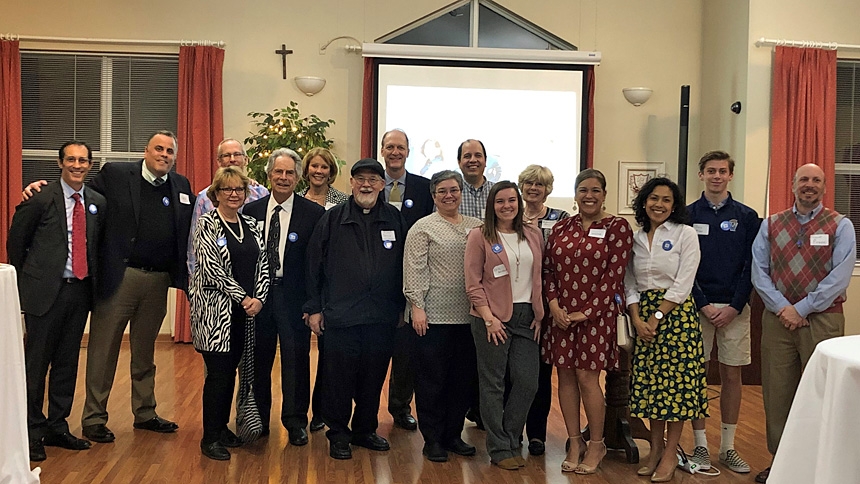 The Cristo Rey High School® continues its work towards the establishment of a Cristo Rey High School® in the Research Triangle area. Community volunteers have been hard at work surveying community leaders, potential students and their parents; exploring potential school sites; working with local companies to arrange for student jobs and talking with religious orders to endorse the school in conjunction with the Catholic Diocese of Raleigh.
Cristo Rey schools are Catholic, college-preparatory high schools that exclusively serve low income students. The schools provide a unique four-year, integrated corporate work study experience. The Cristo Rey® model integrates college preparatory academics with professional work experience to equip students from economically-disadvantaged families with the knowledge, character, academic and work skills to transform their lives.
The Triangle-area school would be locally owned and operated as part of the Cristo Rey Network® of more than 30 Catholic, college preparatory schools across the country. The Cristo Rey Feasibility Study Team is targeting fall of 2021 to open a school in the Triangle region with an incoming 9th grade class of 100 students.
On February 8, the Cristo Rey Feasibility Study Team held a Recognition Event for those currently involved in this effort. In addition to recognizing those already volunteering, the event served to expand awareness of the planned school and how to get involved. The Feasibility Study Team is still seeking volunteers who would like to become involved by serving on a committee or providing financial support.
For more information, check the website, http://www.cristoreyrtp.org, or contact Cassy Mountford, Feasibility Study Coordinator, at cristoreyfsc@gmail.com or 814-449-5521.