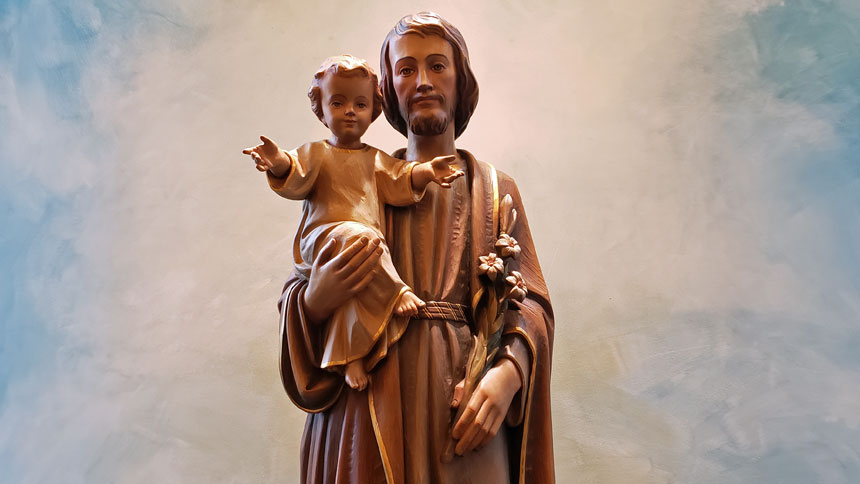 Above: Statue of St. Joseph with Jesus at St. Bernadette Church in Fuquay-Varina
---
It's uncommon; but in this case, it's true. St. Joseph, husband of Mary and foster father of Jesus, is remembered with two feast days. The Solemnity of St. Joseph is March 19, according to the liturgical calendar. It was established in 1479 by Pope Pius V.
March 19 is the main feast day for St. Joseph celebrated in the United States. Other countries, such as Spain, Portugal and Italy, observe the day, too, and it's linked to their Father's Day, which is also March 19.
But the Church designated May 1 for St. Joseph, too. It's the day dedicated to St. Joseph the Worker and began in 1955 at the request of Pope Pius XXII to coincide with International Workers Day, which is celebrated in many countries throughout the world. According to the World Economic Forum, more than 90 countries, such as Mexico, the United Kingdom and Colombia, celebrate International Workers Day, known commonly as Labour Day.
"Pius XII instituted this day to give a touch of faith to the already-instituted Labor Day at that time," said Bishop Luis Rafael Zarama. "Work is something that has to help the person to develop … work is to give the opportunity for people to develop their potential, grow as people and contribute to the betterment of society. Having St. Joseph in his dedication as a worker shows us that work is there to dignify the person. Man is not a machine that is used to make money; man as such is called to fulfill his talents at work, and in this way find his dignity as a human being and contribute to the betterment of society."
Interestingly, St. Joseph is not the only saint with two feast days in the Catholic Church. Each year the Church remembers the nativity of St. John the Baptist June 24, and his memorial August 29.