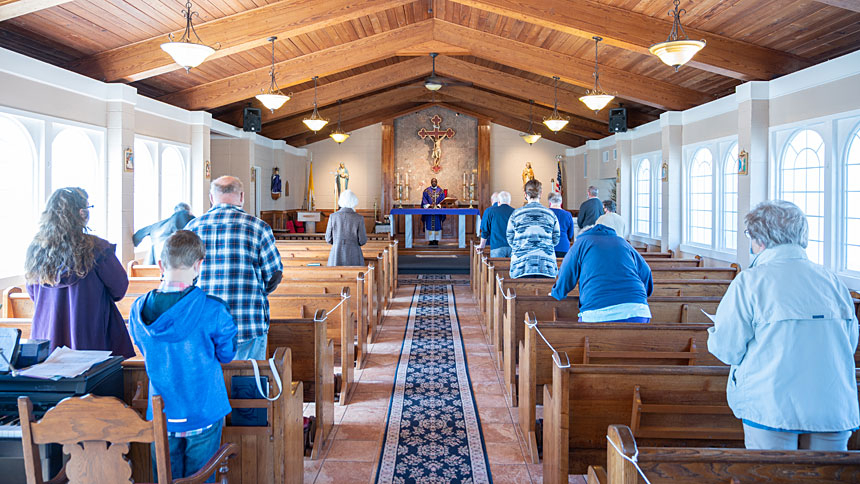 BURGAW - St. Joseph the Worker Church is a small parish deeply rooted in service and hard work. Since its inception the parish has embraced St. Joseph the Worker as a model for their service-oriented attitude, work ethic and community outreach.
The story of this parish begins in the early 19th century with farming colonies in the coastal area.
Several families from Europe traveled to North Carolina to work in a town called St. Helena. Shortly after their arrival, around 1906, St. Joseph the Worker's first Mass was celebrated in a storage shed across the street from the railroad station. It's believed to have been the first Catholic Mass to be celebrated in all of Pender County.
Two years later, construction of the first church building began. It was completed later that year. Father Umberto Donati was assigned to St. Joseph in 1909 and was succeeded by Father Charles Kneusels, who had studied at Belmont Abbey, in 1911.
Father Kneusels served the parish for 13 years. During his tenure, he welcomed 38 new families into parish life, purchased land for the rectory and made 18,000 concrete blocks by hand for the structure of St. Joseph Catholic School.
He died in 1924 before the school was completed.
According to Monsignor Gerald Lewis, who directs the archives for the Diocese of Raleigh, Father Kneussels was buried beside the church.
In 1934 that original church building in St. Helena was destroyed by fire. Monsignor Lewis said that when the St. Joseph community built a new church building in nearby Burgaw, Father Kneussels' body was reburied on its grounds.
St. Joseph the Worker Catholic Church experienced great change in the 1940s and '50s. A parish school was completed and opened by the Conventual Franciscan Friars of the Immaculate Conception and was staffed by the Franciscan Sisters of Syracuse. The parish was home to a series of seven resident priests.
In 1970, Transfiguration Church in Wallace became a mission of St. Joseph. It was the next year that one of St. Joseph's most active parishioners, Lou Hesse, moved to North Carolina from Illinois. Lou, his wife Agnes, and their eight children immediately threw themselves into life at St. Joseph.
Lou served as president of the first parish and finance councils and taught faith formation classes alongside his wife. Following in their parents' footsteps, the Hesse children were altar servers, choir members and lectors.
"Parish life was vibrant back in the 70s," Hesse explained. "The families here were large and all the children participated in the various activities and church ministries."
Looking at old newspaper clippings dating back to the early 1980s, he reminisces about the construction and dedication of their current parish hall. He was there through it all.
Today, St. Joseph the Worker has about 150 registered households and is home to Father Roger Malonda Nyimi. More than 70% of its parishioner base is Hispanic. The parish campus is also home to a food pantry that works with 100 families a week.
"Nobody serves like we do," Hesse says with confidence.
Because of the pandemic, the need for the food pantry is growing exponentially. Hesse serves as the liaison between the parish, the food pantry and its weekly volunteers (more than 20 of them) from St. Mary in Wilmington, Transfiguration Church in Wallace, St. Therese in Wrightsville Beach and All Saints in Hampstead.
Pope Pius XII instituted a feast day for St. Joseph the Worker in May of 1955. St. Joseph was Jesus's foster father during his life on Earth. Joseph worked hard to provide for Mary and Jesus by working as a carpenter. The history of St. Joseph the Worker Catholic Church follows that model.
Photos