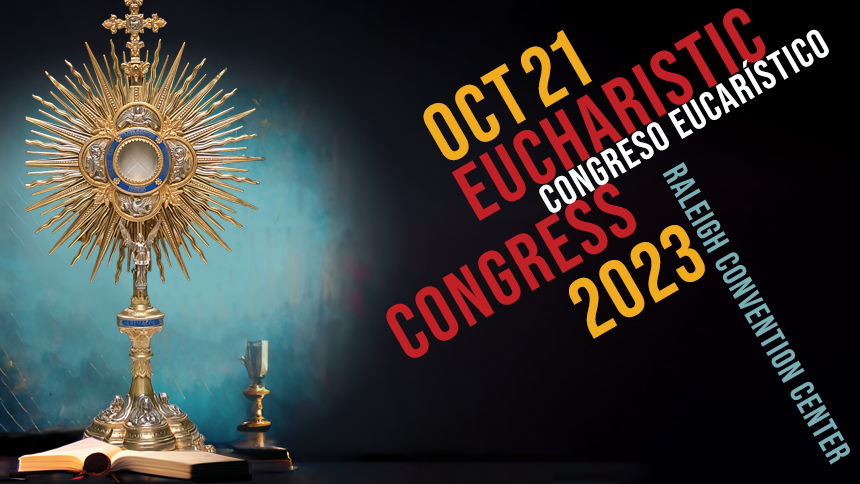 Plans have been finalized for the Diocese of Raleigh's Eucharistic Congress to be held on Saturday, October 21, 2023, at the Raleigh Convention Center. The Eucharistic Congress opens a year of diocesan-wide celebrations marking the upcoming 100th anniversary of the diocese in 2024. The day-long event will include speakers for adults and youth as well as a Spanish language track.
Attendees will have an opportunity for fellowship with others from around the diocese in the exhibit hall, to partake in the opportunity for the Sacrament of Reconciliation and will conclude with a Vigil Mass. An array of speakers are already confirmed for the event, including: Bishop Stephen D. Parkes of Savannah; Archbishop Gustavo García-Siller of San Antonio; Katherine Angulo; Father Casey Cole, OFM; Dr. Shannen Dee Williams; Sister Laura Downing, IHM, and Dr. Hosffman Ospino.
"The congress will serve to gather the faithful from across our diocese to focus on the great gift that we have in the Real Presence of Christ in the Eucharist," said Father Scott McCue, chair of the Eucharistic Congress Planning Committee. "We have a great committee working together to plan all of the various aspects of the congress. We will be ready to welcome the people of our diocese to the Raleigh Convention Center, which is a wonderful venue for this event. It is the hope of the congress committee that our work will help to strengthen the Eucharistic faith of the people of our diocese as we begin celebrating the 100th anniversary of the Diocese of Raleigh."
There is no charge to attend the Eucharistic Congress, but pre-registration is required. Online registration will be available at a later date, but everyone is encouraged to save the date and visit the event website for more information and updates throughout the year.
"I will look forward to being with you on October 21, 2023, as we give thanks to the Lord and to all those who helped form the foundation of our Catholic faith in North Carolina," said Bishop Luis Rafael Zarama. "Thank you for your continued prayers and participation as we joyfully celebrate the beautiful past and future of our great diocese."
Across the U.S., bishops' have begun a renewed focus on the significance of the Eucharist in the life of the church. The Diocese of Raleigh's event is part of a National Eucharistic Revival movement to restore understanding and devotion to this great mystery by helping us renew our worship of Jesus Christ in the Eucharist. The Eucharistic Revival will culminate with the National Eucharistic Congress 2024 to be held in Indianapolis. More information regarding national events is also available via the diocese's event website.