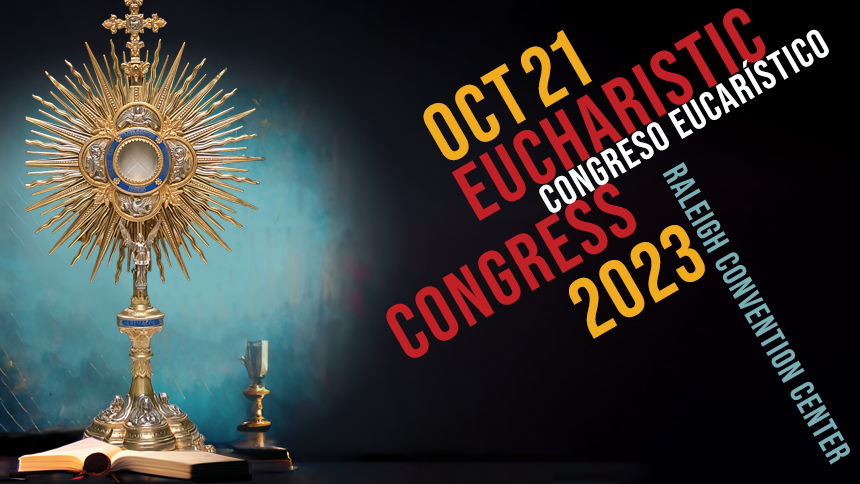 Add to Calendar
2023-10-21 08:30:00
2023-10-21 08:30:00
Diocese of Raleigh Eucharistic Congress
The Diocese of Raleigh Eucharistic Congress opens a year of diocesan-wide celebrations marking the upcoming 100th anniversary of the diocese in 2024. The day-long event, to be held at the Raleigh Convention Center, incorporates speakers for adults and youth as well as a Spanish language track. Join in fellowship with others from around the diocese in the exhibit hall; participate with others in Vigil Mass; partake in the opportunity for the Sacrament of Reconciliation and enjoy an array of speakers. There is no charge to attend, but pre-registration is required. For general questions about the Eucharistic Congress, please email ECQuestions@raldioc.org. Registration Adults Open registration for adults is available via the Eucharistic Congress mobile app. *Each person who plans to attend must register with a name and individual email address to sign up for sessions. A single email address cannot be used for multiple registrants. This applies to both the app and web registration. Signing in on the mobile app automatically registers you for the event; you may then register for the individual sessions you plan to attend. Download the app: App Store (iOS) | Detailed instructions on how to download the app for iOS and register Google Play (Android) | Detailed instructions on how to download the app for Android and register If you are unable to use the app, you may sign up via the web using these instructions: Instructions with screenshots for signup via the web (PDF) Go to https://guidebook.com/g/dorcongress23/    Click on "Schedule" (located on the left side of the page) and the page will refresh. Choose which track you plan to attend by checking the box next to the "English" or "Tema en Español" track. Then select "(+)Add" next to the session you would like to attend. A pop-up will appear where you will then be prompted to "Sign up or Login" to register for that session.  Choose the "Sign up" button to register for the Eucharistic Congress. A new page will appear. You will then fill out your name, email address, and password and be asked some data sharing questions. Then you will be redirected back to your schedule page to sign up for other sessions. Continue to sign up for sessions by clicking on "(+)Add" and it will appear "Added"  which indicates you have successfully registered for the session. To unregister for a session click on the "Added" button  and it will reload as "(+)Add".  To logout click on your name on the upper right corner of the page and click "Log out". As the Congress date approaches, you will receive an invitation via your email to print out in order to gain access to the event. Youth (Grades 6-12) Eucharistic Congress youth attendees must be pre-registered by a parish-designated chaperone. Parish-designated chaperones are able to register up to 7 youth attendees per adult. Youth Track online registration FAQ for Youth Track registration About Children The Eucharistic Congress is not designed for children, and there will not be programming for children. Parents wishing to bring children with them must register each child individually using the registration website.  Note: Middle school and high school youth may only attend the Youth Track with their parish youth group and chaperones and must be pre-registered as explained above. Schedule 8:00 Doors open for all attendees 9:30 - 10:30 Morning Prayer with Adoration (Exhibit Hall B) 11:00 - 12:00 Keynotes: English: Ballroom A/B Spanish: Exhibit Hall C Youth: Exhibit Hall B 12:00 - 1:30 Lunch (Exhibit Hall A) Lunch will be available for purchase in Exhibit Hall A. Due to the expected number of participants in the congress, adults are also encouraged to go out of the Convention Center and enjoy lunch in one of many restaurants in downtown Raleigh. Youth leaders from each parish will determine the lunch plans for their parish. Please note that it is not permitted to bring food and drink into the Convention Center. 12:00 - 4:00 Reconciliation (Ballroom C) 1:45 - 2:45 Workshop Session I (Meeting Rooms) 3:15 - 4:15 Workshop Session II (Meeting Rooms) Same workshops repeated 1:30 - 4:40 Youth Track Sessions (Ballroom A/B) - PRE-REGISTRATION REQUIRED  1:45 - 4:15 Eucharistic Miracles Exhibits (Exhibit Hall C) 5:00 - 6:30 Mass (Exhibit Hall B) Exhibitors available all day in the Exhibit Hall Lobby. Speakers and Topics Speaker bios and workshop descriptions Speakers include: Bishop Stephen D. Parkes of Savannah Archbishop Gustavo García-Siller of San Antonio The Vigil Project, featuring Greg Boudreaux Deacon Greg Kandra Nell O'Leary Monsignor Michael Clay Dr. Shannen Dee Williams Father Jairo Maldonado Katherine Angulo Deacon Luis Royo Dr. Hosffman Ospino Father Casey Cole, OFM Sister Laura Downing, IHM Brenda García Exhibitors and Vendors The Diocese of Raleigh Eucharistic Congress will feature many vendors (for profit) and exhibitors (not-for-profit). Vendors and exhibitors will be located on the mezzanine of the Exhibit Hall level. We are no longer accepting new vendors or exhibitors. Current vendors or exhibitors may contact Frank Jackson at frank.jackson.sr@hotmail.com or 919-740-8329 for event information.  The following exhibitors and vendors will be present: Exhibitors AAMEN – African Ancestry Ministry and Evangelization Network Alvernia for Young Adults (Encuentro Alvernia Juvenil) Alvernia Matrimonial Ancient Order of the Hibernians Apóstoles de la Palabra (Apostles of the Word) Career Network Ministry Catholic Charismatic Renewal in the Diocese of Raleigh (English) Catholic Charities of the Diocese of Raleigh Catholic Committee on Scouting Catholic Daughters of the Americas Catholics for Abolition in NC Couples for Christ Diocese of Raleigh Office of Vocations Divine Mercy Radio Fraternity of Our Lord of Miracles (Fraternidad del Senor de los Milagros) Knights of St. Peter Claver Ladies Auxiliary of St. Peter Claver Native American Catholics NC Catholics Caring for Our Common Home NC State Council Columbiettes North Carolina Knights of Columbus Renovación Carismática Católica Room at the Inn St. Rita Ministry The Experience of Emmaus (Men) The Experience of Emmaus for Women The Foundation (of the Diocese of Raleigh) Vagabond Missions Worldwide Marriage Encounter Young Adult Ministry / Pastoral Juvenil Hispana – Jóvenes Adultos Vendors Bayleaf Signs and Wonders Belmont Abbey College Blessed Is She Conrad Schmitt Studios Holy Land Souvenirs ILP Music In His Name Notre Dame Creations Novena Cards Steubenville Conferences TKC Catholic Bookstores Verdin
Raleigh Convention Center
Diocese of Raleigh
techsupport@faithcatholic.com
America/New_York
public
The Diocese of Raleigh Eucharistic Congress opens a year of diocesan-wide celebrations marking the upcoming 100th anniversary of the diocese in 2024. The day-long event, to be held at the Raleigh Convention Center, incorporates speakers for adults and youth as well as a Spanish language track.
Join in fellowship with others from around the diocese in the exhibit hall; participate with others in Vigil Mass; partake in the opportunity for the Sacrament of Reconciliation and enjoy an array of speakers. There is no charge to attend, but pre-registration is required.
For general questions about the Eucharistic Congress, please email ECQuestions@raldioc.org.
Registration
Adults
Open registration for adults is available via the Eucharistic Congress mobile app.
*Each person who plans to attend must register with a name and individual email address to sign up for sessions. A single email address cannot be used for multiple registrants. This applies to both the app and web registration.
Signing in on the mobile app automatically registers you for the event; you may then register for the individual sessions you plan to attend.
Download the app:
App Store (iOS) | Detailed instructions on how to download the app for iOS and register
Google Play (Android) | Detailed instructions on how to download the app for Android and register
If you are unable to use the app, you may sign up via the web using these instructions:
Instructions with screenshots for signup via the web (PDF)
Click on "Schedule" (located on the left side of the page) and the page will refresh.
Choose which track you plan to attend by checking the box next to the "English" or "Tema en Español" track.
Then select "(+)Add" next to the session you would like to attend.
A pop-up will appear where you will then be prompted to "Sign up or Login" to register for that session. 
Choose the "Sign up" button to register for the Eucharistic Congress. A new page will appear.
You will then fill out your name, email address, and password and be asked some data sharing questions. Then you will be redirected back to your schedule page to sign up for other sessions.
Continue to sign up for sessions by clicking on "(+)Add" and it will appear "Added"  which indicates you have successfully registered for the session.
To unregister for a session click on the "Added" button  and it will reload as "(+)Add". 
To logout click on your name on the upper right corner of the page and click "Log out".
As the Congress date approaches, you will receive an invitation via your email to print out in order to gain access to the event.
Youth (Grades 6-12)
Eucharistic Congress youth attendees must be pre-registered by a parish-designated chaperone.
Parish-designated chaperones are able to register up to 7 youth attendees per adult.
Youth Track online registration
FAQ for Youth Track registration
About Children
The Eucharistic Congress is not designed for children, and there will not be programming for children. Parents wishing to bring children with them must register each child individually using the registration website. 
Note: Middle school and high school youth may only attend the Youth Track with their parish youth group and chaperones and must be pre-registered as explained above.
---
Schedule
8:00 Doors open for all attendees
9:30 - 10:30 Morning Prayer with Adoration (Exhibit Hall B)
11:00 - 12:00 Keynotes:
English: Ballroom A/B
Spanish: Exhibit Hall C
Youth: Exhibit Hall B
12:00 - 1:30 Lunch (Exhibit Hall A)
Lunch will be available for purchase in Exhibit Hall A. Due to the expected number of participants in the congress, adults are also encouraged to go out of the Convention Center and enjoy lunch in one of many restaurants in downtown Raleigh. Youth leaders from each parish will determine the lunch plans for their parish. Please note that it is not permitted to bring food and drink into the Convention Center.
12:00 - 4:00 Reconciliation (Ballroom C)
1:45 - 2:45 Workshop Session I (Meeting Rooms)
3:15 - 4:15 Workshop Session II (Meeting Rooms)
1:30 - 4:40 Youth Track Sessions (Ballroom A/B) - PRE-REGISTRATION REQUIRED 
1:45 - 4:15 Eucharistic Miracles Exhibits (Exhibit Hall C)
5:00 - 6:30 Mass (Exhibit Hall B)
Exhibitors available all day in the Exhibit Hall Lobby.
---
Speakers and Topics
Speakers include:
Bishop Stephen D. Parkes of Savannah
Archbishop Gustavo García-Siller of San Antonio
The Vigil Project, featuring Greg Boudreaux
Deacon Greg Kandra
Nell O'Leary
Monsignor Michael Clay
Dr. Shannen Dee Williams
Father Jairo Maldonado
Katherine Angulo
Deacon Luis Royo
Dr. Hosffman Ospino
Father Casey Cole, OFM
Sister Laura Downing, IHM
Brenda García
---
Exhibitors and Vendors
The Diocese of Raleigh Eucharistic Congress will feature many vendors (for profit) and exhibitors (not-for-profit). Vendors and exhibitors will be located on the mezzanine of the Exhibit Hall level. We are no longer accepting new vendors or exhibitors. Current vendors or exhibitors may contact Frank Jackson at frank.jackson.sr@hotmail.com or 919-740-8329 for event information. 
The following exhibitors and vendors will be present:
Exhibitors
AAMEN – African Ancestry Ministry and Evangelization Network
Alvernia for Young Adults (Encuentro Alvernia Juvenil)
Alvernia Matrimonial
Ancient Order of the Hibernians
Apóstoles de la Palabra (Apostles of the Word)
Career Network Ministry
Catholic Charismatic Renewal in the Diocese of Raleigh (English)
Catholic Charities of the Diocese of Raleigh
Catholic Committee on Scouting
Catholic Daughters of the Americas
Catholics for Abolition in NC
Couples for Christ
Diocese of Raleigh Office of Vocations
Divine Mercy Radio
Fraternity of Our Lord of Miracles (Fraternidad del Senor de los Milagros)
Knights of St. Peter Claver
Ladies Auxiliary of St. Peter Claver
Native American Catholics
NC Catholics Caring for Our Common Home
NC State Council Columbiettes
North Carolina Knights of Columbus
Renovación Carismática Católica
Room at the Inn
St. Rita Ministry
The Experience of Emmaus (Men)
The Experience of Emmaus for Women
The Foundation (of the Diocese of Raleigh)
Vagabond Missions
Worldwide Marriage Encounter
Young Adult Ministry / Pastoral Juvenil Hispana – Jóvenes Adultos
Vendors
Bayleaf Signs and Wonders
Belmont Abbey College
Blessed Is She
Conrad Schmitt Studios
Holy Land Souvenirs
ILP Music
In His Name
Notre Dame Creations
Novena Cards
Steubenville Conferences
TKC Catholic Bookstores
Verdin