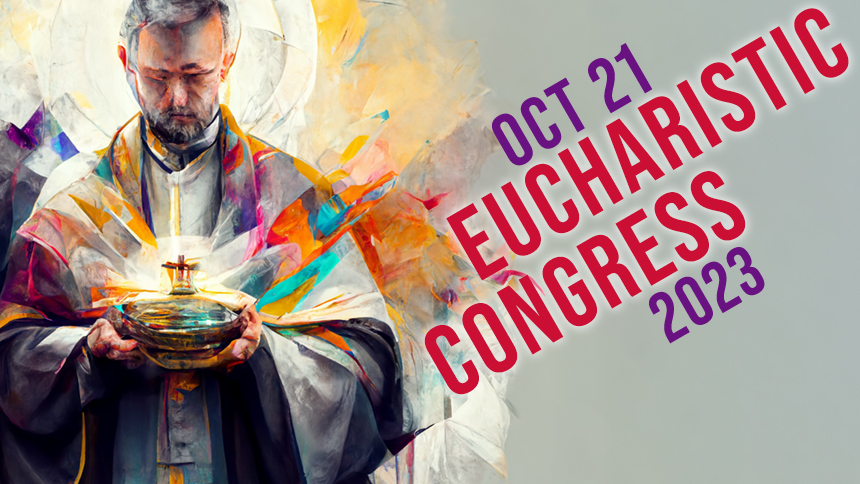 Add to Calendar
2023-10-21 09:00:00
2023-10-21 09:00:00
Diocese of Raleigh Eucharistic Congress
The Diocese of Raleigh Eucharistic Congress opens a year of diocesan-wide celebrations marking the upcoming 100th anniversary of the diocese in 2024. The day-long event, to be held at the Raleigh Convention Center, incorporates speakers for adults and youth as well as a Spanish language track. Join in fellowship with others from around the diocese in the exhibit hall; participate with others in Vigil Mass; partake in the opportunity for the Sacrament of Reconciliation and enjoy an array of speakers. There is no charge to attend, but pre-registration is required. Online registration will be available at a later date. Speakers Speakers and workshop topics Speakers include: Bishop Stephen D. Parkes of Savannah Archbishop Gustavo García-Siller of San Antonio The Vigil Project, featuring Greg Boudreaux Deacon Greg Kandra Nell O'Leary Monsignor Michael Clay Dr. Shannen Dee Williams Father Jairo Maldonado Katherine Angulo Deacon Luis Royo Dr. Hosffman Ospino Father Casey Cole, OFM Sister Laura Downing, IHM Brenda García Schedule 9:00 Doors open 9:30 - 10:30 Eucharistic Procession and Holy Hour (Exhibit Hall B) 11:00 - 12:00 Keynotes: English: Ballroom A/B Spanish: Exhibit Hall C Youth: Exhibit Hall B 12:00 - 1:30 Lunch (Exhibit Hall A) 12:00 - 4:00 Reconciliation (Ballroom C) 1:45 - 2:45 Workshop Session I (Meeting Rooms) 3:15 - 4:15 Workshop Session II (Meeting Rooms) Same workshops repeated Eucharistic Miracles Exhibits available in Exhibit Hall C from 1:45-4:15 5:00 - 6:30 Mass (Exhibit Hall B) Exhibitors available all day in the Exhibit Hall Lobby. Registration Adults The Eucharistic Congress mobile app and open registration for English and Spanish tracks will be available soon! Youth (Grades 6-12) Youth Track registration now open! Eucharistic Congress youth attendees must be pre-registered by a parish-designated chaperone. Parish-designated chaperones are able to register up to 7 youth attendees, per adult. Youth Track online registration FAQ for Youth Track registration
Raleigh Convention Center
Diocese of Raleigh
techsupport@faithcatholic.com
America/New_York
public
The Diocese of Raleigh Eucharistic Congress opens a year of diocesan-wide celebrations marking the upcoming 100th anniversary of the diocese in 2024. The day-long event, to be held at the Raleigh Convention Center, incorporates speakers for adults and youth as well as a Spanish language track.
Join in fellowship with others from around the diocese in the exhibit hall; participate with others in Vigil Mass; partake in the opportunity for the Sacrament of Reconciliation and enjoy an array of speakers. There is no charge to attend, but pre-registration is required. Online registration will be available at a later date.
Speakers
Speakers include:
Bishop Stephen D. Parkes of Savannah
Archbishop Gustavo García-Siller of San Antonio
The Vigil Project, featuring Greg Boudreaux
Deacon Greg Kandra
Nell O'Leary
Monsignor Michael Clay
Dr. Shannen Dee Williams
Father Jairo Maldonado
Katherine Angulo
Deacon Luis Royo
Dr. Hosffman Ospino
Father Casey Cole, OFM
Sister Laura Downing, IHM
Brenda García
Schedule
9:00 Doors open
9:30 - 10:30 Eucharistic Procession and Holy Hour (Exhibit Hall B)
11:00 - 12:00 Keynotes:
English: Ballroom A/B
Spanish: Exhibit Hall C
Youth: Exhibit Hall B
12:00 - 1:30 Lunch (Exhibit Hall A)
12:00 - 4:00 Reconciliation (Ballroom C)
1:45 - 2:45 Workshop Session I (Meeting Rooms)
3:15 - 4:15 Workshop Session II (Meeting Rooms)
Eucharistic Miracles Exhibits available in Exhibit Hall C from 1:45-4:15
5:00 - 6:30 Mass (Exhibit Hall B)
Exhibitors available all day in the Exhibit Hall Lobby.
Registration
Adults
The Eucharistic Congress mobile app and open registration for English and Spanish tracks will be available soon!
Youth (Grades 6-12)
Youth Track registration now open!
Eucharistic Congress youth attendees must be pre-registered by a parish-designated chaperone.
Parish-designated chaperones are able to register up to 7 youth attendees, per adult.
Youth Track online registration