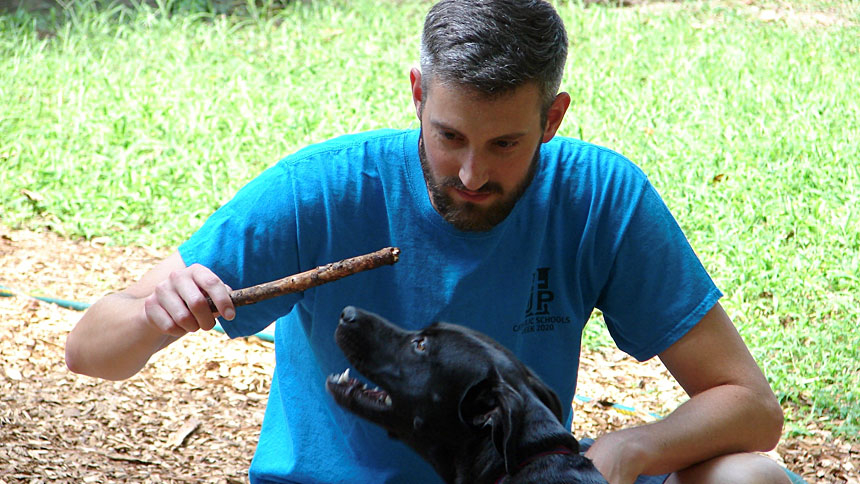 The August broadcast of Meet the Priest on Divine Mercy Radio introduces listeners to Father Michael Schuetz, administrator at Mother of Mercy in Washington.
Father Mike, as he is known by his parishioners, talks about how four assignments in four years has taught him to trust God. Also, while everyone has stories about how they kept themselves busy during quarantine, Father Mike's story may be one of the best!
Father Mike attended St. Thomas More Academy high school in Raleigh. At the time, his life revolved in a big way around sports, especially basketball. But a torn ACL during his junior year gave the young athlete the opportunity to question, ponder and discern.
He says, "I was given an opportunity to trust God. I asked, 'What are you doing? What are you calling me to do?'"
The more times he asked, the more he felt as though God was calling him to consider a vocation to the priesthood.
In the show, he discusses how he faced both support and doubt from family members about his decision.
Though it is always hard to face apprehension, Father Mike says that he knows the concern and uncertainty he faced came from a place of love.
When many people hear that a young man is considering seminary, they think that the priesthood is right around the corner and that making such a commitment at a young age is scary.
Father Mike likens the decision to go to seminary out of high school to choosing a major in college. Choosing that major does not lock you into that career path forever. Likewise, Father Mike says, "When you go to seminary, you're not ordained the next week." 
So, although he was young when he entered the seminary, he discerned, studied and prayed for eight years prior to becoming a priest. Each year, Father says he asked the same question, "Is this what I'm supposed to be doing. Is this what God is calling me to do?"
The answer was always, 'yes.'
Since his ordination in 2016, Father Mike has been assigned to four parishes in four years. While some may consider that overwhelming, Father Mike says he used those opportunities to deepen his trust in God's plan.
In the show, Father Mike continually comes back to the theme of trusting God in uncertain times. He even gives listeners some advice in how to strengthen that trust. There is no better time to hear such a message.
Tune in to find out how he connected with his parishioners at Mother of Mercy in Washington, despite being assigned there only six weeks prior to COVID-19 turning the world 'upside-down.'
Also, in what may be the best "what I did during the pandemic" story ever, find out what happened when Father Mike finally felt settled enough to rescue a dog from the local shelter. He thought he was only adopting Bella, but Bella had a surprise in store!
After several phone calls to the vet, countless YouTube tutorials and, I'm sure, plenty of prayer, Father Mike went from rescuing one young dog to raising and finding homes for eight newborn puppies.
One of those puppies, Stella, found a home with Our Lady of Lourdes parishioner Jenny Doyle and her family. "Stella has helped our family navigate the pandemic. She helps us focus on caring for her, and she just offers love," Doyle says. "We are thankful to Father for homing her with our family. She is truly a blessing."
For photos of Stella and some of her siblings with their forever families, see photos below.
For the full story from Father Mike's perspective, check out the radio show here.
Photo gallery