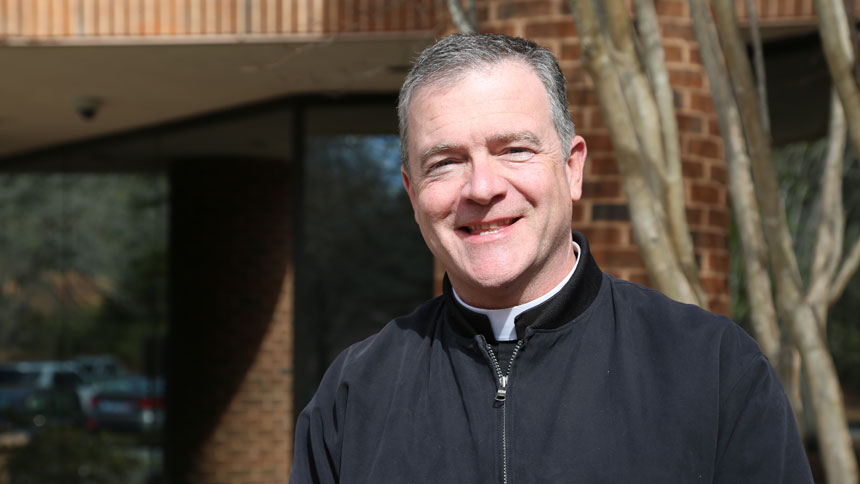 Father Philip Tighe, a beloved priest for the Diocese of Raleigh for 20 years and director of the Office of Vocations, died Monday, Aug. 31. He was 57.
Funeral arrangements are as follows:
Reception of the Body, Private Prayer and Vigil for the Deceased
Monday, Sept. 7
Holy Name of Jesus Cathedral 
715 Nazareth St., Raleigh
Reception of the Body at 10 a.m., with Monsignor David Brockman presiding
Private visitation and prayer continues throughout the day.
Vigil for the Deceased at 6 p.m. with Monsignor Jeffrey Ingham presiding
Visitation continues until 8 p.m.
Funeral Mass
Tuesday, Sept. 8 at 10 a.m.
Holy Name of Jesus Cathedral 
715 Nazareth St., Raleigh 
Bishop Luis Rafael Zarama will be the principal celebrant for the Mass, and Monsignor Jeffery Ingham will share the homily.
Watch livestream (If link does not work, go to https://www.youtube.com/user/DioceseofRaleigh.)
Download Funeral Mass Order of Service (PDF)
Interment
Tuesday, Sept. 8, upon arrival of the procession, approximately 2 p.m. 
St. Anthony of Padua Parish Cemetery 
Camp Easter Rd., Southern Pines
Mass Cards and Condolences
The Tighe Family 
2140 Midland Rd.
Southern Pines, NC  28374 
Please note that the faithful who attend funeral liturgies in person are asked to observe and maintain the proper social distancing protocols. This includes maintaining six feet of distance between you and others outside of your immediate family/members with whom you cohabitate, wearing a face-covering or mask and using provided hand-sanitizer upon entry into the cathedral. Face-coverings may be lowered to consume the Eucharist and should be repositioned immediately thereafter. 
Note that Holy Name of Jesus Cathedral has a limited capacity for the faithful to attend funeral liturgies in person. Once capacity has been reached, the faithful will be invited to access the live broadcast of the Mass, available via the diocesan YouTube channel and also via audio speakers positioned in front of the cathedral. During the Communion Rite of the Funeral Mass, the Eucharist will be brought to the faithful outside the front of the cathedral.
Kindly continue to remember Father Tighe among your intentions, as well as his siblings: Peg Campbell, Tom Tighe (Carol), Pat Tighe (Kitty), Tim Tighe (Robin) and Bill Tighe (Mary Ellen), their family members and all those in mourning at this time. 
In lieu of flowers
Father Tighe founded a fund to provide financial assistance for the training of servers assisting in the celebration of the extraordinary form of the Roman Rite, and seminarian training in the Latin Mass. To donate to that fund, visit https://www.foundationdor.org/donate/endowments-donate/ and select the Diocese: Summorum Pontificum Endowment Fund from the dropdown menu.
Please continue to visit dioceseofraleigh.org and nccatholics.org during the next few days for more information about the life of Father Tighe.