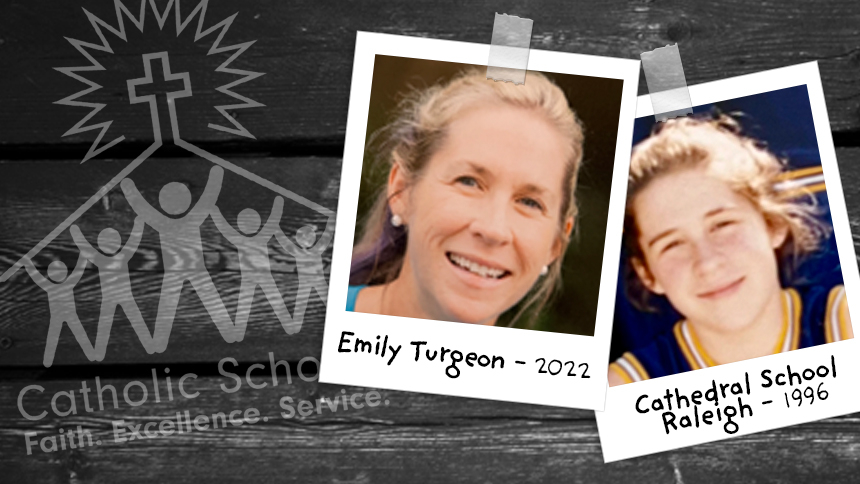 Learning through sport
Knights keep popping up in Emily Turgeon's life. She named her coaching business, Paladin Power and Speed, after the mascot of her alma mater, the Furman University Paladin. Paladins were fictional Medieval knights from Charlemagne's Court. Then there's the Cardinal Gibbons Crusaders and the Cathedral School Knights, schools where Emily was both a student and a teacher.
"It looks like my whole life I was a Christian soldier!" Emily quips.
After getting a master's degree in education, Emily returned to Cardinal Gibbons to teach psychology, sociology, and AP U.S. history for ten years. Today, Emily is the director of athletics and a physical education teacher at Cathedral School.
Looking back, Emily says being a student at Cathedral felt a lot like living in Camelot with all its optimism. 
At the time, five Immaculate Heart of Mary sisters taught the uniform-clad students lessons in academics and life. Emily remembers Sister Lisa, the basketball coach, who ran up and down the sidelines in her habit, encouraging the team. The sisters also fed peanut butter and jelly sandwiches to the homeless who knocked on their door and let them in to use the bathroom at the convent.
"The nuns were amazing," Emily said. "I connected with them deeply. They were doing what they pledged to do."
She felt all her teachers cared about who she was and what was going on in her life.
"What inspired me to teach were the awesome teachers I had throughout my life," Emily said. "We all need encouragement as we go through those developmental years in order to achieve our dreams in life and develop confidence."
Emily was encouraged to build an illustrious career as an athlete, rewriting the record books in high school and college.
"When you get awards and recognition, it becomes part of your identity and encourages you to keep pushing and keep challenging yourself," Emily said. "Now that I'm a coach, it's all about giving back to the people and the sports that did so much for me … it's all about these little kids." 
Her goal is to get students to get moving, and she started a developmental sports program that gives kindergarten through 8th graders an opportunity to learn a sport and improve their mobility and coordination.
"It's OK if you are not the best athlete," Emily said. "God gave us these bodies. If we participate in physical movement, then we are giving glory to God by taking care of our bodies."
Perhaps most importantly, Emily views sports as a vehicle for learning to be a good human. 
"You can win a thousand titles, but at the end of the day, all that really matters is -- What kind of a person are you?" Emily said. "You can learn that through sports. I'm trying to develop a culture where kids are more interested in sports, and they want to participate in sports, and they can grow as a person through sports … then maybe win a game or two. That's my mission."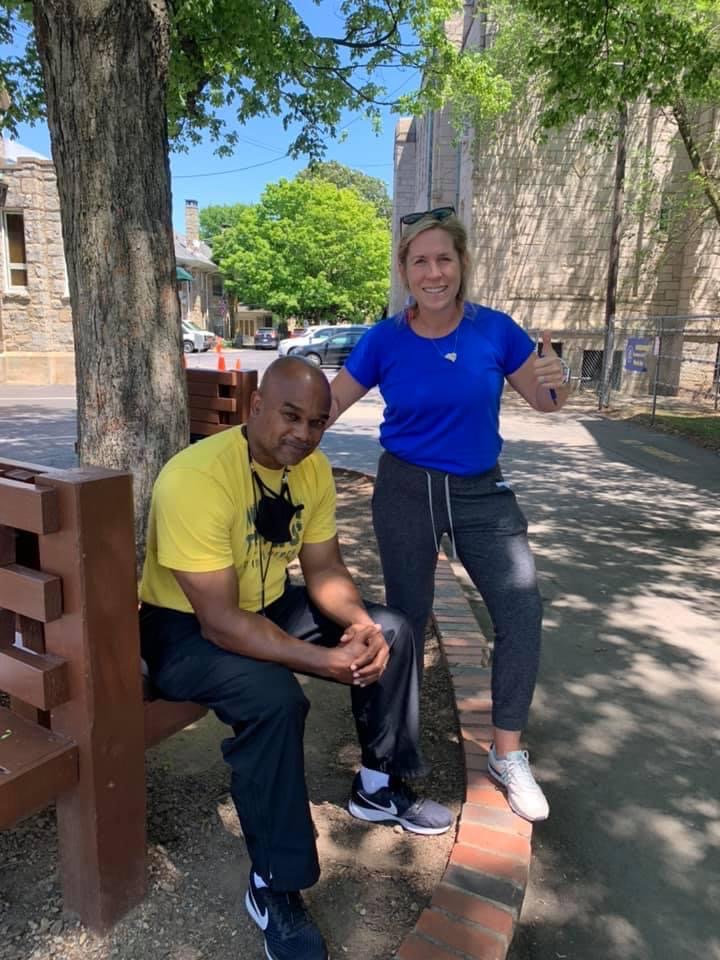 Above: Emily Turgeon, a physical education teacher at Cathedral School,  stands next to Troy Ebron, who recently retired from that role and was once her P.E. teacher when she was a student at Cathedral.