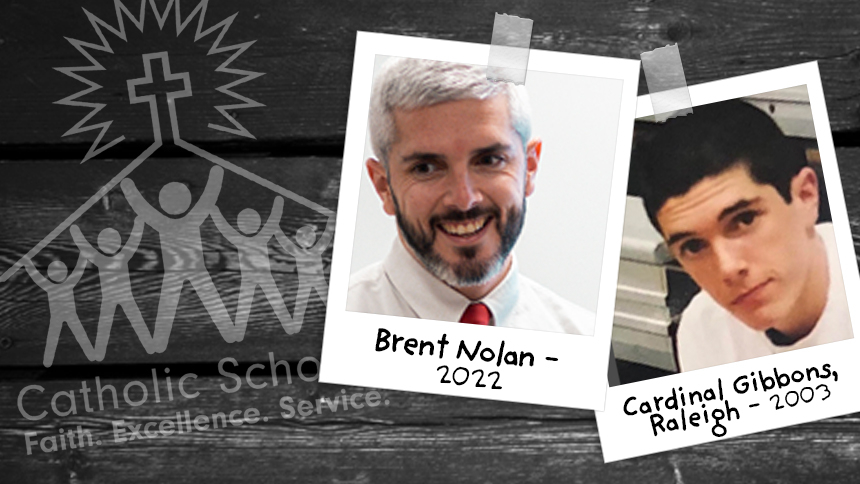 The business of education
Brent Nolan didn't plan to be a teacher. Early in his working career, he was an entrepreneur who co-founded two technology startups. He was also a JV basketball coach, a role that brought him back to the campus of his alma mater, Cardinal Gibbons.
"It's always such an easy place to come back to and to feel welcomed," Brent said.
He felt so welcomed coaching that he decided to venture into classroom education, too. Brent got involved with iCube, the redesign of a decades-old career/business club at Cardinal Gibbons. The mission of iCube, or Innovative Crusaders Understanding Business and Entrepreneurship, is to propel students into fulfilling careers.
For students who've decided on a career, iCube offers experience in their chosen field to help build an impressive resume. For students who haven't decided yet, iCube is a club where they can explore options and hear from guest speakers.
A year after he started helping with the iCube club, Brent took on full-time teaching as a business educator.
"They eventually got ahold of everything in me," Brent said. "And now I'm working way more than 40 hours a week there because I like to, not because it's part of the job description."
Cardinal Gibbons has grown since Brent arrived as a sophomore in 2002. But some hallways are the ones he walked through as a student, and some of the people who taught him are now his fellow teachers.
"You see people who are ahead of you in life, 10 to 20 years, and you see the way they are having an impact," he said.  "It definitely painted a picture for me of a way that I thought I could have an impactful career."
One teacher stands out in Brent's memory: Brother Gary Cregan, O.S.F. Brother Gary was Brent's first theology teacher. Brent was not Catholic at the time and being taught by a Franciscan brother was a new experience.
"How foreign it looked to be in a classroom with a guy wearing a robe referencing all these things you didn't really understand and at the same time be so captivated by what he was saying." Brent said.  "He was just a really personable, enthusiastic, charismatic, loving person."
Brent became Catholic before his marriage three years ago. "Part of the reason for that is because I experienced so many people that I just had such loving relationships with while I was at Cardinal Gibbons," Brent said. "It definitely helped steer me in that direction."
Today, the majority of Brent's best friends are alumni of Cardinal Gibbons.
"I'm an only child and, for me, I found my life family, my brothers, at Gibbons," he said.
Brent added that his experience attending Catholic school as a non-Catholic helps him relate to his students and to be accepting and welcoming, but also respectful of people having different perspectives, in school and in life.
Yet, he notes, "We get to practice not being afraid to say who we are and what we believe in."