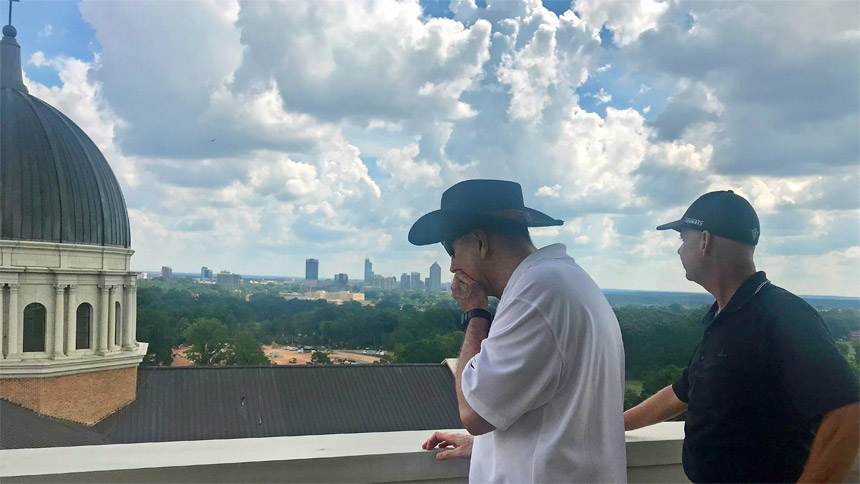 When people say something that I want to remember, I try to write it down. As a result, I have notebooks, electronic notes in my phone and post-it notes on the keyboard tray of my desk.
Monsignor Jerry Sherba, who died Oct. 26 at 69 years old, was one of the people I often found myself documenting. And this morning a memory waited for me.
A magenta-colored stickie had a lot to say. It read: "Growing old is mandatory. Growing up is optional -Jerry2." I remembered him saying it, exuberantly, on his way out the door after a conversation about life.
The name Jerry2, which he sometimes called himself, was a nod to Jerry1, his dear friend and fellow priest, Monsignor Jerry Lewis. They named each other Jerry1 and Jerry2 to avoid confusion in their social circles.
The desk wasn't the only place I found a memory. My phone had a screenshot of something he wrote in his CaringBridge journal, which he updated during recent years as he lived with cancer.
The simple black letters on a white background read, in part, "We all have our ups and downs … complications that we wish we didn't … [but] how blessed we are, even in our dis-eases."
There he was, playing on words - one of my favorite games from one of my favorite people.
He was one of your favorite people, too. The comments on social media within hours of his death told that story. You were going to miss his positivity even during suffering. It was an inspiration. You recalled how he played his guitar. It made your child's baptism even more special. You had memories of him at retreats. It taught you to love your faith. You enjoyed reading his journal. It explained the lives of the saints. You were going to miss his singing voice. It made you want to clap your hands.
Like you, I am going to miss how he made the everyday extraordinary. Father Jerry named everything from the four-wheeled IV pole at the hospital, Stash, to his bicycle, Max.
During the years he worked at the Catholic Center, he made pastoral visits to employees. A lot of times those visits began with him showing whatever colorful socks he was wearing.
He could relate to loss and talk about it, as he lost both of his parents and siblings during his lifetime.
He was an academic and an intellectual. His obituary details the many degrees he held in subjects from education to Canon Law to theology. The knowledge was a blessing. But even more important was how he could explain complex matters in an understandable way.  
Like many of you, I treasured the energetic way he sang at the end of Mass. The word he sang was simply "Amen" but the energy flying with it was like years of love breaking a sound barrier. It was real, palpable.
He had his quiet moments, of course. I'm sure he had them at home in his chapel, where he celebrated Mass and remembered people … so many people … and their intentions.
He had a quiet moment at the top of the new cathedral's bell tower, which he visited in 2018 on a warm day in early September. He was wearing a hat, white diocesan polo shirt and shorts. He carried his cane, and carefully made his way up the many steps. When he glanced out at the clouds and Raleigh's skyline, he brought his hand to cover his mouth in disbelief.
Father Jerry observed. And those of us with him observed him observing. I wondered if he was thinking of how much had changed both for the diocese and for him. Under a blue sky, he took a few minutes and took it all in.
Maybe that was what some of us did when we heard he had died.  We experienced a silence. A thought. We took it all in – our sadness for our loss, and our joy at knowing he was no longer suffering.
A colleague said recently that he once told her heaven was full of whatever brought us joy. So, we know his likely has pizza and a keyboard of endless emojis.
For us here on earth, we have the notes we kept as we observed how he lived. Some of them are in our minds, some are written on aging stickie notes and some we may have forgotten the particulars about. But we will always remember his joy.
---
Funeral Arrangements for Monsignor Sherba
Reception of the Body and a Vigil for the Deceased will be held Wednesday, Nov. 3 at 6:30 p.m. at Holy Name of Jesus Cathedral in Raleigh with visitation following until 8:30 p.m. Monsignor Jeffrey A. Ingham will preside and Father Christopher Koehn will share a homily. A funeral Mass, also at Holy Name of Jesus Cathedral, will be celebrated Thursday, Nov. 4 at 10:30 a.m. Bishop Luis Rafael Zarama will preside; Monsignor Gerald Lewis will share a homily. Burial will take place at a later date at St. Raphael Church's columbarium in Raleigh.
For those who are not able to attend the funeral Mass in-person, the liturgy will be live-streamed.