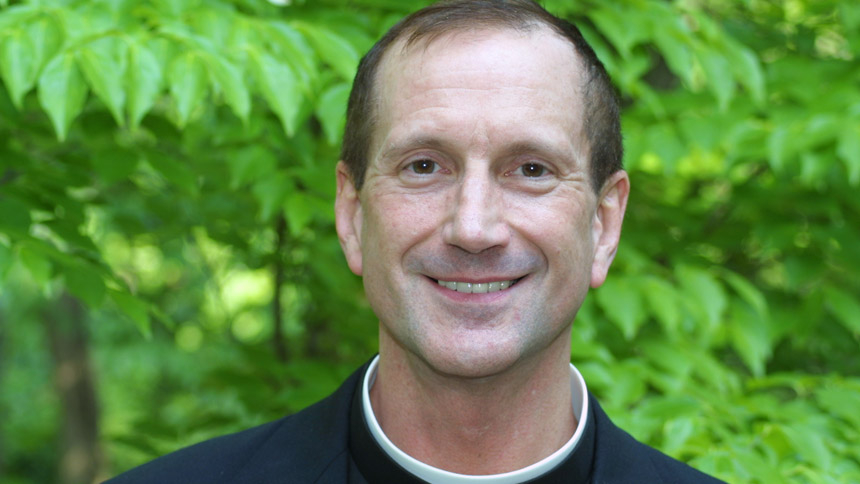 Monsignor Girard Michael Sherba, former chancellor and judicial vicar for the Diocese of Raleigh, died Oct. 26, 2021 at WakeMed Hospital in Raleigh. A priest for 42 years, he was a cancer patient for much of the last 12 years of his life.
Known to many as Father Jerry, he was beloved for his devotion to the Catholic faith, joy and appreciation for music, which he showed by singing and playing his acoustic guitar with its rainbow strap.
He was born June 6, 1952 in Wilkes-Barre, Pennsylvania to Leon and Isabelle Sherba, who raised him alongside his brothers Leon, Jr. and James. He attended city schools and graduated from James M. Coughlin High School in 1970. He attended King's College in Wilkes-Barre and went on to graduate from Marywood College in Scranton, Pennsylvania with a degree in elementary education. 
He was ordained a priest March 9, 1979 at Sacred Heart Cathedral by Bishop F. Joseph Gossman. His priestly assignments included service at the following churches: St. Raphael (Raleigh), St. Gabriel (Greenville), St. Catherine of Siena (Tarboro), Holy Trinity and Our Lady of Atonement (Kinston), Sacred Heart Cathedral (Raleigh) and St. Bernadette (Butner).
During his priesthood, he served people pastorally and continued his formal education between 1979 and 2001.
Father Sherba earned a master's degree from St. Meinrad School of Theology in Indiana in 1979, a licentiate in Canon Law (or J.C.L.), in Rome at St. Thomas Aquinas University in 1987 and a doctorate in Canon Law (or J.C.D.) at St. Paul University in Ottawa, Ontario in 2001. Canon Law is a code of ecclesiastical laws governing the Catholic Church. He also earned a Ph.D. in Canon Law from the University of Ottawa in 2001.
He was given the title of monsignor in April of 2006. Among other diocesan leadership roles, he was a member of the Council of Priests.   
He was preceded in death by both of his parents and his brothers.
Mass cards and condolences may be sent to the Family of Monsignor Jerry Sherba care of 1601 Westbridge Ct. Raleigh, NC 27606.
Funeral Arrangements
Reception of the Body and a Vigil for the Deceased will be held Wednesday, Nov. 3 at 6:30 p.m. at Holy Name of Jesus Cathedral in Raleigh with visitation following until 8:30 p.m. Monsignor Jeffrey A. Ingham will preside and Father Christopher Koehn will share a homily. A funeral Mass, also at Holy Name of Jesus Cathedral, will be celebrated Thursday, Nov. 4 at 10:30 a.m. Bishop Luis Rafael Zarama will preside; Monsignor Gerald Lewis will share a homily. Burial will take place at a later date at St. Raphael Church's columbarium in Raleigh.
For those who are not able to attend the funeral Mass in-person, the liturgy will be live-streamed. 
Photos
Click or tap to view full images.