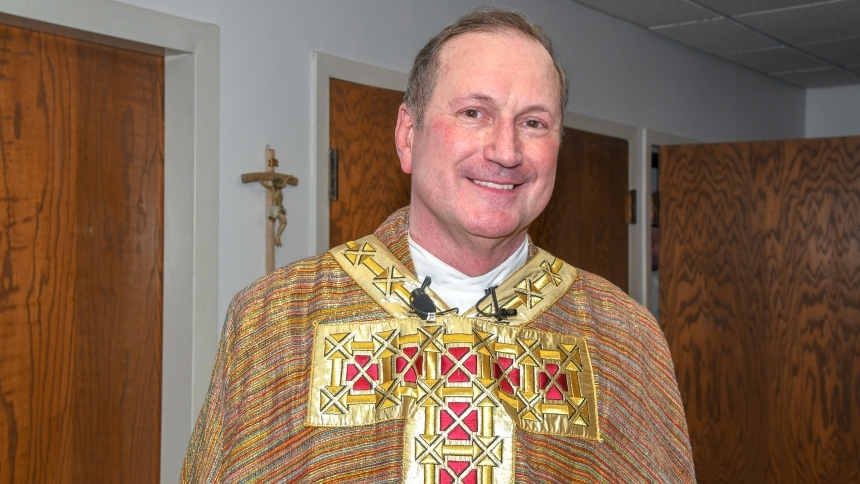 After he finished the homily, Monsignor Jerry Sherba reached behind the lectern for a simple, acoustic guitar.
A collective "aww" and some knowing laughter emanated from the congregation at St. Raphael Church in Raleigh.
It's the very same guitar the St. Raphael CYO group gave him decades ago, he says.
Those gathered join him in "Instrument of Peace," a short song he wrote in 1995.
"Lord I give you my life that I may forever be, an instrument of peace," they sing.
It's a fitting line as the monsignor, who observed his 40th anniversary of ordination to the priesthood March 9, began his homily by saying that he loves being a priest.
It was true at his ordination, he says, and it's true now.
"There's nothing I'd rather be than a priest here, in our diocese," Monsignor Sherba, a native of Pennsylvania who was ordained at Raleigh's Sacred Heart [then] Cathedral, says to the congregation. "We celebrate vocation today, but I also celebrate you. Each of you, in your own way, has helped me to be the priest I am."    
His first assignment was associate pastor of St. Raphael Parish, where he worked from ordination until 1981. He later served at St. Gabriel Parish (Greenville), East Carolina University (as chaplain, Greenville), Casa Santa Maria (Rome), St. Catherine of Siena (Tarboro), Holy Trinity (Kinston) and Sacred Heart (Raleigh.) 
Today Monsignor Sherba serves as chancellor and vicar judicial of the diocese. 
In his homily Monsignor Sherba encouraged those gathered to focus on the 'golden rule" and love others regardless of race, age, ethnicity or orientation. "The Lord loves each and every one of us the way we are, no strings attached," he says. "The Lord says 'love one another as I have loved you.' Is it easy? No. But the Lord tells us this."
As part of the Mass, Monsignor Sherba renewed his priestly vows for the 39th time. He also conferred the sacrament of confirmation to his cousin, Robert.
With an enthusiasm level that's his trademark, the monsignor announced: "Robert is the newest member of the Catholic Church in the entire world, at this moment."
John and Rebecca McCabe spoke about Monsignor Sherba at the end of the celebration.
"Jerry never separates himself above us. He has always been one of us," John says. "[And] He's always said 'all are welcome.'"
John spoke about a trip they took to the holy land, noting that Monsigbor Sherba cried every hour talking about how much God loved him.
"We are filled with love today," Rebecca adds. "I can see it and I feel it in everyone here."