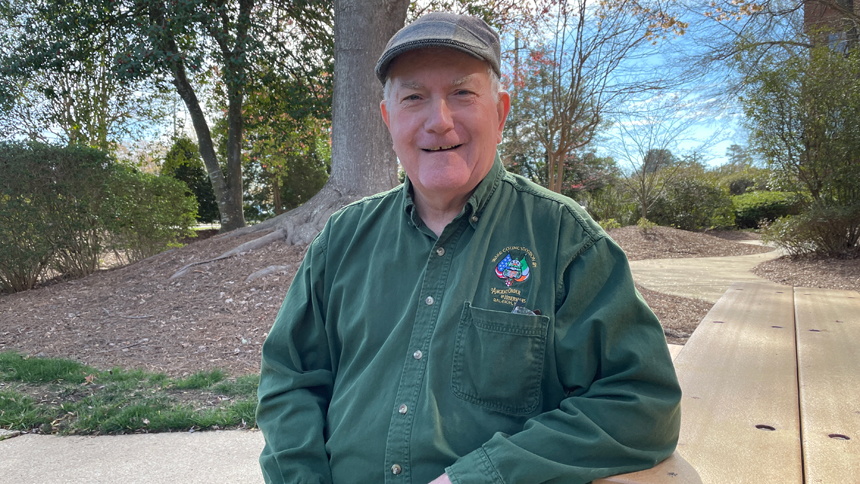 I had an interest in all things Irish. Looking back, it's why I joined the Ancient Order of Hibernians to begin with. I grew up in a small town in northwest Iowa that had been settled by Irish immigrants, and both my father's family and mother's family had roots in Ireland.
I quickly came to understand and appreciate the AOH motto of friendship, unity and Christian charity. As members, we gathered together for family picnics, St. Patrick's Day parades, softball games, children's fishing tournaments and fundraising events for over 30 different charities such as Birthchoice, Brown Bag Ministry and the Open Door Clinic.
When it comes to local charities, that's where we shine.
The AOH has supported the Helping Hand Mission for many years. We remodeled and painted rooms in their home on New Bern Avenue and provided food different times throughout the year, especially around Thanksgiving.
In November, the organization's director, Sylvia Wiggins, was on the local news talking about AOH. She told the reporter how the AOH brought food to the mission's location on New Bern Avenue. She went on to say, "They have done things for this building, they have really helped the preservation of this antique location here … every occasion that they can come and help us out they've been helping us out. The fact that turkeys, which are in such short supply right now, that they are bringing so many of them, that's going to really be a jump start."
From our perspective, it warmed our hearts to be part of the holiday that way and to hear what it meant to her organization.
Our membership includes men who are also members of the Knights of Columbus. It was through that association that I became involved in building a grotto on Columbus Club property in Raleigh. Another AOH / Knights of Columbus brother suggested we needed to build a grotto honoring Mary, mother of Jesus. It happened that I was traveling to Ireland, and while there photographed a grotto in County Donegal. I brought the photo back home, the design was approved, and through many weeks of volunteer work by both AOH members and Knights, we built our grotto on Columbus Club property.
Being a member of the Ancient Order of Hibernians has brought me a great deal of satisfaction. I have made lifelong friends who have supported me when I needed it, and I have been able to help them when needed. Sometimes it's about practical things, such as lending a vehicle or sharing advice about fatherhood. We have supported each other and each other's families through times of loss and grief.
I have been involved in activities I never would have imagined when I first joined, and I'm sure glad I made that decision. My life is fuller because of it.
Did you know?
The AOH was founded in 1836 and is the oldest Catholic men's organization in America. To be a member, you must be a practicing Catholic, and you must have been born in Ireland or be a descendent of someone who was born there. To find a division or learn more, visit aoh.com.
In America, the division is the basic unit of the Order. Currently, there are seven divisions in North Carolina. They are in Charlotte, Greensboro, Greenville, Huntersville, Raleigh, Southport and Wilmington.
In Raleigh there's a new AOH group for women called The Catherine Martin Mellage Division, Wake County.