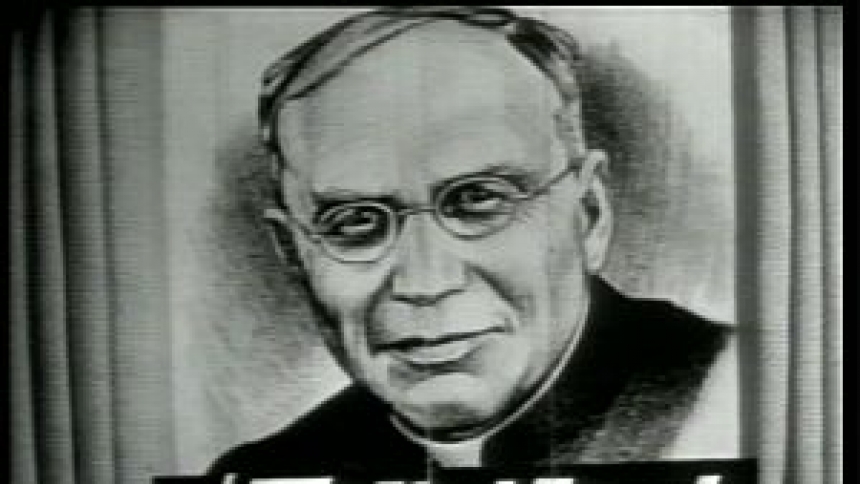 By Philip G. Johnson, Diocese of Raleigh Seminarian
This is the second article of a four-part series on the life and mission of Father Thomas Frederick Price, the first native North Carolinian to be ordained a Catholic priest and a co-founder of the Catholic Foreign Mission Society.
In his first article, Diocesan Seminarian Philip G. Johnson presented an overview of Father Price's life, including his role in co-founding the Catholic Foreign Mission Society, popularly known as Maryknoll. In this second article, Philip expands upon the legacy of Maryknoll following Father Price's death while accompanying the Order's first mission to China, and also reflect on the many ways in which the modern-day Order keeps Father Price's vision alive.
Maryknoll Today: The Legacy of Father Price's Vision
As Father Price laid dying in a Hong Kong hospital, Father Jean Tour proposed that Father Price offer his prayers for the good of Maryknoll: "You offer now your sufferings, and even your life, for the prosperity of your beloved Society, and you pray and will ever pray that they all may do the work of God in a truly apostolic spirit, don't you?" "Most certainly," Father Price responded, and with his death he became the first Maryknoller to die on foreign soil. Despite his death just one year after arriving in China, the spirit of Maryknoll lived on as their missions grew and multiplied.
Two years after Father Price's death, the "Maryknoll Secretaries" -- a band of American laywomen who helped to manage and print Maryknoll's magazine The Field Afar -- were established as a religious order, the Foreign Mission Sisters of Saint Dominic. Popularly known as "The Maryknoll Sisters," they too began sending missioners from their own ranks to China by 1921. In the 1920's and 1930's, China was plagued by Civil War, famine, poverty, and sickness. The Maryknoll sisters set up health clinics to take care of the sick, and also ensured that each child in their care was baptized.
As Communism swept through China in the following decades, many missioners were deported to neighboring countries as they attempted to continue their work. While this often forced some mission work to cease, it ultimately allowed for missions to develop in other parts of Asia and surrounding regions. From China, the missions spread to include opening two hostels in 1926 in Manila, Philippines, for students attending public universities, opening a mission in Hawaii in 1927, and arriving in Japan in 1933 to spread Catholicism through teaching and staffing hospitals.
Those missioners who were not deported were often accused of being spies and were imprisoned, often for decades. One such jailed missioner was Fr. Francis Ford, who accompanied Fr. Price on the first Chinese mission. Fr. Ford died in 1952, one year after his imprisonment.
Bishop James E. Walsh (no relation to co-founder James A. Walsh), another of the original four missioners, was also accused of being a spy. He spent seven years under house arrest before being sentenced to twenty years in prison in 1958. The Chinese suddenly released him in 1970 as a political gesture in order to gain favor with the United States. Upon returning to America, Bishop Walsh commented on his imprisonment: "I never thought that I would ever see the day of my release. I felt that I would not live long enough to complete my sentence of twenty years and that I would die in prison. I have no bitterness towards those who tried and condemned me. I could never feel anger with any Chinese."
In 1974, Maryknoll formally accepted lay missionaries to aid in the foreign missions. Co-Founder Father James A. Walsh always envisioned a role for the laity in this regard, commenting at the founding of Maryknoll: "Surely there will be generous souls in numbers proportionate to the grace of God, who may not feel called to devote their entire lives to a religious work, but who would gladly spend a certain time -- say five years or more."
Today, there are over 1,500 Maryknoll missioners in thirty-seven countries around the world. Missions include Nepal, Indonesia, Yemen, and Samoa, where Maryknollers continue to devote their lives to the service of others. Recently, Maryknoll raised funds to open the first Catholic medical school in East Africa, Bugando University College of Health and Sciences in Mwanza, Tanzania. In addition, they provided food and medical supplies after the devastating 2004 tsunami in Thailand. Whether they are teaching, feeding the poor, working to rehabilitate landmine victims, or giving medical care, the vision and legacy of co-founders Father Thomas Price and Father James Walsh lives on through their work as they spread the Gospel to all they encounter.
Philip G. Johnson, a native of Greensboro, NC, is a former Naval Officer and current Seminarian in the Diocese of Raleigh. Philip is currently assigned to St. Catherine of Siena Church in Wake Forest. Father Price ministered to many of Philip's ancestors throughout his travels in North Carolina, so Philip has a special devotion to "The Tar Heel Apostle."
For more information about Father Thomas Frederick Price, the author recommends: Fr. Patrick James Byrne, Father Price of Maryknoll: A Short Sketch of the Life of Reverend Thomas Frederick Price, Missioner in North Carolina, Co-Founder of Maryknoll, Missioner in China (Maryknoll: Catholic Foreign Mission Society of America, 1923).
Above: On September 7, 1918, the Catholic Foreign Mission Society of America holds its first Departure Ceremony. Fathers Francis X. Ford (seated, right), Bernard Meyer (standing), Thomas F. Price (seated, center) and James E. Walsh (seated, left) begin their journey to Maryknoll's new mission field in South China. 
Above: Fr. Thomas Frederick Price dies at St. Paul's Hospital, Hong Kong, of acute appendicitis, September 12, 1919. In 1936 his body is brought back to Maryknoll.
Above: Remains of Maryknoll Founders, Fr. T.F. Price and Bishop J.A. Walsh, transferred to their place of honor in the crypt of the new Maryknoll Chapel, November 9, 1955